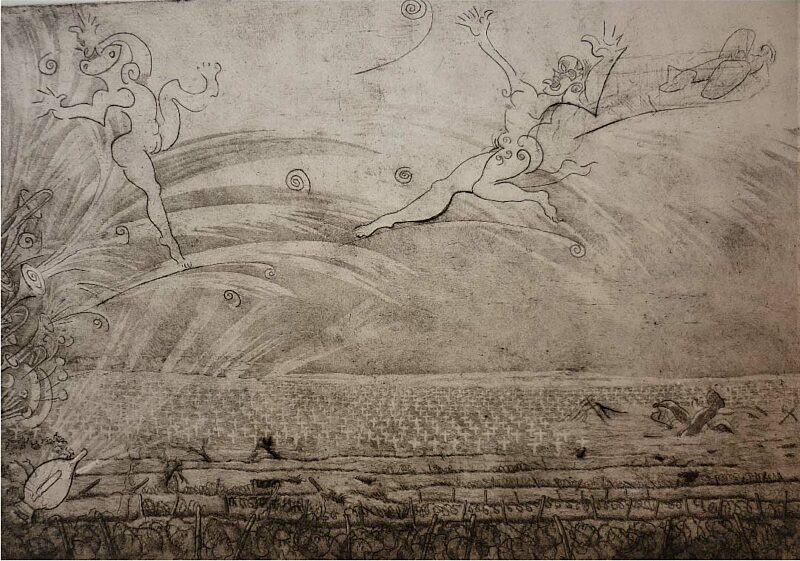 Rite of Spring 1919-1920. 2019. Etching.
Tony Phillips' etching series 12 Decades continues a survey of modern history that has occupied him over the last 40 years.
It complements a new installation, 20th Century Chapel that he is working on for Liverpool's 'Bombed Out Church', St. Luke's, also for 2021, and a proposed pedestrian trail of public artworks between the two buildings, which were both badly damaged in the Second World War.
The sequence of 12 etchings at Bluecoat narrates key events and man-made phenomena from 1900 to the present, from the pioneering inventions that heralded the modern age to the mass- production and consumerism that characterise life today. The focus is on the nature of technological progress evinced by Man's age-old aspiration to fly, starting with an image of the first powered flight (1903), and proceeding through the decades into the modern era of supersonic jet fighters and drones.
While the etchings follow a tradition of graphic narrative documenting human desires and failures, St Luke's chapel is presented as a surviving relic of the modern age. The public is invited to contemplate these themes in the light of both an art gallery space and the commemorative monument to human tragedy represented by the Bombed Out Church. The project will be presented during the 2021 Liverpool Biennial in the Independents Biennial programme. It is supported by Arts Council England.
---
More about the artist
Born in Liverpool in 1953, Tony Phillips studied mural painting at Lancaster Art College, graduating in 1972 and now lives in Italy. He has a long association with Bluecoat, Liverpool exhibiting here in the group exhibition Black Art: Plotting the Course (1989) curated by Eddie Chambers; the etching series, Jazz (1993); and a solo show, The City (1994). The artist has exhibited widely in the UK and internationally, including Artist and Empire (2016) at Tate Britain, London.