6 week course starting Thu 12 Oct - Thu 23 Nov, 10.30-11.30am
Our popular Baby Book Club offers parents and carers a chance to kickstart a love of books with your baby which will last a lifetime.

In our six-week course you will learn about making books special, using face and gesture and rhythm to enrich the experience of a book, using books and reading as part of getting your baby to bed, and how to choose appropriate books for growing children, and much more.

We know that parents and carers matter as much as babies too, so there's a hot drink included in every class, and a chance to meet and talk with other families.
For babies aged 3-12 months.

Tickets: £45 for 6 weeks (includes hot drink)
Reading books with babies is good for them – and you.
Research studies repeatedly confirm that a child's language and sociability develop more quickly when they are introduced to books at an early age. There's a particular way of reading books with babies that gets the best results, an interactive child-centered approach that uses the senses and body contact as well as expressive voice, and that's what we teach.

Facilitated by artist Roger Hill, each session includes discussion and sharing time, book recommendations and reviews, individual and group reading, and fun activities linked to the weekly core story.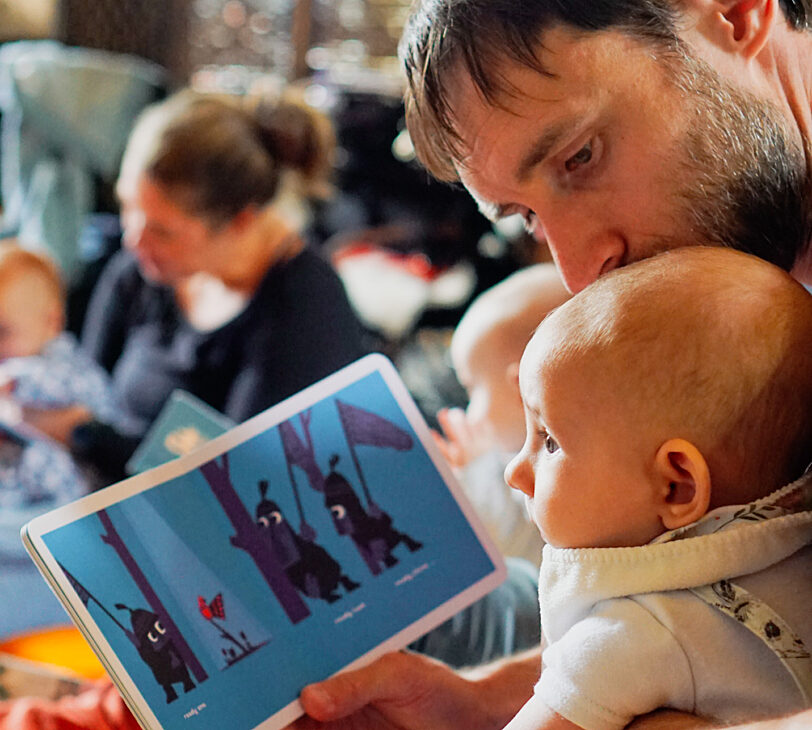 Pop-Up Baby Book Club
Thu 28 Sep, 10.30-11.30am
Want to find out more about Baby Book Club before you book? Join us for this taster session to get an idea of what you could learn on the course. For babies aged 3-12 months.
Tickets: £7.50 | £13.50 which includes a book to take home.