What is Gap Exchange?
Gap Exchange is a pilot exchange programme founded by the Irish Theatre Institute, which provided six Irish artists the opportunity to explore their practice alongside an artist living and working in another European country.
The Irish Theatre Institute partnered with three European arts institutions, who would each select two local artists to be paired with two of the Irish artists. The three organisations involved in the programme were the Bluecoat, Liverpool, UK; SPRING Performing Arts Festival, Utrecht, Netherlands and Arts Centre VIERNULVIER, Ghent, Belgium.
On their exchanges, the two Liverpool-based artists visited Birr and Galway in Ireland.

What is the purpose of Gap Exchange?
It's rare that artists are afforded the opportunity to slow down and find time to be inquisitive and curious without the added pressure of producing new work, so Gap Exchange essentially promoted that possibility for artists.
Lian Bell, who managed the programme with the Irish Theatre Institute, further explains that "the point of Gap Exchange is to support over-busy artists to slow down, to meet each other at a peer level, and to have the agency to welcome someone into their creative world. It can look very simple - conversations, meals, walks - and doesn't have a product as an outcome."
Gap Exchange also supports the potential for collaboration with artists working in different locations. Its purpose is to generate fruitful connections between artists who may have never otherwise crossed paths.

Tell us about the artists who participated?
The Irish Theatre Institute selected two Irish artists to conduct Gap Exchange in Liverpool; James Riordan and Shanna May Breen. James is Artistic Director of Ireland-based company, Brú Theatre. Working within multidisciplinary practice, including masked performance and virtual reality, James produces bilingual performances in both Irish and English that merge contemporary theatre with the stories and language of where he is from. Shanna is a performance artist and environmental activist whose practice is rooted in and inspired by climate conversations. Through her work, she sets out to interrogate the human impact upon the environment and utilises this to carbonate change.
We were thrilled when the Irish Theatre Institute confirmed that James and Shanna would be joining the Liverpool exchange. They're both producing exciting work that also feels really connected with the Liverpool arts scene. The Bluecoat then selected the Liverpool-based artists, Simone Tani and Greg Herbert.
Simone Tani is a clown and performer, with particular interest in mask work and clowning. He is also a member and co-founder of the Liverpool-based, multinational, clown and bouffon company, Teatro Pomodoro. Simone and James really benefited from connecting with each other during their visits to Liverpool and Galway, Ireland; Simone also taught James how to make pizza the traditional Italian way. What a great skill to take away from the experience.
Greg Herbert is a visual artist, whose practice explores the interactions that organisms and non-human entities have within their environments. Greg and Shanna became friends very quickly and they particularly enjoyed going on long walks in nature together, which I believe were often conducted silently. This demonstrated that the artists felt comfortable in each other's company and that simply being together in an agreeable environment in both Liverpool and Birr, Ireland, was a valuable experience.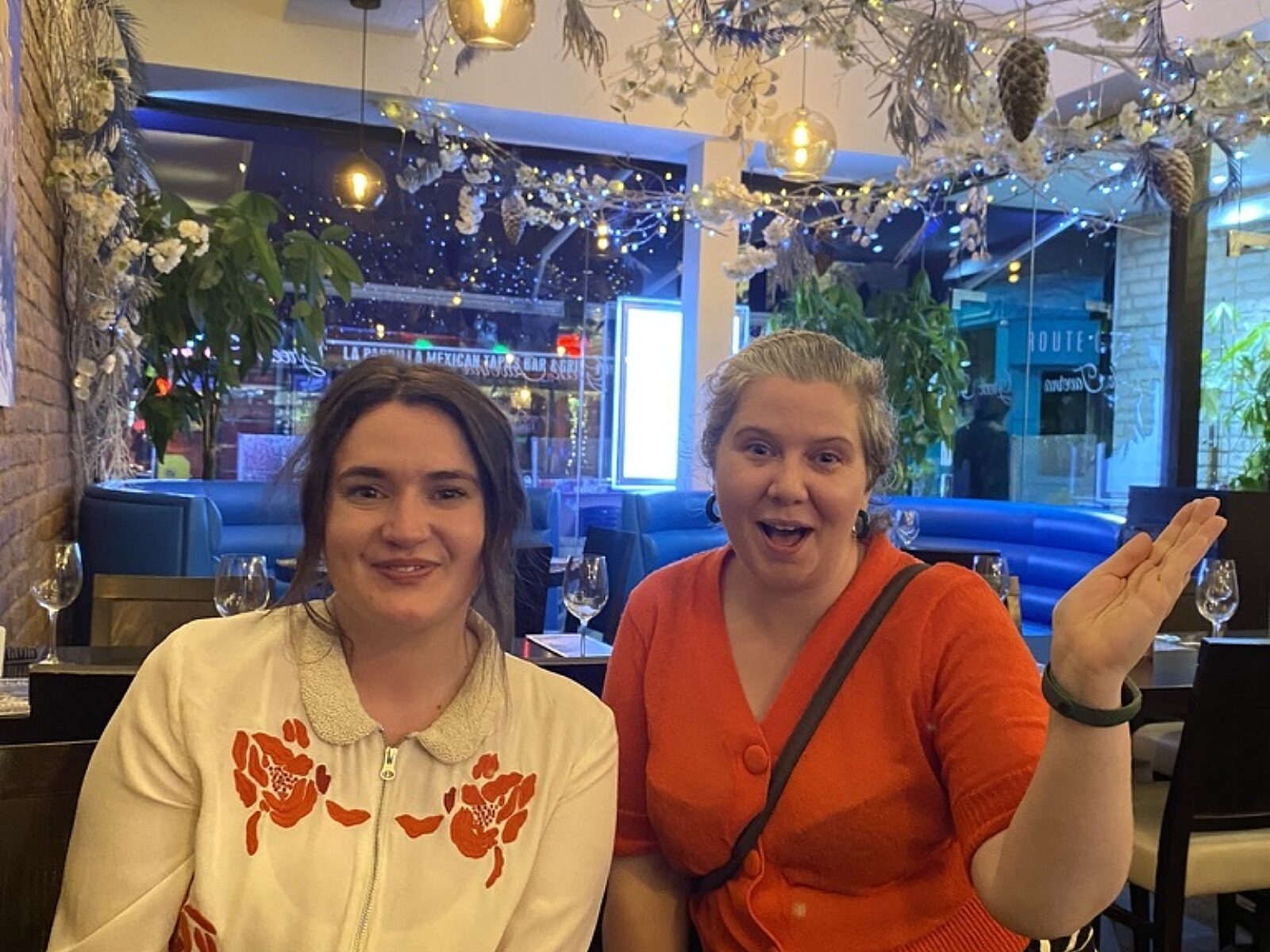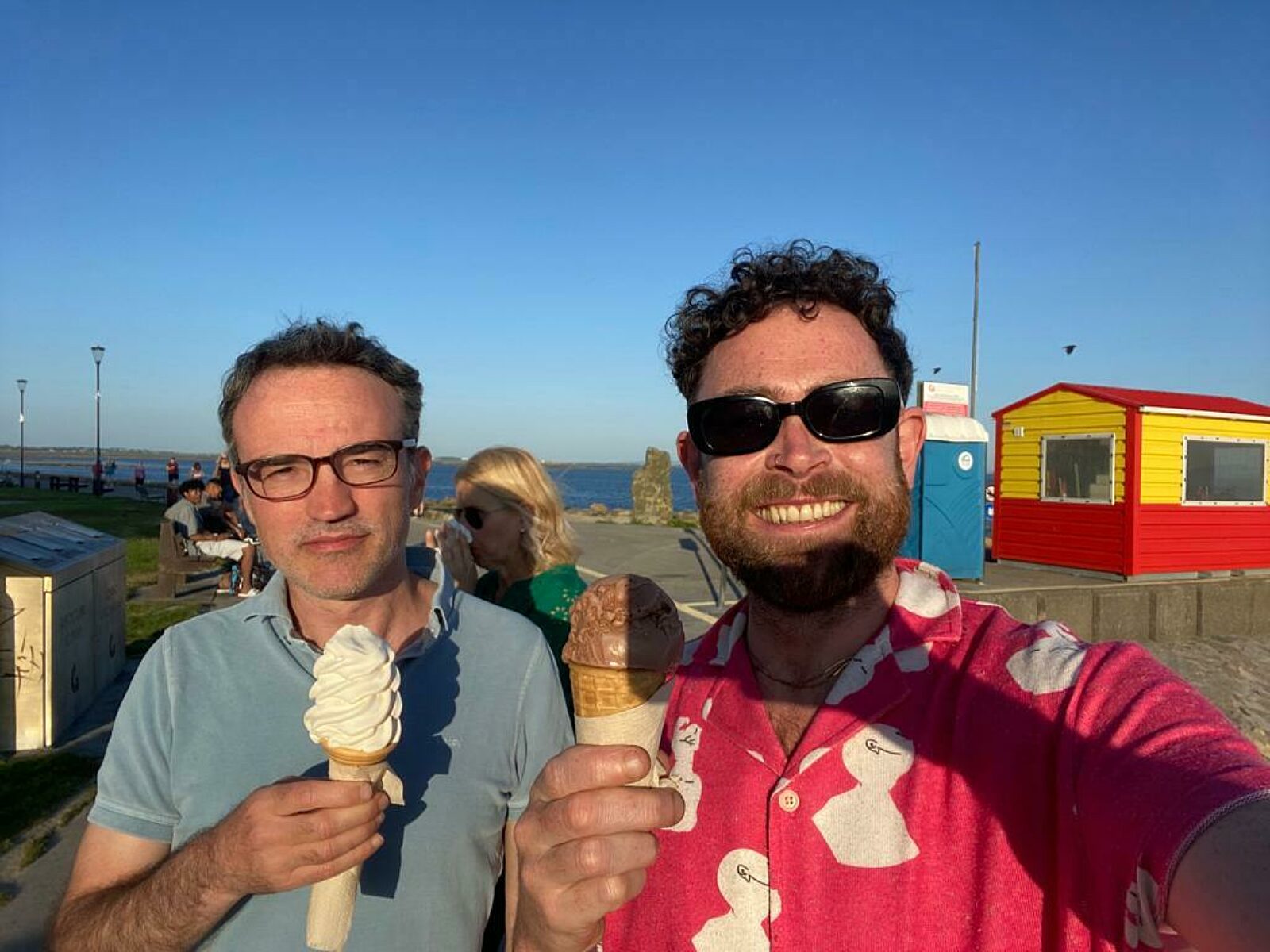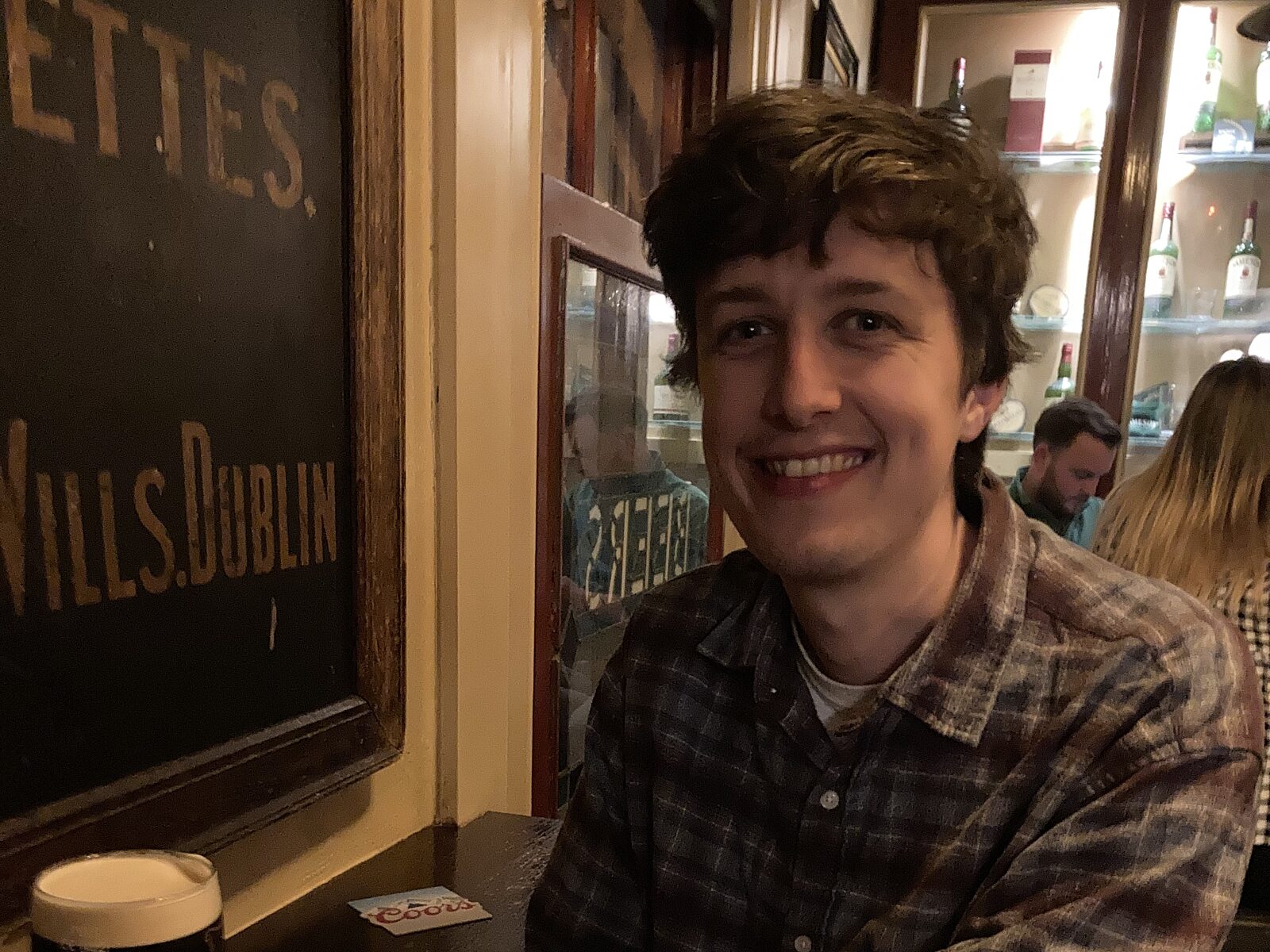 The artists took part in a 'practice sharing' during their visit. What was this and what did you enjoy most about it?
As part of the exchange programme, the visiting artists were invited to share their existing practice with an invited audience, which was made up of various arts practitioners and professionals from the local arts community. What I loved most about the sharing day was how engaged everyone was and how much the invited guests genuinely enjoyed learning about the Gap Exchange artists. I still receive comments from guests about how grateful they were to be invited.
I further enjoyed how James and Shanna shared their practice, with both sharings being very audience-centric and participatory. James invited guests to experience his work via VR headsets and Shanna involved the audience through activities that referenced her previous and current projects. They both considered how to maintain their audience's engagement throughout.
Finally, the connections that were made between the artists and the guests was paramount. It instigated conversations and built relationships for future collaboration. Shanna was reunited after a significant period with someone who she went to college with, and both James and Shanna had the opportunity to meet Irish Author, Greg Quiery, who writes about the history of the Liverpool Irish. Our CEO, Mary Cloake, had very kindly sent Greg's book to both James and Shanna prior to their visit, so connecting the three in Liverpool was an absolute treat.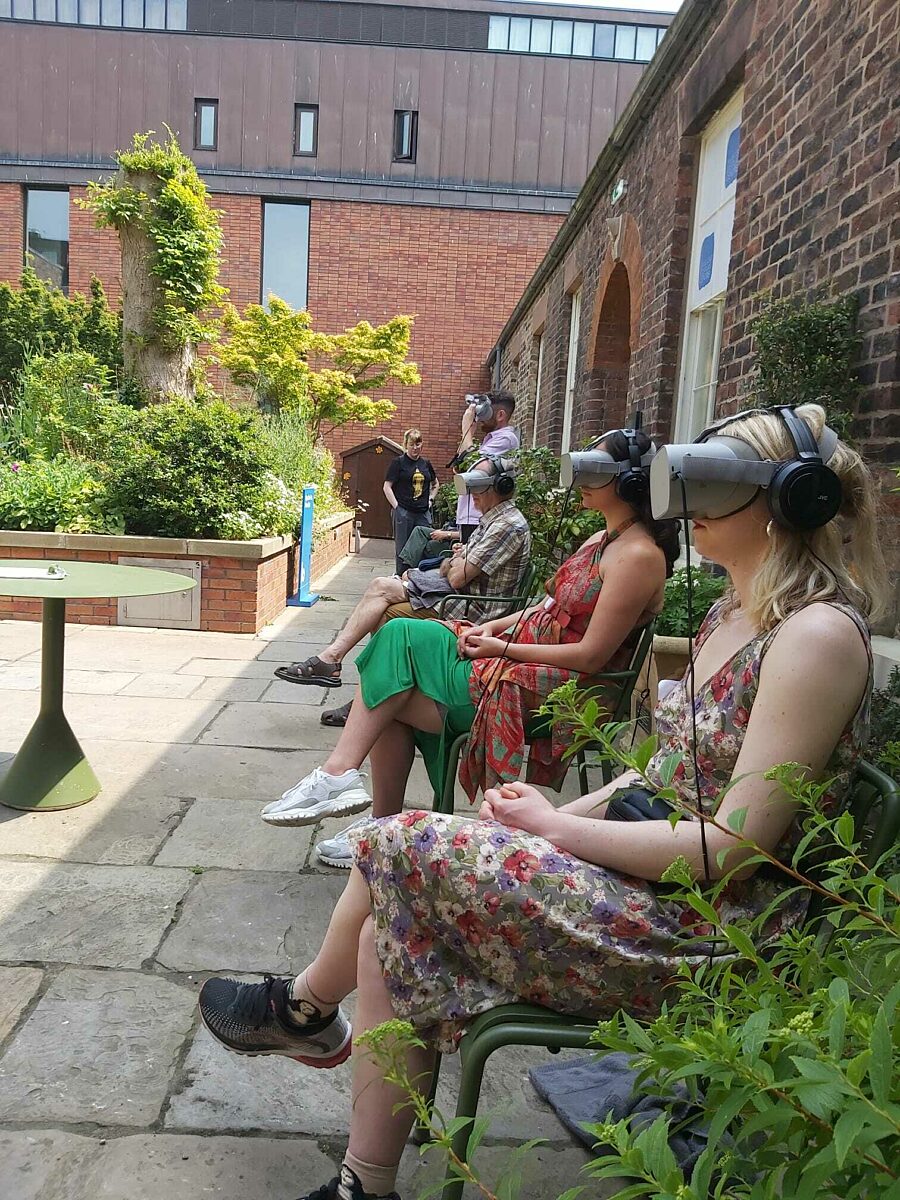 Practice Sharing day at the Bluecoat, Liverpool
Why do you think gap exchange is important?
Gap Exchange is an incredibly valuable programme because there's not many projects like it. It's important to fund artists to produce new work, but there also needs to be a point where artists can explore their practice without the pressure to be 'productive'. This is where artists are going to produce new ideas and find new sources of inspiration.
The connections formulated during the programme was also important. As Lian Bell explains, the artists are 'able to make meaningful connections with people and places in a way that we can see has potential to endure and grow into the future.'
Relationships have derived, not only between the artist pairings, but with the other people the artists have met on their visits. I just think that's so powerful.

What did artists get out of the programme?
Gap Exchange was invaluable for the four artists involved in the Ireland-Liverpool exchange. It gave them space to unwind and soak up their surroundings, whilst at the same time provided inspiration and resources for future projects. We spoke with the artists after their visits, and this was some of the feedback we received:
Shanna May Breen eloquently explains the importance of Gap Exchange, by explaining that it 'offered a really significant "gap" to reflect on my own ways and influences. Self-making a residency that was specific to my own artistic practice has been a really focusing task. To think about the places, ideas and atmospheres that are core to my practice. Sharing these ways with another artist (Greg Herbert) sparked many ideas and conversations between us about how we make, who we make for and what we make from. Then it was "exchange" time. On the flip side of this process, I also visited Greg Herbert in Liverpool which was a great opportunity to open out my practice in a new place. We visited many great places and met many skilled creatives from the area. This part of the exchange was fun and full to the brim of new opportunities and ideas. I feel very privileged to have been able to zoom into Greg's practice and visit his world.'
These connections that were built on the exchange were incredibly important, and Greg Herbert reflects on this by explaining that the no pressure approach to Gap Exchange 'allowed me and Shanna to build a friendship and an in-depth knowledge of each other's practice as well as [the ability to] reflect on the direction of our own practice.' He further explained that 'Gap Exchange has allowed me to develop my practice in new ways, giving me the time and conversations to think about how my practice engages with audiences along with developing my network internationally as well as locally.'
James Riordan, similarly appreciated the connections made, and when asked what he got out of the project, he declares that 'I made new pals, saw new places and got introduced to new artists and presenters. I got to take time to show someone new where I am from, to make new connections between local artists in Ireland and an international practitioner.'
And finally, Simone Tani had some wise words for anyone thinking of partaking in the programme in the future. He advises them to 'clear your agenda and make sure you have time to live the experience at its full.'
What better excuse to take a creative holiday than this?
What was the Bluecoat's role in Gap Exchange?
The Bluecoat's role was that of a friendly and welcoming space for James and Shanna to have access to on their visit to Liverpool. We were a presence in the city, but we also took a hands-off approach to give the artists freedom, and to allow Simone and Greg the agency to host the Irish artists in a way that felt most comfortable for them.
We further hosted James and Shanna's practice sharings and made all arrangements ahead of the event to give the artists space to focus on their presentations. This also included hand-picking guests that we believed would be valuable for James and Shanna to meet and connect with on their visit to Liverpool.

Why are programmes like Gap Exchange important to the Bluecoat?
One of the Bluecoat's core values is to support the development of artists and to help them to advance their practice so that they can go on to develop high quality projects throughout their careers. Gap Exchange definitely promoted this opportunity and we're thrilled that we were able to support it.
It's also important to us that we support local artists and provide them with relevant opportunities. Gap Exchange was such a fruitful experience for Simone Tani and Greg Herbert and it's rewarding to see how the project has influenced them and their practice. We're very excited to see the work they continue to produce in our city, and perhaps they'll even take their future projects to the places they visited in Ireland?