These images are an accompaniment to our film, Imagining Bluecoat 1769, featuring the work of Ed Farrell. He creates incredible 'aerial landscapes' of Liverpool at different stages of its history, using old maps and other documentation as source material. Our recorded conversation with Ed concentrates on his visualisation of Liverpool in 1769, with the Blue Coat School at its centre.
We are sure that people will want to spend more time poring over this fascinating painting, so we are reproducing it here in high resolution, together with other compositions that Ed has done of other parts of Liverpool in different eras. And these are accompanied by historic maps and other source material used by Ed, who has also supplied contextual notes.

1. Ed Farrell, Liverpool, 1675
This is Ed's earliest painting chronologically and shows Liverpool with the castle still dominating the town and the 'seven streets' upon which it was founded: Tithebarn Street (with Hackin's Hey off), Dale Street, Milne Street (now Old Hall Street), Juggler (Joggler) Street (now High Street), Castle Street, Chapel Street and Bank Street (now Water Street).
The inlet at the top right – the muddy pool from which Liverpool derives its name – flowed off the Mersey, providing a harbour. This, running the path of the present Paradise Street and Whitechapel, was filled in to create the world's first commercial wet dock at the start of the eighteenth century. To create this painting, Ed was limited in the research material available, with few maps or contemporary images of the town, and is therefore perhaps the most speculative.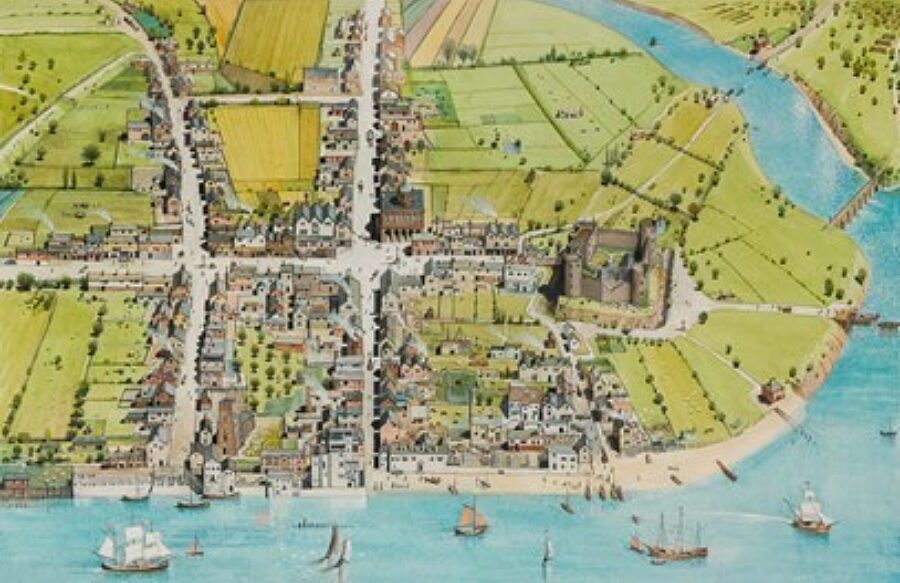 2. Ed Farrell, Liverpool, 1769
This was completed in early 2020 and had been planned and researched for a number of years. The painting took four months to complete.

3. George Perry, Map of Liverpool, 1769 (detail)
Perry's map of the town, completed in the same year, provides the basis for the painting.
4. George Perry, Map of Liverpool, 1769 (detail), with places indicated
Key places are indicated on this map. Alongside street names that will be familiar today in the city centre, the following are shown:
Blue Coat School;
Hanover Street, with the Hanover Hotel left of the marker;
Mr. Brookes Yard (a merchant and builder) with the orchard, right;
Thomas Seel's grand house and its renowned ornamental garden;
Large timber yard and lime kilns, with an alms house below;
A brewery on the corner of Fleet Street and Concert Street;
Roperies and 'White Ropery', which became the site of St John's Market;
St Peter's Church, after which Church Street is named
5. Ed Farrell, Liverpool, 1769, split with Perry map
This image shows Perry's map and Ed's painting side by side.

6. Ed Farrell, Liverpool, 1769, with locations indicated
Buildings, streets and other places of interest, some of them surviving today.

7. Liverpool 1769: Bluecoat study 1 (Amendment to Perry reconstruction)
Earlier Liverpool maps by Chadwick and Eyes show Bluecoat's layout indicating the two South wings of the building's capital 'H' layout, while this is wrongly configured by Perry. Ed worked from this later map, and this page shows the corrections he will now make to the back of the building in his painting. The first image here is an engraving of the 'back front' with its low alms house wings. The decorate central core façade was taken down in the early nineteenth century, to be replaced by the present curved wall that faces the present garden.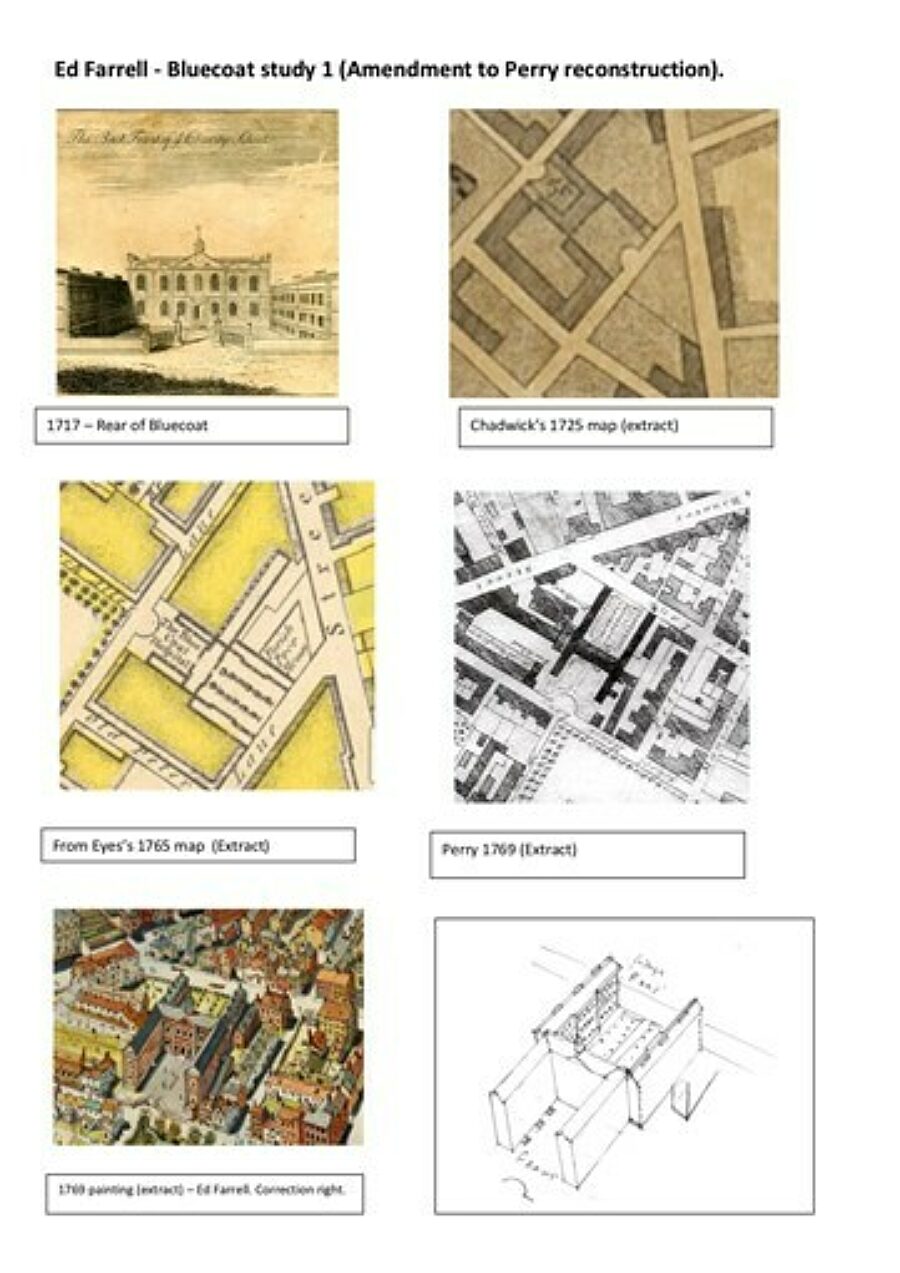 8. Ed Farrell, Liverpool 1823
This painting is based on a map of 1823 by William Swires that focuses on the area now occupied by St George's Hall. The prominent building here is the Liverpool Infirmary (built 1749), Asylum and Seamen's Hospital. Also included is Shaw Street, which would become William Brown Street, home now to the Walker Art Gallery, Central Library and World Museum. Lime Street is at the bottom of the painting.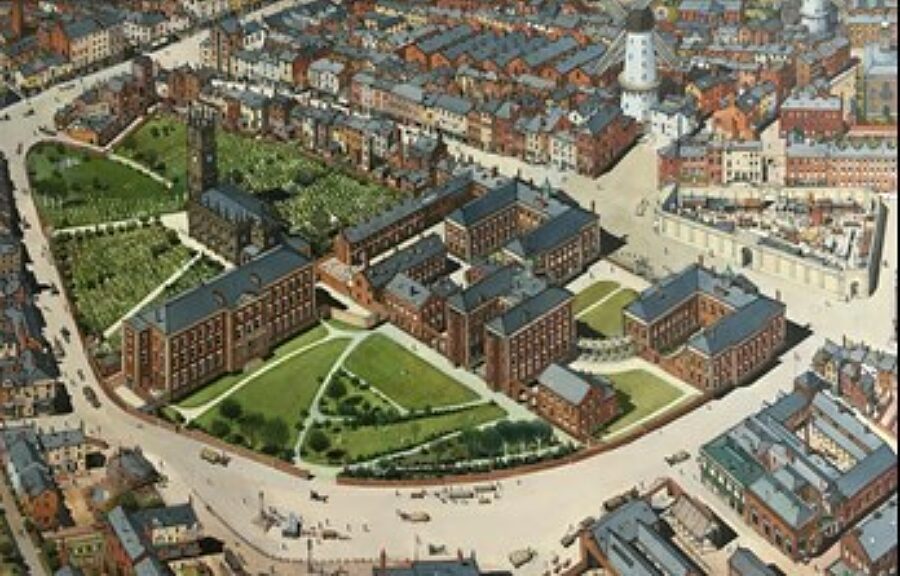 9. Ed Farrell, Liverpool 1848, Hope Street
The first of Ed's historical paintings here, this one takes us up the hill to Hope Street, long before Liverpool's two cathedrals sat at either end. Of particular note here are two landmark buildings, since disappeared: the original Liverpool Philharmonic Hall (bottom, centre) and, at the far end of Hope Street, the Workhouse. Nearby, at the top of Mount Pleasant is the Wellington Rooms, which in more recent times housed the Irish Centre and is now closed and in need of a major refurbishment. The view also shows a stone breaking yard and – right – St Mary's chapel and cemetery (shortly to be closed as full) that housed the mass graves of cholera victims.