Busy Boards are a developmental toy which feature a variety of sensory activities, aimed at children aged 3 and under. The boards can help improve fine motor skills, problem solving and memory and encourage the little ones to use their imagination.
We commissioned artists Roxy Topia, Paddy Gould, Laura Pullig, Ellie Barnett and Kerry Tenbey to create a series of colourful, interactive boards with various materials and elements that children can get involved with. Each artist interpreted the brief in different ways, creating three exciting boards which will be cycled over the next few months.

The dedicated Children & Families space in our Hub was designed by artist Harold Offeh, who has used shades of blue, including a blue filter across the window to mark out a space. Families can make the space their own, with moveable chairs, self-led creative activities and books. The new addition of the 'busy boards' provides an ever changing tactile element for young children to enjoy.

Keep reading to find out more about the individual artworks, the artists behind them and when you can expect to see them in the Hub.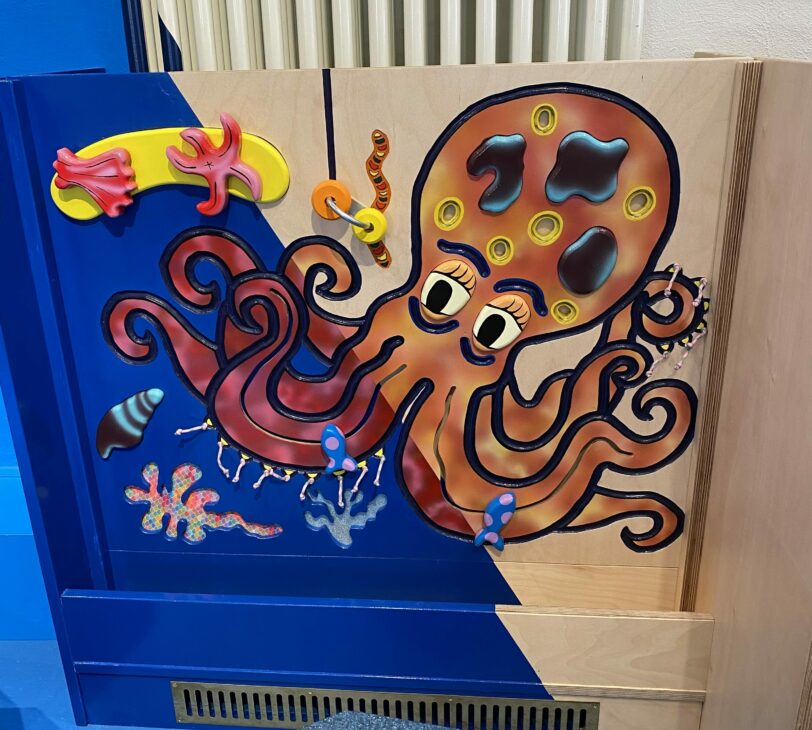 Octopus Busy Board by Roxy Topia and Paddy Gould
The first board to be installed is by collaborators Roxy Topia and Paddy Gould. This colourful Octopus features grooves routered into surface, moveable blocks, sliding shapes, dangling cords and vinyl surfaces providing visual and tactile stimulation.

Here throughout September.
About Roxy and Paddy
Roxy Topia and Paddy Gould have been collaborating full time since 2008, in life and art. They talk to each other a lot, everything more or less comes out of conversation and probably drinking too much coffee. Shared brains and bacterial mixing. Topia and Gould have exhibited and undertaken residencies across the UK and internationally. Selected exhibitions include; RMAC Roswell, USA; Studio 1.1, London; Monte Vista Projects, L.A and Caraboo Projects, Bristol. They also founded Pink Sands in 2018; an independent press for Artist publications based in Birkenhead.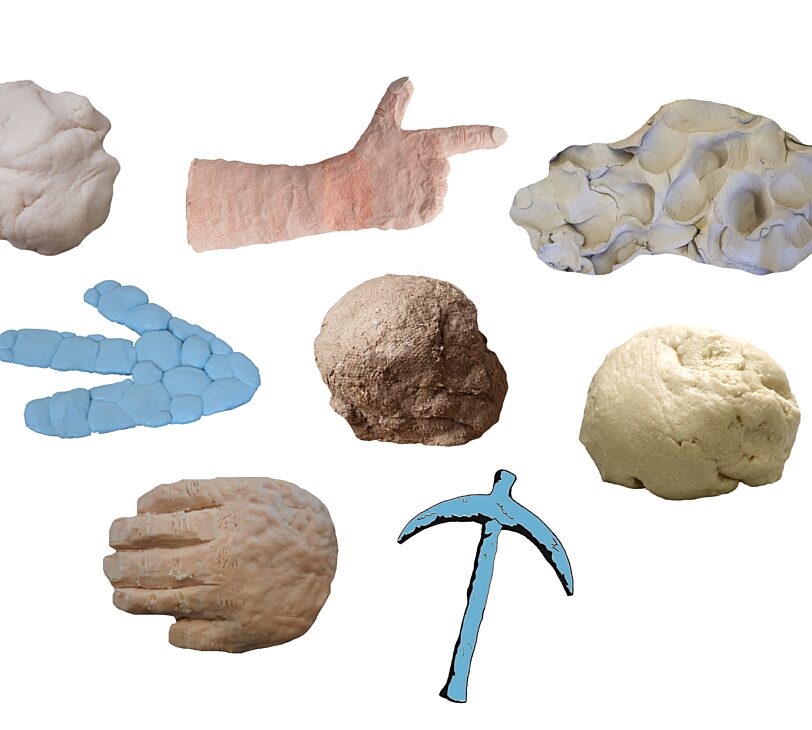 PLAY-SET by Ellie Barrett and Kerry Tenbey.
PLAY-SET is a design from the imagination of North West based artists Ellie Barrett and Kerry Tenbey.
This Busy Board encourages young creative minds of all abilities to play with and create using materials from the world around them. PLAY-SET magnets resemble easily recognisable objects and connective symbols which allow children to make connections between materials and making processes. 3D magnets are made from accessible, available materials such as salt dough, cardboard and clay, and 2D magnets are images captured from both artist's encounters with the world around us.
PLAY-SET invites you to play and rebuild your own material world!

About Ellie and Kerry
Ellie Barrett is a sculptor and researcher investigating the ways in which material contributes critical meaning to artworks as a means of widening participation in contemporary art. Ellie has completed a practice-based PhD at Lancaster University. Recent exhibitions include Explain Things to Me (Subsidiary Projects, London); Breathing Space (Lancaster Arts); More T'North (The Harris, Preston) and Eminent Domain (ex-Robert Miller Gallery, New York). Ellie is also co-director of GRAFT Lancaster CIC.
Kerry Tenbey is a queer artist based in Blackpool exploring social histories through materials and making. Kerry recently completed an MFA at The University of Central Lancashire. Recent exhibitions include Exhbit Gay (The Harris, Preston); Queer Contemporaries (Short Supply, Manchester); Social Matter (Art B&B, Blackpool); SOFT//HARD (By-Weekly, Enschede, Netherlands). Kerry is also Cultural Governor for Prestons Cultural Framework Board and Programme Curator for The Birley, Preston and Abingdon Studios & Projectspace, Blackpool.
Ellie and Kerry are co-founders of Material Arts Network (MAN), a platform which recognises the wealth of research and activity in contemporary art practice surrounding material and the need to create new connections between artists, writers, curators and viewers to share new knowledge.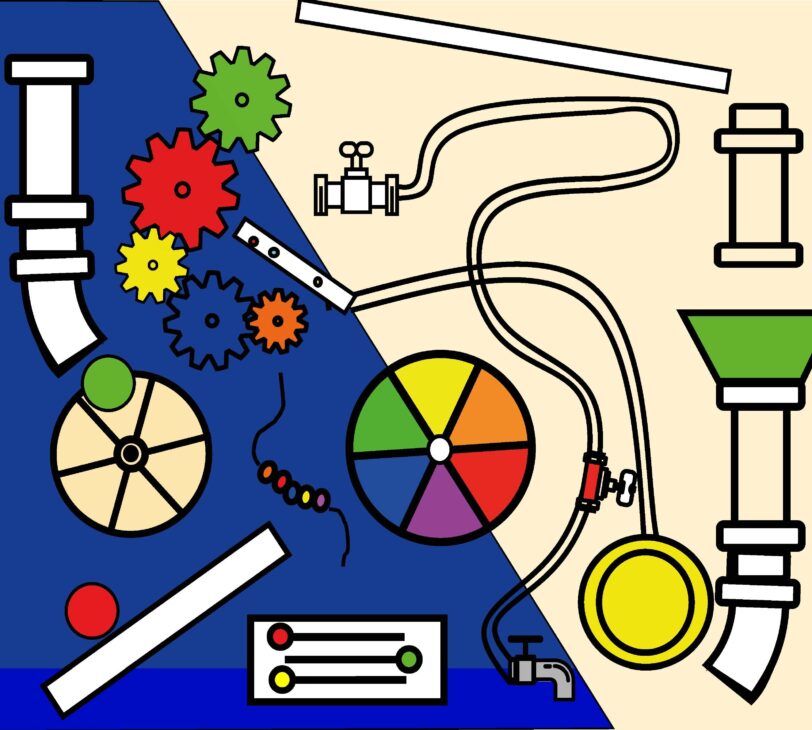 Laura Pullig
Liverpool artist Laura Pullig has designed two boards inspired by her and her three year olds obsession with infrastructure and systems.
The boards feature pipes with play balls to roll down, wheel to spin play balls, cogs to turn, sliders & mini bead rollercoaster, colour wheel spinner, foot pump to press to move balls in a tube and feel the air, and hoses with taps & valves to turn.
About Laura
Laura Pullig lives and works in Liverpool. She works mainly with electronics and is interested in how different systems work. Often her work responds to the environment, lighting up in wind or rain for example. Laura works a lot with people; running workshops and projects and community groups often using technology. For the busy boards she has looked at machines, pipes and switches and how things work.
These artworks are supported by The Granada Foundation.