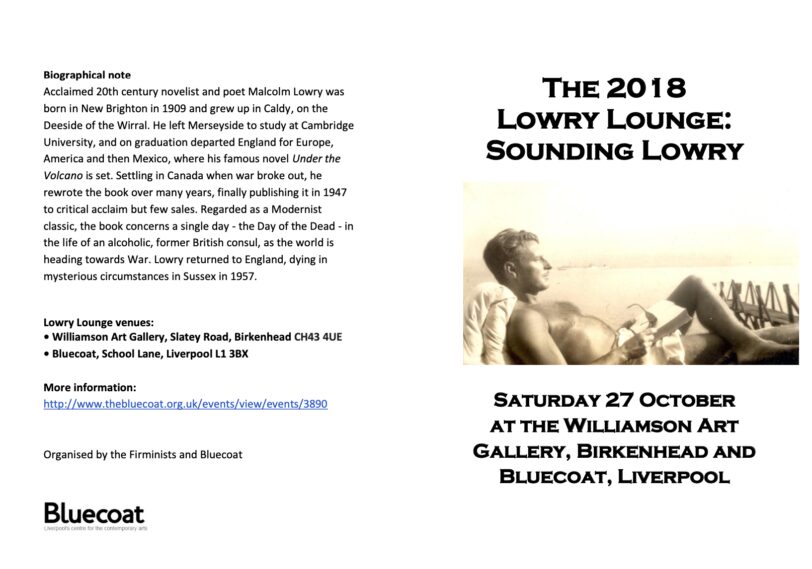 PDF
The 2018 Lowry Lounge programme
2018
The 2018 Lowry Lounge was in two parts, the first in Birkenhead, whose docks Lowry had his first taste of maritime adventure in 1927 sailing as a deckhand to the Far East, a voyage that informed his first novel, Ultramarine. At the Williamson Art Gallery there an installation by artist Alan Dunn was accompanied by an illustrated talk by Bryan Biggs and Helen Tookey focusing on Lowry's Wirral origins.
The Lounge continued with a musical focus at the Bluecoat with a film of The Lighthouse Invites the Storm performance commissioned from the previous year from Dunn, Martin Heslop and Jeff Young that was developed in collaboration with retired seafarers in Wallasey and reconnected Lowry with his New Brighton birthplace.
An illustrated talk by Mark Goodall examined the relationship between jazz and Lowry's writings, with reference to the work of British Jazz composer and writer Graham Collier.
An 'Open Malc' session with contributions from the floor featured a lively afternoon of music, poetry and readings, followed by Lowry-themed records and a toast to the writer.