Featuring Simon & Tom Bloor, Polly Brannan, Rhys Coren, Fran Disley, Kevin Hunt, Anssi Kasitonni, Yusuke Mashiba, Trine Lise Nedreaas, Emily Speed, Mark Simmonds, William Wegman, Huw Wahl, John Walmsley - Liverpool Free School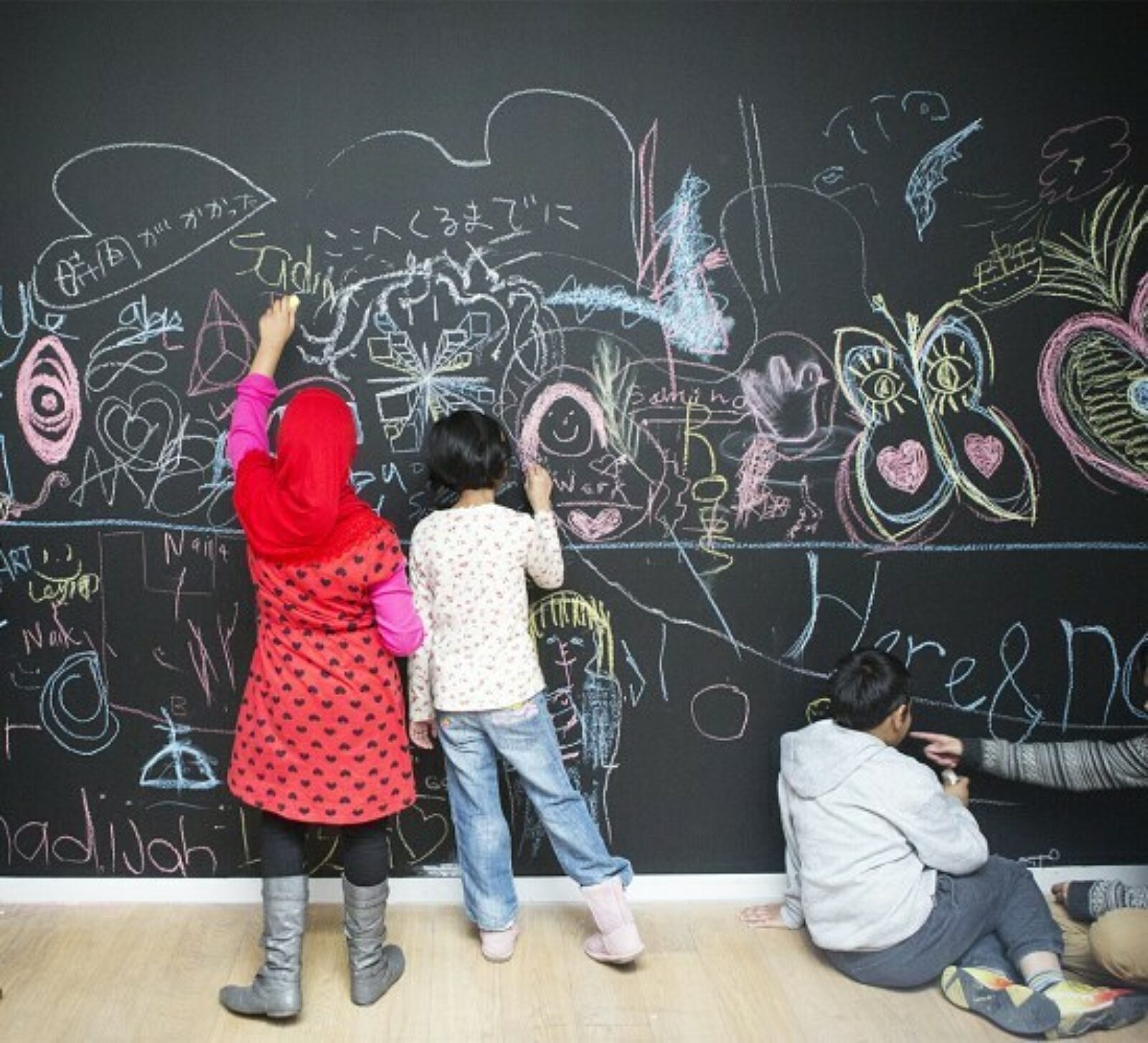 Commissions included Simon & Tom Bloor's installation New possibilities in familiar situations, which invited visitors to draw on the gallery walls using special chalk boards. Emily Speed filled our largest gallery with child height replicas of architectural spaces, where strict rules and certain behaviours usually apply (such as courts and voting booths), transforming them into places of play and performance, complete with costumes.
Kids Video Art Program, a collaboration with Kunsthall Stavanger, featured a selection of short films & animations by UK and international artists, including Trine Lise Nedreaas' shimmering hula hoops, William Wegman's synchronised dogs and Rhys Coren's snapping fingers.
Abacus responded to Bluecoat's history as both a charity school and centre for the arts, also celebrating contemporary cultural spaces as alternative learning environments.

We hosted a series of events alongside the exhibition including
Huw Wahl: Everything Lives (2016) - Founded by Ken Turner and his wife Mary Turner in 1968, Action Space used large inflatable sculptures to create interventions into public spaces. We showed Turner's son Huw Wahl's film Everything Lives, which was a poignant study of an artist in his 90s returning to his first love, painting, while reflecting on the radical public art movement he helped found.
Simon & Tom Bloor in conversation - Abacus artists Simon & Tom Bloor discussed their latest commission New possibilities in familar situations, their enduring interest in educational experiments from the 1970s and their relevance to creative education today.
Emily Speed: Architectural Reveal - Abacus artist Emily Speed created a wearable sculpture based on different eras of the Bluecoat building and its surrounding area. She revealed each layer in a performance work.
Megaphone Writes - Renowned children's author Leila Rasheed and guest authors Danielle Jawando and Joyce Efia Harmer discussed Megaphone: a new development scheme for Black, Asian and Minority Ethnic writers who want to write their first children's novel. This panel discussion was aimed at writers and those interested in debating the publishing industry.