Black Art: Plotting the Course was an exhibition curated by Eddie Chambers in collaboration with Bluecoat, Oldham Art Gallery and Wolverhampton Art Gallery. The exhibition was partly a response to the exhibition The Essential Black Art, curated by Rasheed Araeen in 1988. While Araeen's exhibition featured leading figures in Black art, Chambers' showcased 27 emerging artists.
Black Art: Plotting the Course presented artists who were 'aspiring to produce' Black Art. Chambers, in the accompanying exhibition catalogue, explained this further: 'I say "aspire to produce" rather than produce because I believe that Black Art, as one multi-faceted whole, with its demands for duty, obligation, and integrity, is something too powerful, too important, to be perceived merely as an artform that artists can choose to "produce"'.
Exhibiting artists:
Note: Works shown are included where these details are known, together with some biographical information on certain artists.
Said Adrus: Arsonists
Upjohn Aghaji
Georgia Belfont: Re-evaluating Olympia
The subject matter of Belfont's painting is the black woman featured in Manet's Olympia (1863). The painting seeks to present the viewer with a fragment of black history, bringing together a self-portrait of the artist and her family. This creates an analogy between the black woman in Olympia and black women in European culture.
Donald Brown
Val Brown: A British Product
Brown's photographic series alluded to the notion of the 'English Rose' – the 'well poised, graceful, elegant and white female' typified by Cecil Beaton's images. By featuring black women, Brown questioned the prominence of myths surrounding beauty and 'exoticism' in contemporary daily media.
Nina Edge
Edge subsequently exhibited at Bluecoat several times in group shows including A Table for Four (1991) and a solo exhibition, Virtual Duality (1994), and was commissioned to do two large-scale participatory performances, Sold Down the River (1995) and The Observer's Book of Independence (1997). She was selected for Trophies of Empire (1992), presenting work at the Ferens Art Gallery in Hull.
Isaiah Ferguson
Amanda Holiday: The Hum of History
Carol Hughes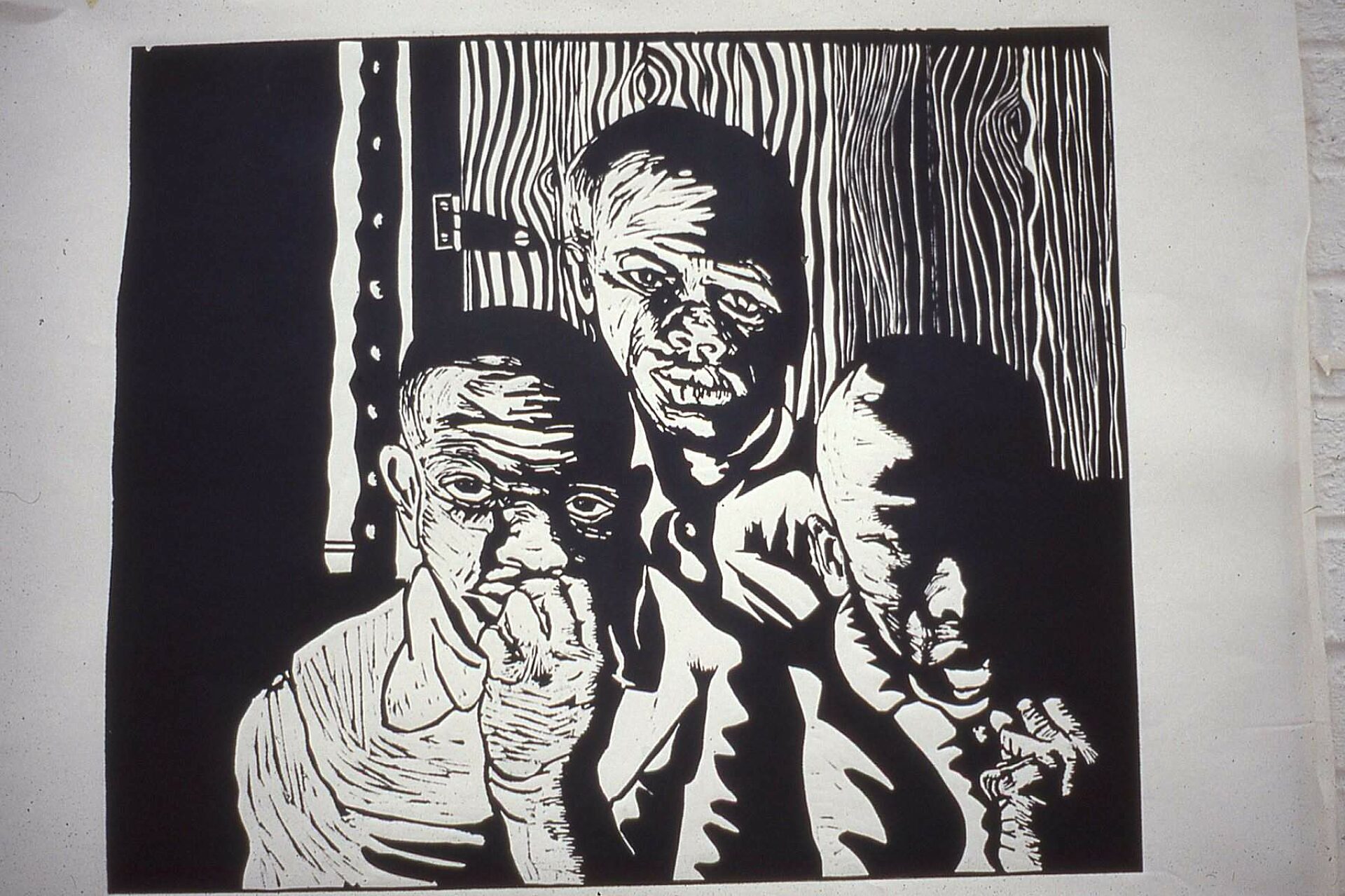 Wendy Jarrett: Bedsheet of My Foremothers (Blood, sweat'n tears)
Jarret describes Bedsheet as constituting certain emotions and psychological perceptions she has about aspects of her heritage as a black woman.
Tam Joseph: The Law: Standing on Your Neck
Joseph had exhibited previously in Bluecoat's exhibition Black Skin/Bluecoat (1985), alongside Chambers, Sonia Boyce and Keith Piper.
Godfrey Lee: 136: Ain't Nobodies Business
This artwork referred to clause 136 of the Mental Health Act and the treatment of Black British people in the justice system.
Erroll Lloyd: The Domino Players
John Lyons: Shut Eye See Better
Lyons' work was exhibited by Bluecoat again in Let the Canvas Come to Life with Dark Faces (1990), an exhibition also curated by Chambers.
Julia Millette: The Opulent Eye; The Punitive Expedition
Millette's work examined how Europe's wealth of cultural heritage is intrinsically linked to the slave trade and colonialism.
Mowbray Odonkor: Self Portrait with Red, Gold and Green Flag; Maid and Madame; Eeny, Meeny, Miney, Mo, Now You See Me Now You Don't; Betty and Veroni
Odonkor, a British artist of Ghanaian heritage, showed four works: Self Portrait examined Black British identity, whileMaid and Madame focused on the position of South African women under Apartheid. In Eeny, Meeny, Odonkor addresses how stereotypes are used to form judgements. Betty and Veroni focused on Odonkor's sisters, questioning the relationship with British and Ghanaian identity, and asking if their connection to their roots and life in Britain make them 'Black-British, Afro-Caribbean, African … or other?'
Paul Ogbonna
Eugene Palmer
Tony Phillips: The History of The Benin Bronzes
Phillips' series of pastel drawings focused on the looting of the artworks of bronze, ivory and wood from Benin (Nigeria) by British forces in 1897. The drawings were also developed as a series of etchings. Born in Liverpool, Phillips went on to show at the gallery on several occasions, including solo exhibitions Jazz (1993), The City (1994) and 12 Decades (2021).
Ray Povey
Jaswinder Singh Purewal: The Bosses, Trophy Cabinet
Alistair Raphael: Lead Book/Box; Indian Journal No. 2
Often using the form of the journal, Raphael's work used familiar visual images including flowers, family photographs and catholic iconography to examine prejudice and repression. 'By the juxtaposing of my images and words, under these confines the work aims to visually articulate the manipulation of word and experience. Incidents become scarred during this enclosure, the pigeonholing and categorization according to the nature of the "otherness"'.
Lesley Sanderson: Accessories
Accessories used the seemingly traditional aspects of portraiture to comment on racism from a female perspective. Sanderson confronted the viewer with a strong image, leaving 'no room for voyeurism' and seeking to unnerve the spectator. The artist exhibited at Bluecoat again in a solo show, These Colour Run (1995), curated by Chambers and Martin Barlow, and in several group exhibitions.
Mark Sealy
Mark Sealy worked again with Bluecoat in his capacity as Director of Autograph (Association of Black Photographers), including the 1992 exhibition Mis(sed) Representations, a version of which was then shown in Cologne as Autographed; and John Akomfrah's The Unfinished Conversation, which premiered at the Bluecoat in the 2012 Liverpool Biennial.

Gurminder Sikand: Chipko
Shanti Thomas: The Roti-Maker; The Seamstress; The Mission
Jan Wandja
Wandja had previously exhibited in a four person show at the Bluecoat in 1984, together with Tony Bevan, Glenys Johnson and Jefford Horrigan.