Black Skin/Bluecoat featured the work of four young artists at the forefront of the early Black Art movement in Britain: Eddie Chambers, Sonia Boyce, Keith Piper and Tom (later Tam) Joseph.
The title for this exhibition, Black Skin/Bluecoat was suggested by Eddie Chambers, a reference to Frantz Fanon's 1952 text Black Skin, White Masks. Fanon's urgent critique of the effects of racism and the black experience is reflected and interrogated within the exhibition, in which four young British artists attempt to expose and oppose the injustice faced by Black people throughout history and the present day.
Each artist worked in 'whatever media' suited their purpose, bringing together painting, sculpture, slide-tape and screen-print, including Piper's slide-tape sequence The Trophies of Empire and Boyce's pastel, watercolour and crayon piece Missionary Position II – Position Changing. Often the pieces were challenging and demanding, others – including Boyce's work – were reflective and contemplative. The following works were exhibited in Black Skin/Bluecoat:

Sonia Boyce:
Missionary Position I – Lay Back

Missionary Position II – Position Changing
Big Women's Talk
Slow Hand – A Woman's Story
Auntie Enid
Incorporating works in watercolour, pastel, crayon and mixed media, Sonia Boyce's works addressed issues around gender and race in everyday life. Missionary Position II – Position Changing has been interpreted as examining the intersection of different cultures, particularly the presence of Christianity and the developing sense of connectedness across the African diaspora. Across the bottom of the work, Boyce has handwritten the following: 'Laard but look my trials nuh – they say keep politics out of religion/and religion out of politics/but when were they ever separate? Laard give me strength'.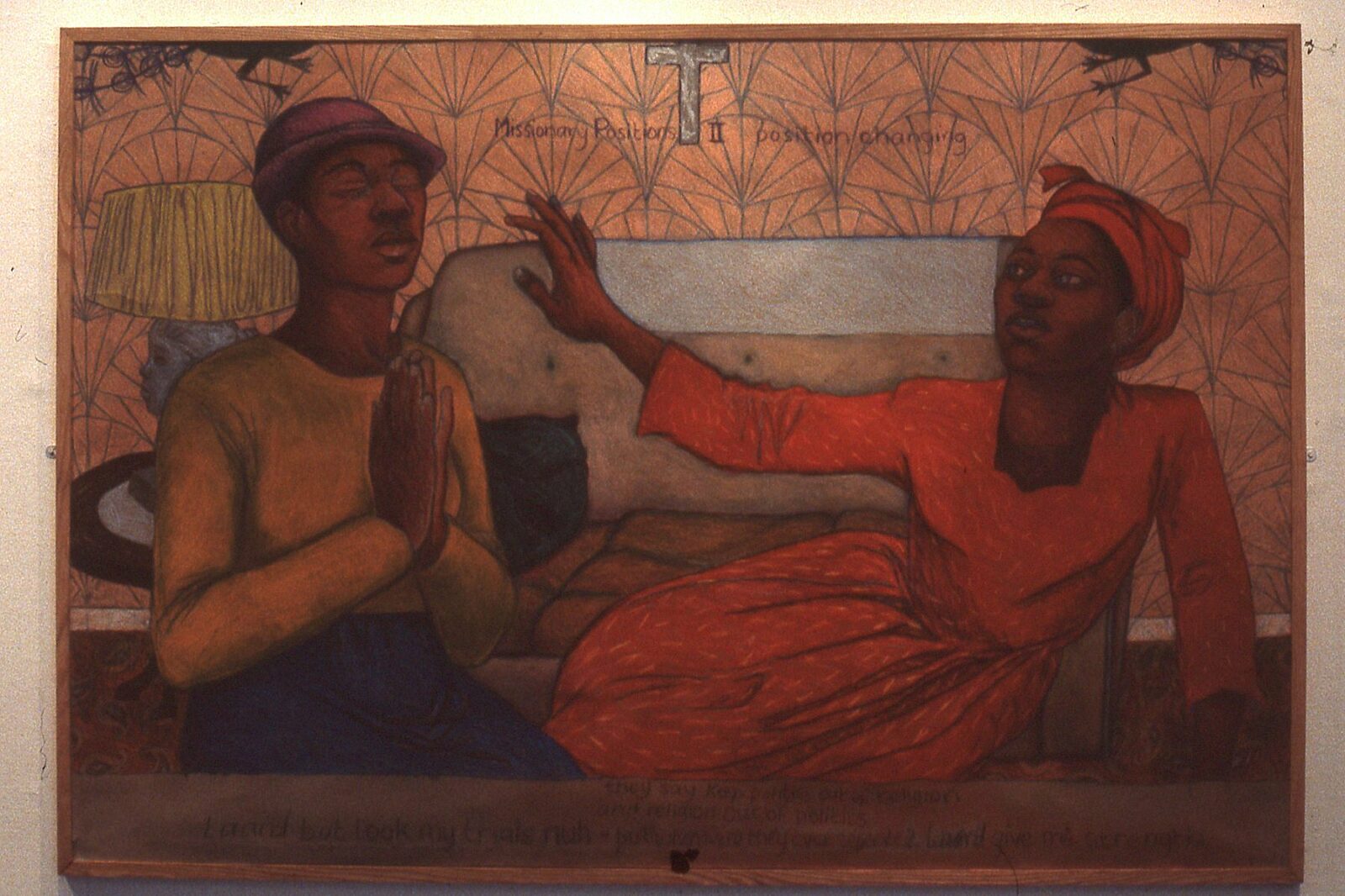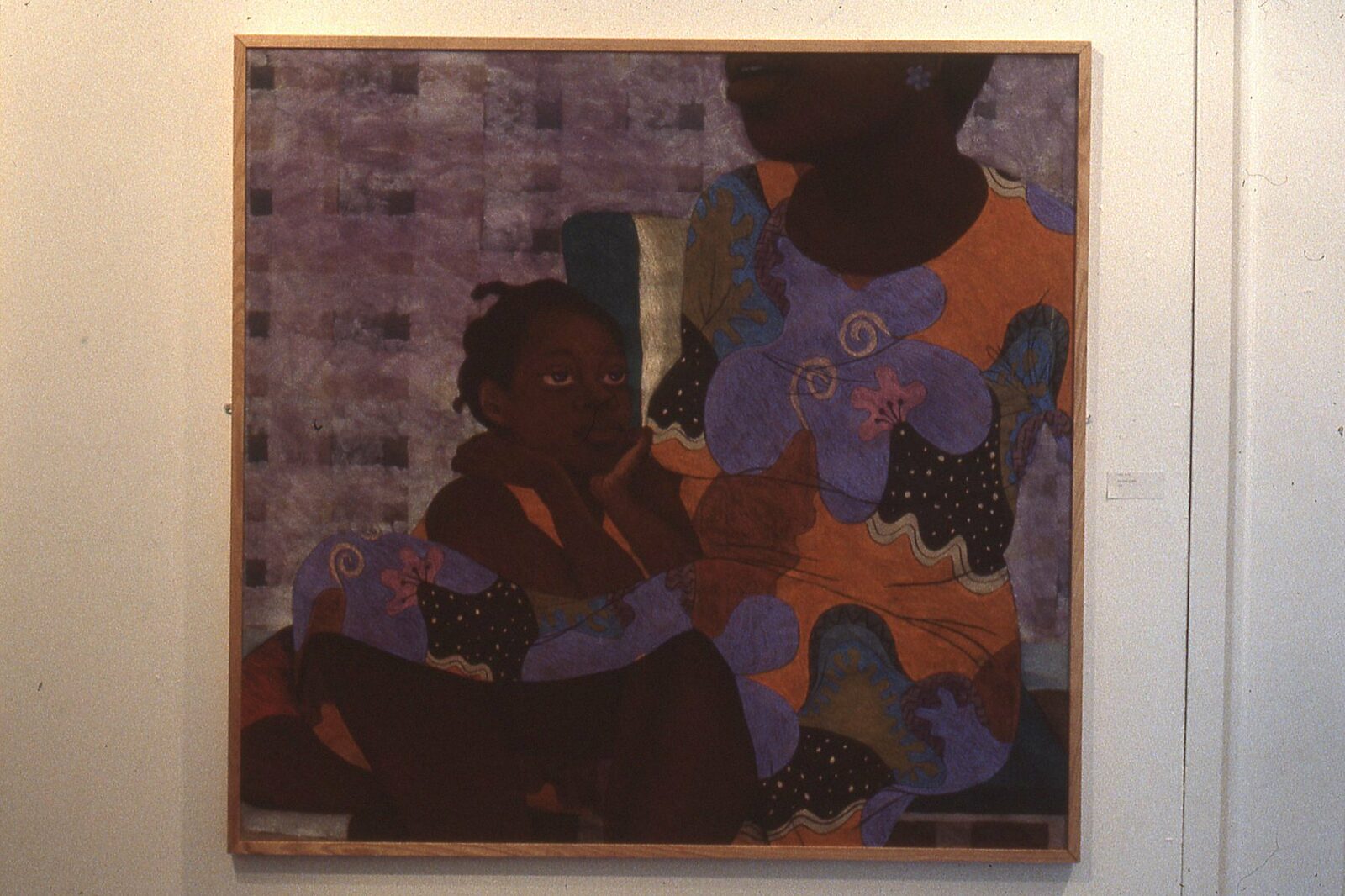 Keith Piper
The Seven Rages of Man

The Trophies of Empire
'My work is primarily concerned with politics – a fact for which I can make no apologies, as the very existence of Black people in this, the founding fatherland of imperialism – is political. Dominated as it is by forces cultural, historical, economic and social which have shaped us, but have not been shaped by us'.
(Keith Piper, Black Skin/Bluecoat exhibition catalogue).
The Seven Rages of Man featured seven hollow masks cast from the artist's face and torso, constructed from bandages and plaster and painted with car spray paint. The work was recently reconstructed in 2018 for display in the Graves Gallery in Sheffield.
The Trophies of Empire was first exhibited in Black Skin/Bluecoat. An installation featuring a constantly looping slide/tape sequence of over a hundred transperancies, these slides have been directly applied with 'Letraset' transfer lettering (a technique directly influenced by Expeditions One: Signs of Empire by Black Audio Film Collective). Piper's mixed media installation incorporated sound, sculptural elements and large-scale unstretched canvas banners with pencil illustrations and text such as 'The Sun Never Sets'. A scratched record of Elgar's Pomp and Circumstance played on a loop, a series of five marches designed to evoke British war-time patriotism and pride.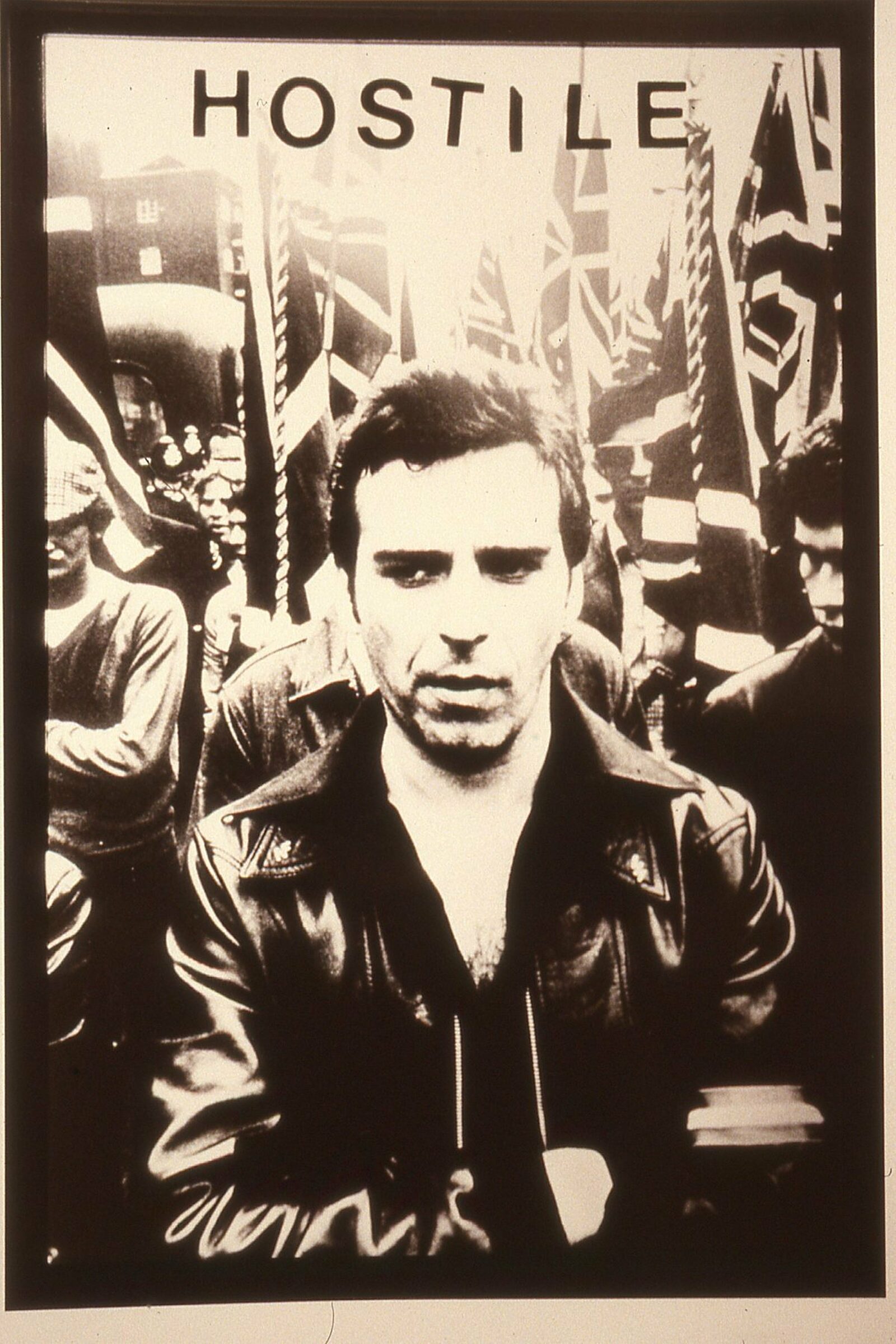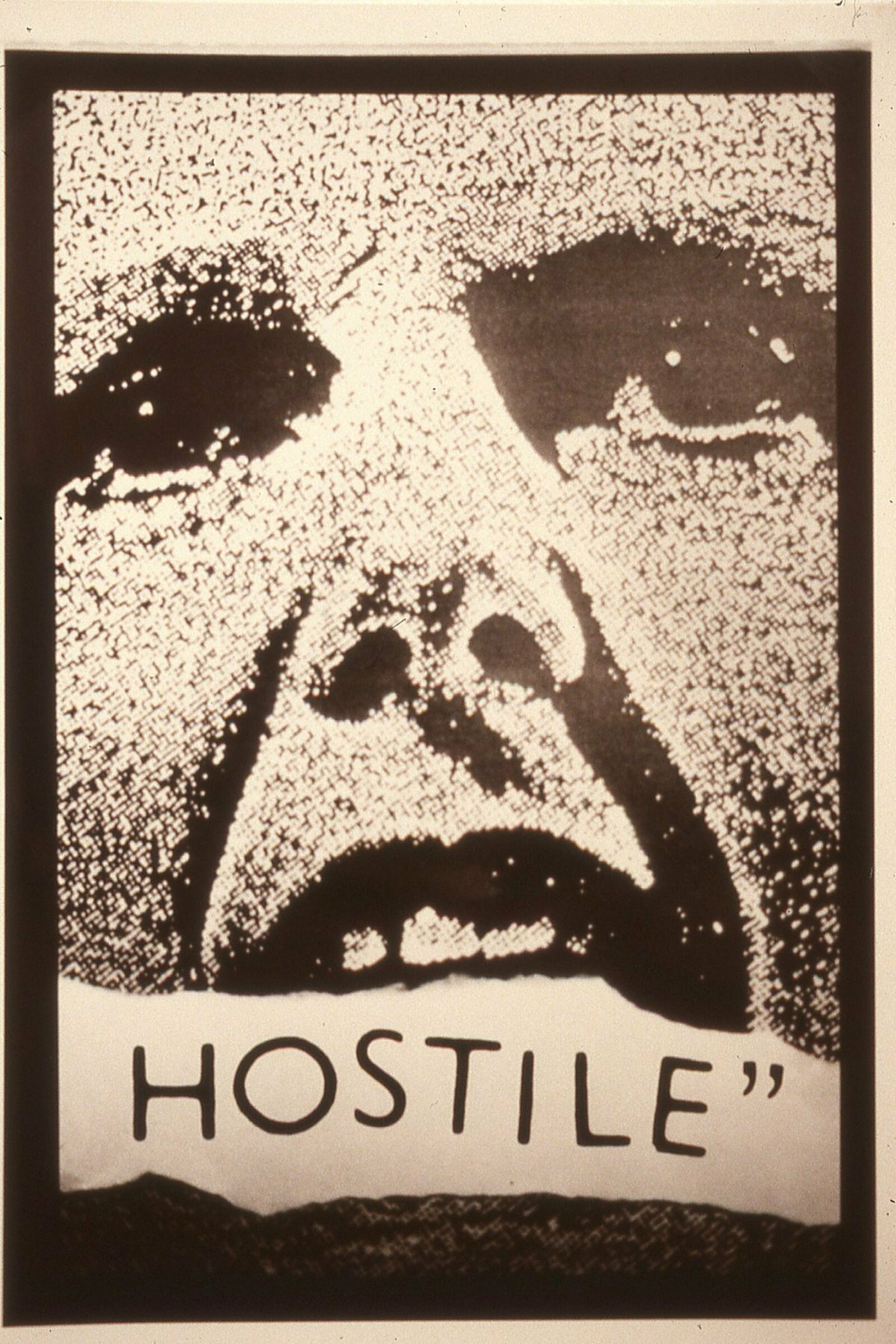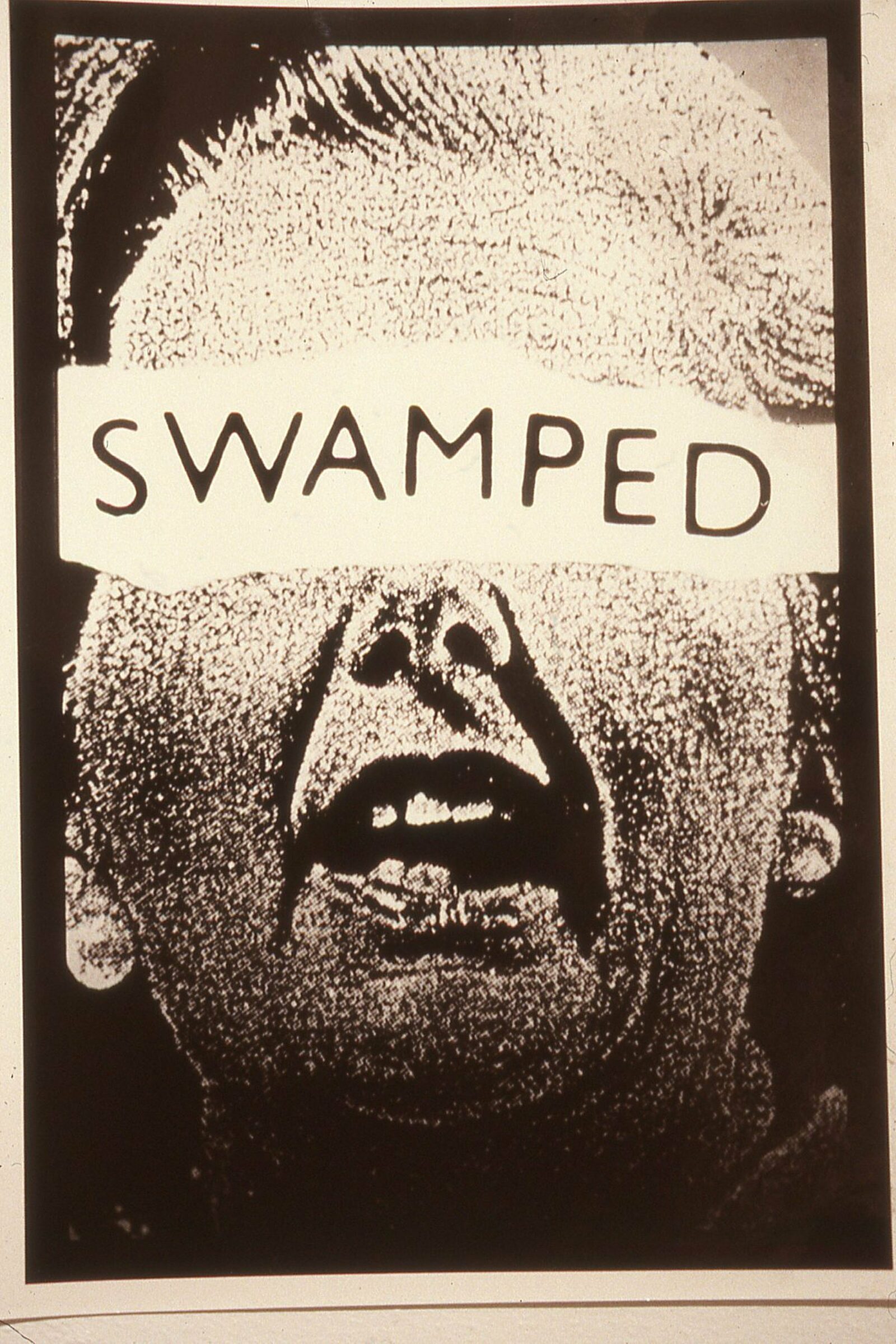 Tom Joseph
Monkey Dey Chop Baboon Dey Cry
Has anybody seen Tony Birbeck?
In the interest of State Security
Spirit of the Carnival
I imagine I hear music
Icarus
U.K. School Report
Ei! Who are you?
Tom (later Tam) Joseph was born in 1947 in Roseau, Dominica (West Indies) and emigrated to London in 1955. Studying on a Foundation course at Central School of Art and the Slade School of Art, he exhibited with the Royal Society of Oil Painters and organised and exhibited in the first Exhibition of Contemporary Black Artists in 1983.
U.K. School Report featured three portraits of figures in black blazers. Each had the following written beneath, from right to left: 'Good at sports', 'Likes music', 'Needs surveillance'. Has anybody seen Tony Birbeck? tells the story of a fire in January 1981, which claimed the lives of 13 young Black people, believed to have been deliberately started by racists. This became known as 'The New Cross Massacre', with the local Black community demanding an independent public enquiry. The fourteenth victim was Tony Birbeck, a young man at the party who witness his friends perish in the fire. He committed suicide upon his discharge from hospital and his death went unreported in the British media.
Discussing his work in Black Skin/Bluecoat, Joseph describes the appreciation felt by the artists for the attention given to their work at Bluecoat. 'I hope that this attention is not just some passing fad, and that interest will continue to be shown to the work of Black artists despite the fact that many of these artists are making revealing statements about Occidental Society, statements which are often at loggerheads with the deliberate lies with which that society has been spoonfed from the past up to the present'.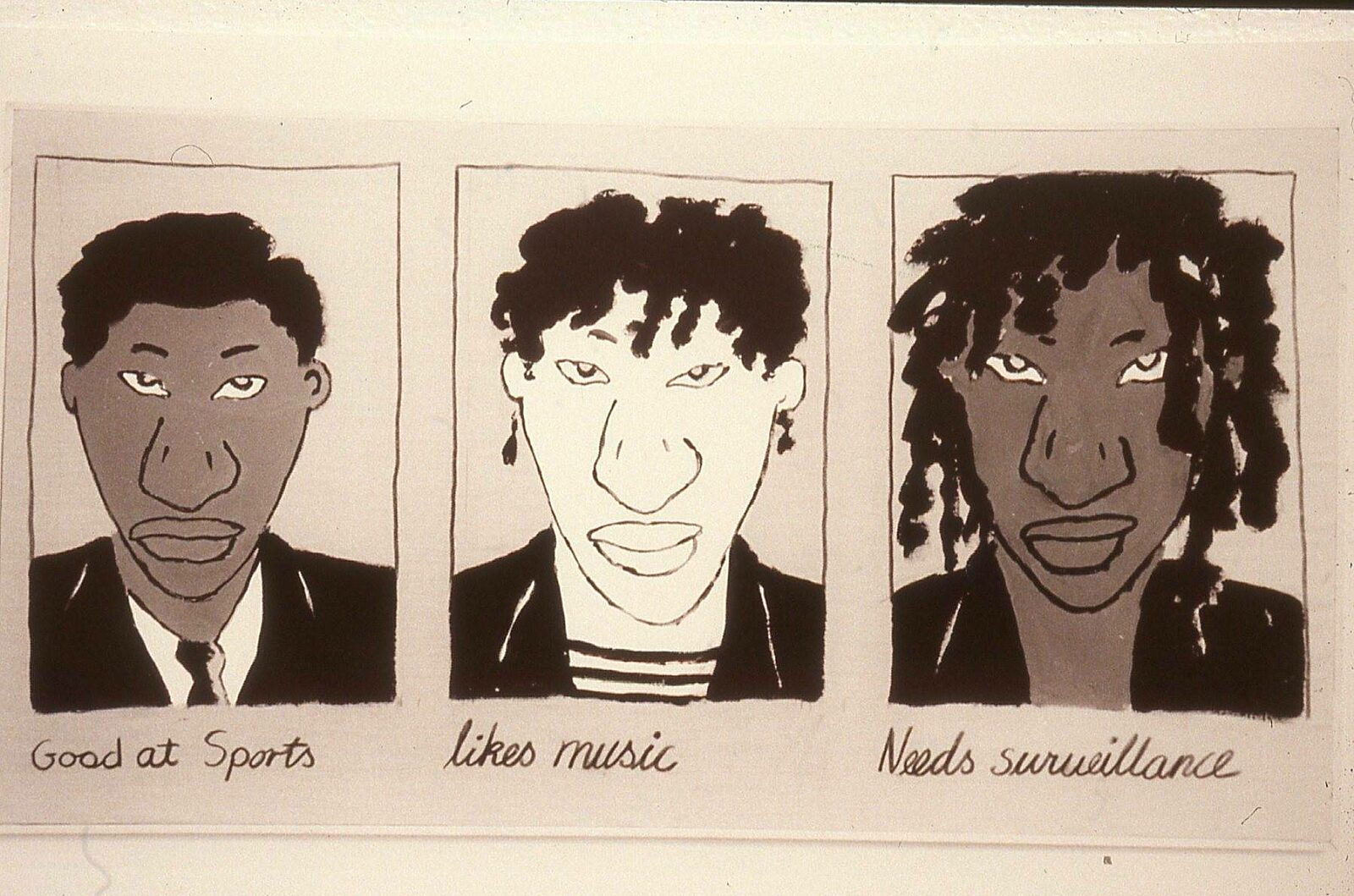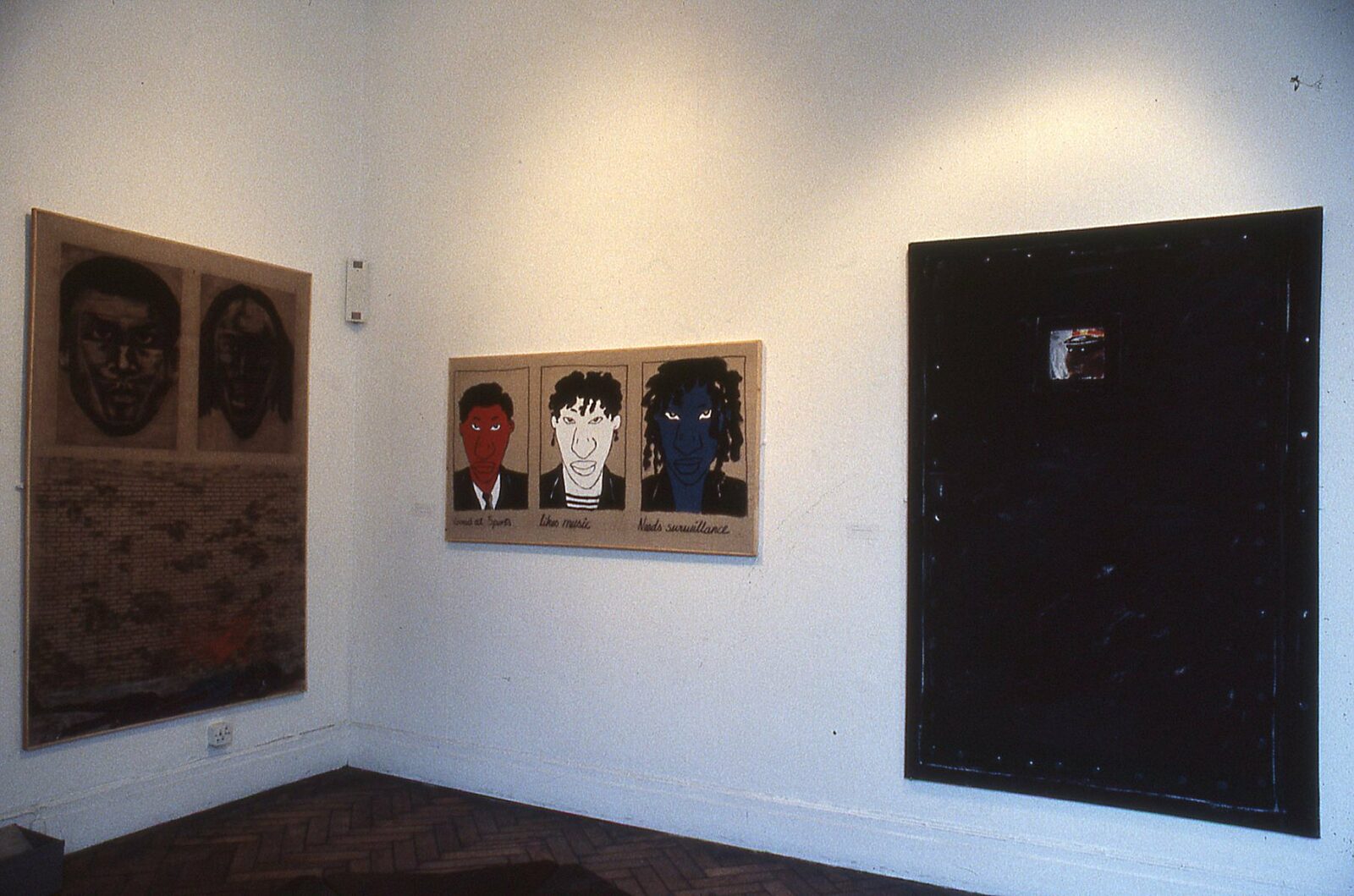 Eddie Chambers
Alabama Night Moves – The Marlboro Connection
A large scale work incorporating text, photography and spray paint, Alabama Night Moves – The Marlboro Connectionsought to examine the links between capitalism and racism, referencing the economic basis to the violent declarations made by the Ku Klux Klan. A giant red arrow crosses a reproduction of a slave ship and an American dollar bill, leading to the American flag which is torn, and settling at the bottom of the board. Across the bottom of the board, each word is produced separately, reading 'the turning of Africa into a warren for the commercial hunting of blackskins, signalised the rosy dawn of the era of capitalist production'.
Black Skin/Bluecoat (1985). Installation shot of Eddie Chambers, 'Alabama Night Moves – The Marlboro Connection'.