Curated by Eddie Chambers, Let the Canvas Come to Life with Dark Faces was a touring exhibition of self-portraits, held at Bluecoat, the Herbert Art Gallery & Museum (Coventry), South London Art Gallery, Cartwright Hall (Bradford), Ipswich Museum and Castle Museum (Nottingham). The exhibition was an opportunity to focus on self-portraiture, a genre of art that had become relatively unfashionable for contemporary galleries in this period, and one that was rarely chosen for the sole focus of a display. Patrick Day, in the foreword to the exhibition catalogue, stated "self-portraiture not only attempts physical likeness, but also, and perhaps more importantly, seeks to portray the mental state and inner-self – the soul – of the artist". Bringing together the work of 57 artists from a range of cultural backgrounds, the exhibition sought to showcase a wide range of styles and media within self-portraiture and create a platform for these artists to explore and examine issues around self-identity.
Let the Canvas Come to Life with Dark Faces sought to present contemporary portraiture, draw attention to lesser-known young artists, promote the interests of black artists in Britain and allow the spectator to examine issues of personal identity. The exhibition title was taken from a poem by Jamaican-born editor and activist Amy Jacques Garvey:
"Let the canvas come to life with dark faces;
Let poetry charm the muses with the hopes
And aspirations of our race; let the
Musicians drown our sorrows with the
Merry jazz; while a race is in the making,
And steadily moving on to nationhood
And to power."
(1926, published in an issue of the Negro World, the newspaper founded by her husband Marcus Garvey.)
Manjeet Lamba stated "implicit in the title of this exhibition is a feeling invoked in me of release, a point in time when ancestral frustration can be expressed, those that have been suppressed can rise up and speak" (1989). Chambers wrote of Garvey's poem: "In 1926, when the words which form the title and ethos of this exhibition were written, the world was, and yet was not, very different to how it is today." He asked: "what makes the contemporary African or Asian self-portrait different (to the 'white' self-portrait)?... In a sense, this exhibition offers as many answers to that question as there are pieces of work in it. Each of the self-portraits exhibited here tells its own story of an African or Asian person attempting to come to terms with, or make sense of, the world in which they find themselves, and the myriad political forces that have shaped it."
Discussing the exhibition further, Chambers said :"A number of these artists have submitted self-portraits that, at first appearance, seem to fall within the more conventional or orthodox genre. However, for these artists, the act of painting oneself, as an African or Asian Person, in a society/country/world which is dominated by the white power structure, and its comprehensive machinery of oppression, becomes a deeply political and valid act, which involves the confronting of any given number of realities."
Artists included
Note: Works shown are included where these details are known, together with some biographical information on certain artists.
Said Ardrus

Identitaet Nationalitaet (1984 – 86). Mixed media.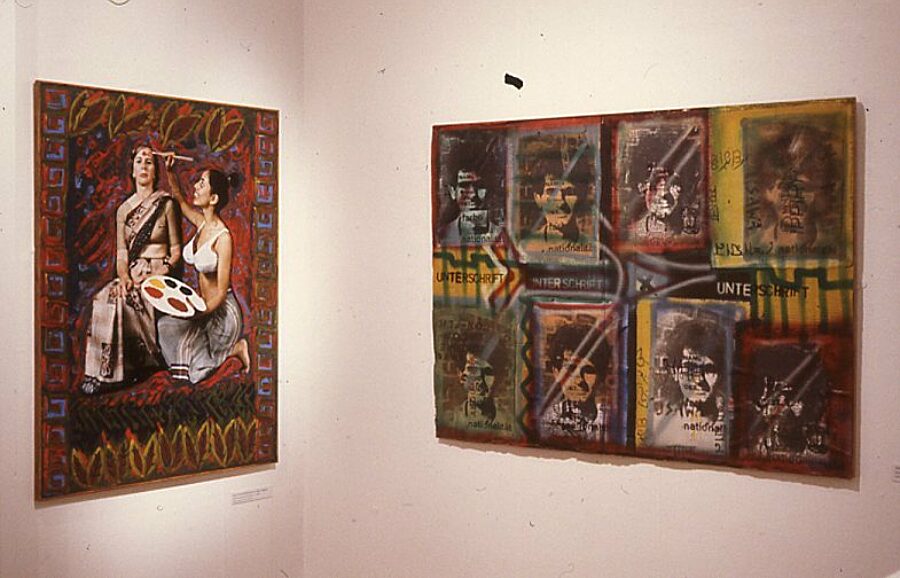 Let The Canvas Come To Life With Dark Faces (1990). (Left) Nilifur Chowdhury, 'Self-Portrait with Mother', (right) Said Ardrus, 'Identitaet Nationalitaet'.
Olanike Audu
Osikhena Audu
Lanek Bauga
Andrew Beeput
Georgia Belfont
Untitled (1985 – 90). Mixed media.
Lyndon Volney
Self-Portrait (1989). Oil on board.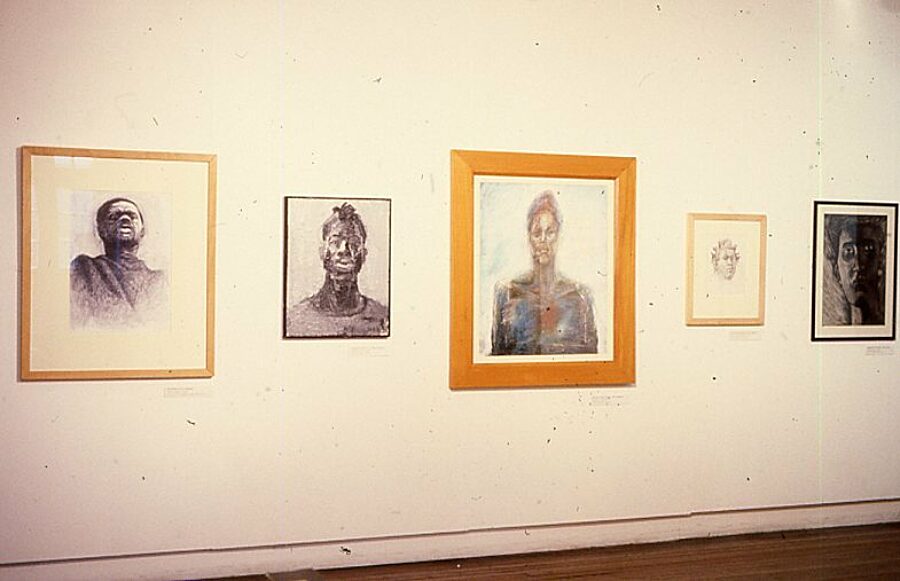 Let The Canvas Come To Life With Dark Faces (1990). (Second left) Lyndon Volney, 'Self-Portrait'; next to that, Georgia Belfont, Untitled.
Marcia Bennet
Chris Bramble
Donald Brown
Chila Kumari Burman
Renganaden Calinghen
Nilifur Chowdhury
Sharon Curtis
Dedar
Geta Mekonnen Deresse
Paul Duncan
Self-Portrait with Easel (1989). Oil on paper.
Uzo Egonu
Egonu was born in Nigeria and studied at Camberwell College of Art. His work was exhibited again at Bluecoat in seen/unseen (1994) curated by Olu Oguibe, when he showed works using acrylic and sand on canvas to reflect on Christopher Columbus' 'discovery' of the Americas.
Shreela Ghosh
Georgina Grant
Medina Hammad
The Camera Never Lies (1989). Charcoal and pastel on paper.
Medina Hammad is a painter and teacher whose work explores her Sudanese and English background.
Desmond Haughton
Self-portrait in Red Shirt (1990). Oil on board.
Desmond Haughton was born in 1968 to parents of Guyanese and Jamaican descent. His work often seeks to examine his own dual experience as a person born in England yet connected to Caribbean culture.
Colin Henry
Carlos Holder
Richard Hylton
Untitled (1989). Photographic print.
Bhajan Hunjan
Untitled (1988). Acrylic on canvas.
Hunjan was born in Kenya in 1956 and studied Fine Art at Reading University. She works in a variety of media including glass, acrylic, metalwork and printing. Her work is in various collections, including Cartwright Hall Art Gallery, Reading Museum and Art Gallery and University College London.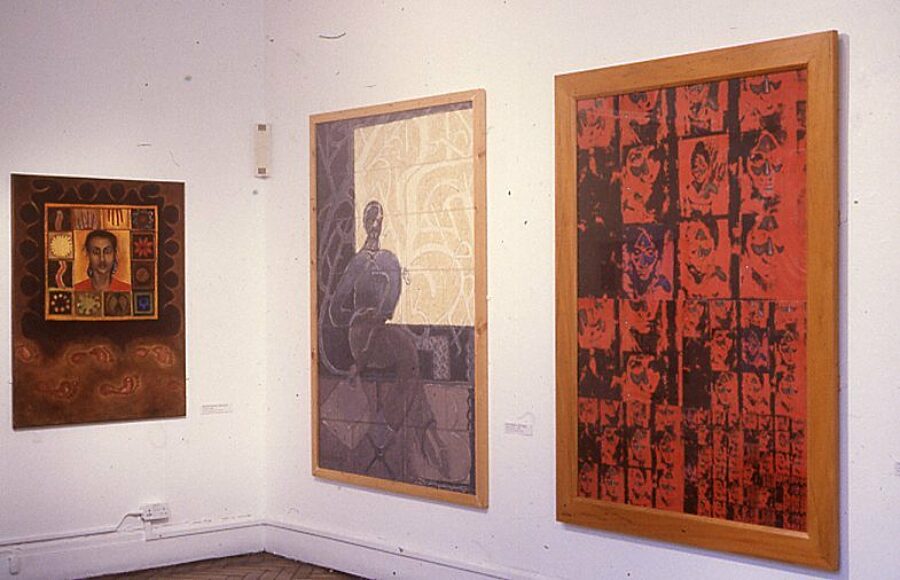 Let The Canvas Come To Life With Dark Faces (1990). (Left to right) Bhajan Hunjan, Untitled; Uzo Egonu, 'Self-Portrait'; Chila Burman, Untitled.
Anthony Jadunath
Winston James
Permindar Kaur
Self-portrait (1990). Metal and wood.
Kaur is a sculpture and installation artist who explores cultural identity and ideas surrounding home in her work. Self-portrait features a steel facial shape, filled with wooden animal forms, domestic objects that seem to recall childhood innocence and play.
Rhona Harriette
As a photographer (1989) No.3 of 4. Colour prints.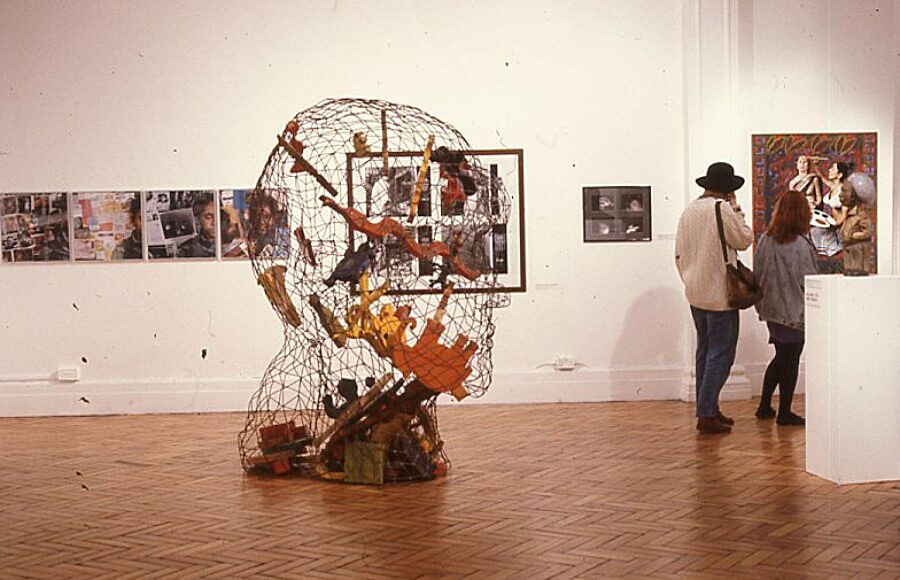 Let The Canvas Come To Life With Dark Faces (1990). Permindar Kaur, 'Self-Portrait', with Rhona Harriette, 'As a photographer' series behind, to the left.
Rita Keegan
Indra Khanna
Manjeet Lamba
Roland Lawar
Rikki Lawrence
Godfrey Lee
John Lyons
Self-portrait with Jumbi Bird (1990). Oil on canvas.
Lyons is a painter, poet, illustrator and educator who was born in Trinidad in 1933 and studied at Goldsmiths College of Art. His work often examines themes linked to Caribbean mythology and folklore – 'Jumbi Bird' refers to the small ferruginous pygmy owl, which is seen as a harbinger of death. Lyons' work had been previously exhibited by Bluecoat in Black Art: Plotting the Course (1989), also curated by Chambers.
Walid Mustafa
Colin Nichols
Ingrid Pollard
Ray Povey
Jaswinder Singh Purewal
Self-portrait: Immigration Policies for Whom (1988). Charcoal, graphite, watercolour on paper.
Singh Purewal's work was previously exhibited by Bluecoat in Black Art: Plotting the Course (1989), also curated by Chambers.
Sarah Rahim
Sher Rajah
Donald Rodney
The House That Jack Built (1987). Mixed media installation.
Rodney was a founding member of the BLK Art Group, formed in Wolverhampton in 1979 to empower black artists and explore the concept and meaning of Black British identity. Other founders included Chambers, Keith Piper, Marlene Smith, all of them – like Rodney - children of Afro-Caribbean migrants and raised in and around the West Midlands.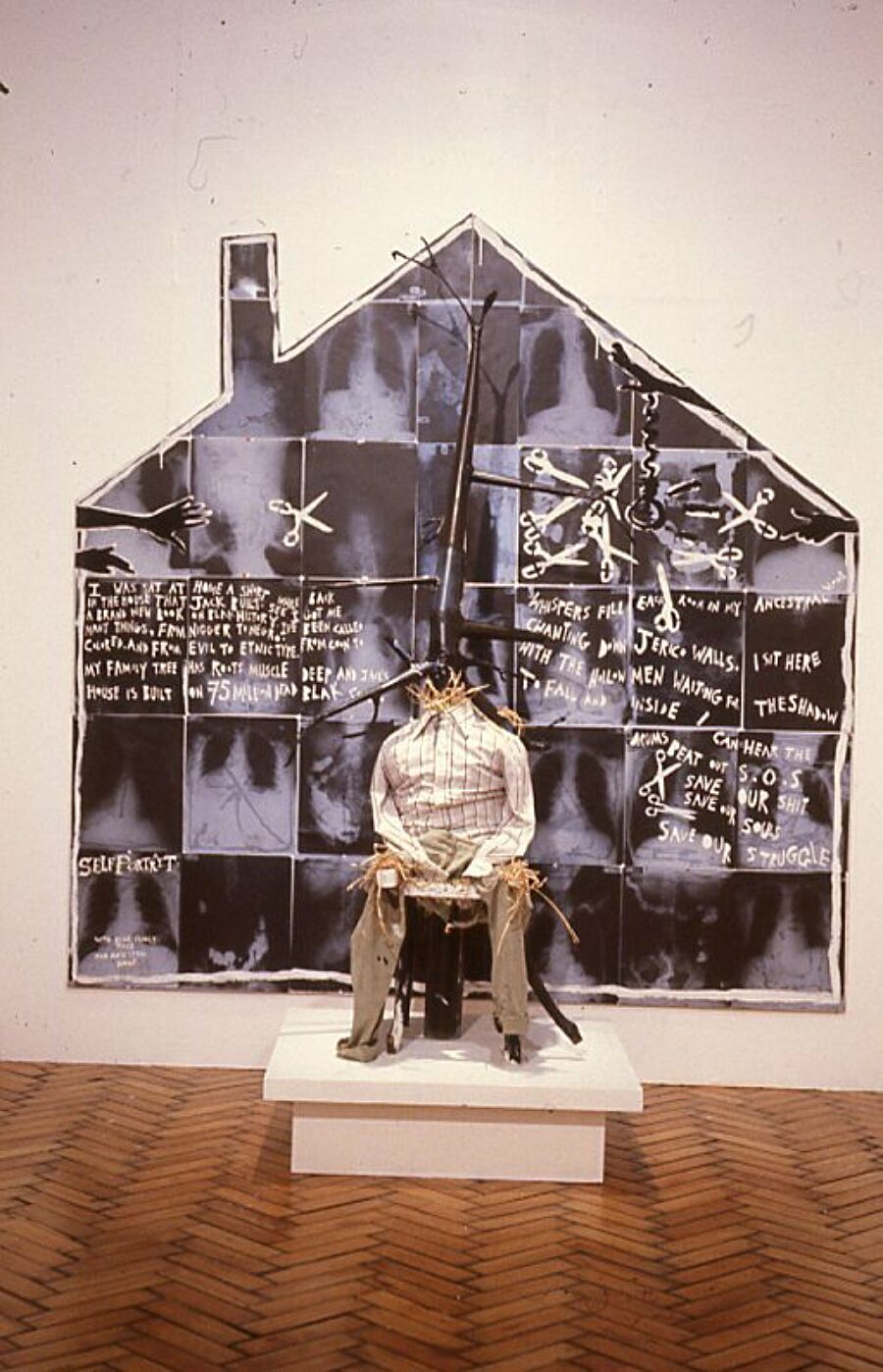 Let The Canvas Come To Life With Dark Faces (1990). Donald Rodney, 'The House That Jack Built'.
Fitzroy Sang
Self-portrait (Ethiopian Eyes) (1990). Oil on canvas.
Folake Shoga
When I Shine My Torch Into The Caves Of Africa… (1990). Glass, photocopy, pigment.
Shoga is a Nigerian British artist working in installation, video, sculpture and drawing. Her work was exhibited again at Bluecoat in seen/unseen (1994), curated by Olu Oguibe. This exhibition brought together work by Shoga, Uzo Egonu, Lubaina Himid, Oguibe and Yinka Shonibare, to challenge assumptions surrounding the framing of African art.
Gurminder Sikand
Durlabh Singh
Souheil Sleiman
Allan De Souza
Vincent Stokes
Subhashini Stearman
Shanti Thomas
Ibrahim Wagh
Geraldine Walsh
Bernadette Wilson