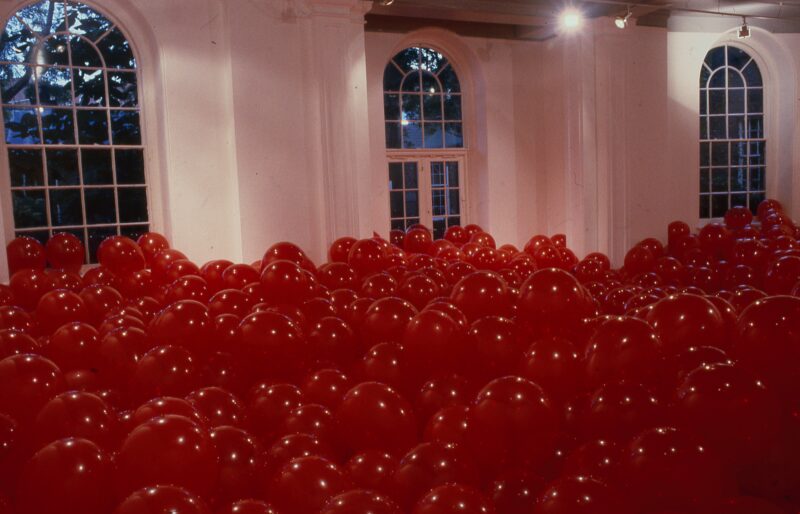 This collection reflects the breadth of exhibitions at Bluecoat over the past century. The information on these, stretching back to 1908, is summarised on an exhibitions history document, listing hundreds of exhibitions involving artists, from local to international.
This long, diverse and rich history reflects the curatorial interests of, first, the Sandon Studios Society, who brought the work of major 20th century artists like Picasso, Matisse, Moore and Epstein to Liverpool, and then Bluecoat Society of Arts, establishing the venue's significance to developments in contemporary art in the UK.
The collection comprises predominantly exhibition images, from the 1970s onwards. They show how the spaces have changed, and include some key exhibitions in our history, such as Women's Images of Men, Black Skin Bluecoat, Trophies of Empire, video collaborations with Moviola/FACT, and larger shows made possible in the new gallery space from 2008 onwards.
The majority of images are scanned from 35mm slides. The quality here, compared to later digital images, is of poor resolution, but we hope they give a sense of the gallery and its changing exhibitions, a reflection of developments in artists' practice over this period.
There are many more images, posters, catalogues and other material relating to Bluecoat's visual arts programme in our archive, which will become available on this website as we develop our collections. You can also search our season brochures, all of which, from the 1980s to the present, are included here. These list Bluecoat's many exhibitions, off-site projects and other visual arts activities.