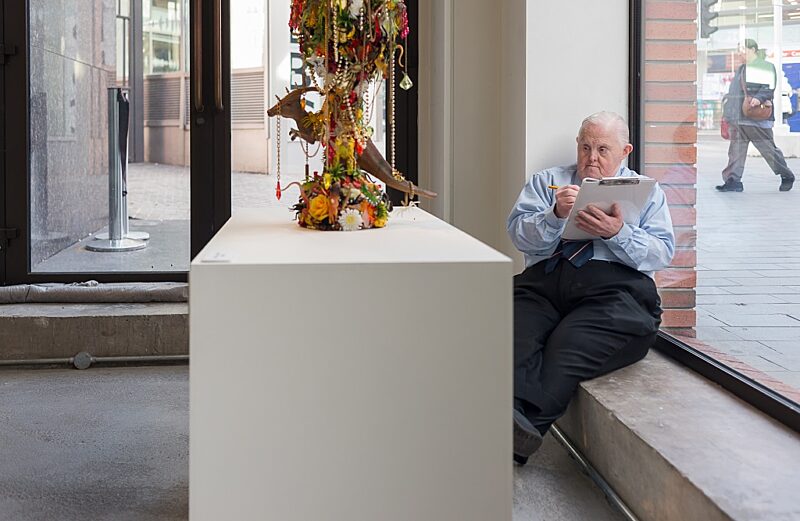 Blue Room is Bluecoat's inclusive arts programme for learning disabled artists. Since 2008, three groups of artists have met weekly at the gallery to explore the exhibitions and create their own work. For this collection, the artists have selected key moments from the vast archive of images documenting their creative experiences.
Bluecoat's model of inclusive arts grew from a partnership between the gallery and Liverpool City Council, in which contemporary artists collaborated with participants from day services. The aim was to increase access to contemporary art in recognition that learning disabled people faced particular barriers around accessing cultural experiences. Building upon the success of early projects such as The Journey with Leo Fitzmaurice, a pilot project was developed while the building was closed for renovation. Blue Room is a key part of Bluecoat's creative community and its artists continue to develop individually and as a collective.
Blue Room artists gain confidence in interacting with contemporary art and sharing their ideas with others. The artists explore a wide range of media including drawing, painting, textiles, photography, sculpture, animation, dance and performance. The groups have access to resources such as Bluecoat Print Studio, and collaborate with local and international artists. Blue Room artists are supported to share their skills as volunteers with Out of the Blue, Bluecoat's programme of after school art clubs for children. Blue Room is a key part of Bluecoat's creative community and continues to develop as artists, collectively and individually.