We have commissioned artists to create artworks for the redevelopment of our Hub. London-based Babak Ganjei has produced printed texts on tiles that wrap around our new information desk, using comedy to reflect on art, his ambitions and the absurdity of daily life. Liverpool-based Sumuyya Khader has created a bespoke tile design that references our popular garden. Cambridge-based Harold Offeh has created an area specifically for children and families.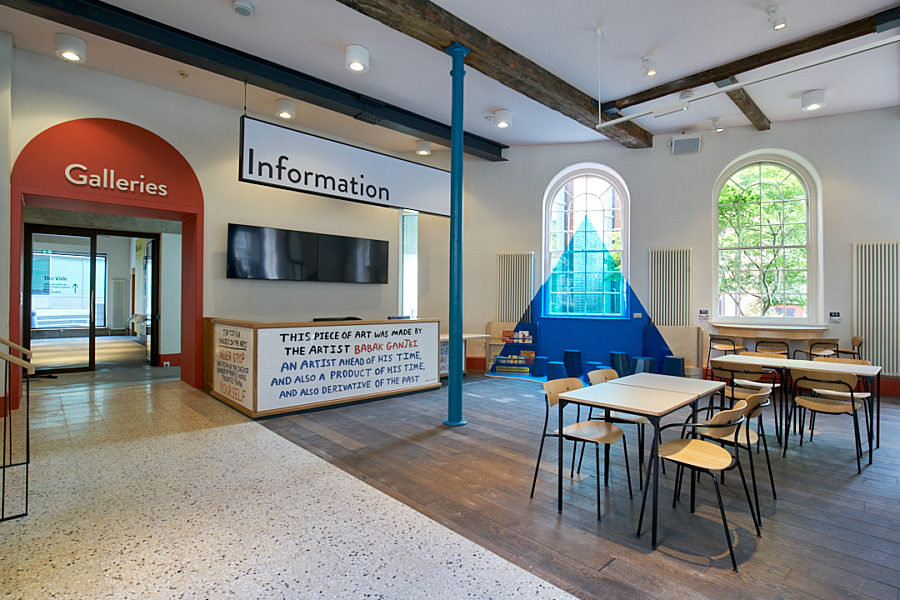 Bluecoat Hub, featuring artwork by Babak Ganjei and Harold Offeh. Photo by Rob Battersby. 2021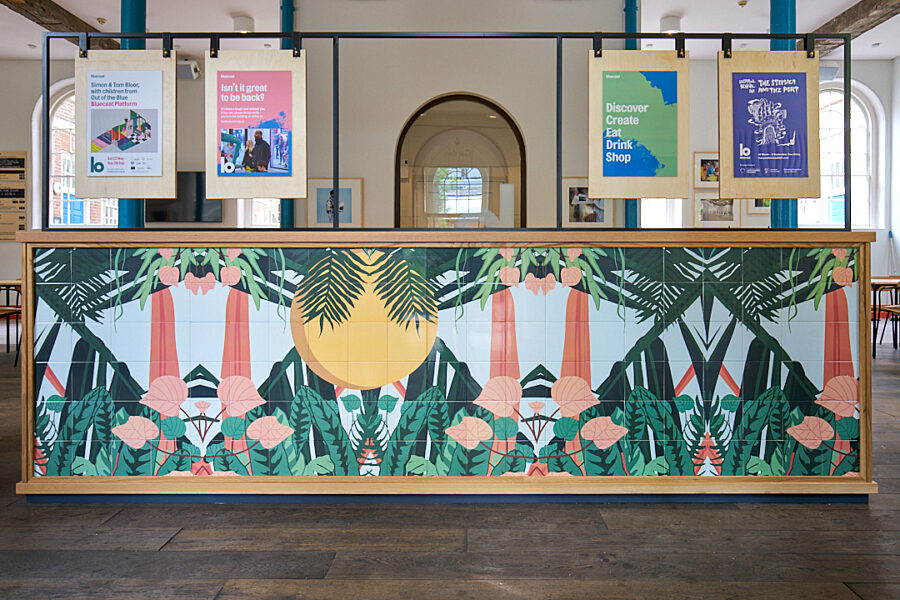 Summer by Sumuyya Khader, 2021. Photo by Rob Battersby
The UK's largest international visual arts festival, Liverpool Biennial returns in its 11th edition (19 May - 5 September) with the theme of The Stomach and the Port, which looks at our interconnectedness with the natural world. Paintings by Jadé Fadojutimi explore how bodies and nature are in constant flux, with identities continuously being shaped by our environments. Films including Jíibie by Laura Huertas Millán and Fog Dog by Daniel Steegmann Mangrané, together with sculptural works by Roland Persson, Kathleen Ryan and André Romão, propose ways of belonging to the world beyond our physical boundaries. Outside Bluecoat, on Blundell Lane, Jorge Menna Barreto, in collaboration with students from Liverpool John Moores and Liverpool painter Anna Jane Houghton, have created a mural of local edible weeds.

Alongside the Biennial, we are pleased to welcome back Bluecoat alumni artist, Tony Phillips who grew up in Liverpool 8 and returns to the city with his Twentieth Century Chapel project (7 June - 29 August) which celebrates two local institutions, Bluecoat and St. Luke's Church - the 'Bombed Out Church'. The project focuses on the nature of technological progress embodied by our age-old aspiration to fly, starting with an image of the first powered flight in 1903, and proceeding through the decades into the modern era of supersonic jet fighters and drones. At Bluecoat, a series of 12 etchings - 12 Decades - will be shown. The two venues will be connected by a public art trail of painted plaques mounted on buildings in Bold Street and the Ropewalks district, leading the viewer from a traditional gallery setting, through the streets, to the ruined church.

In our front courtyard we are hosting a playful new sculpture by Birmigham-based artists Simon & Tom Bloor (22 May - 26 September) titled Bluecoat Platform, which was developed in a series of workshops with local children from Out of the Blue, Bluecoat's creative after-school programme. The installation will provide brightly-coloured seating and staging for outdoor audiences, with a focus on live entertainment - storytelling, comedy and dance - selected by children, for children, during July and August.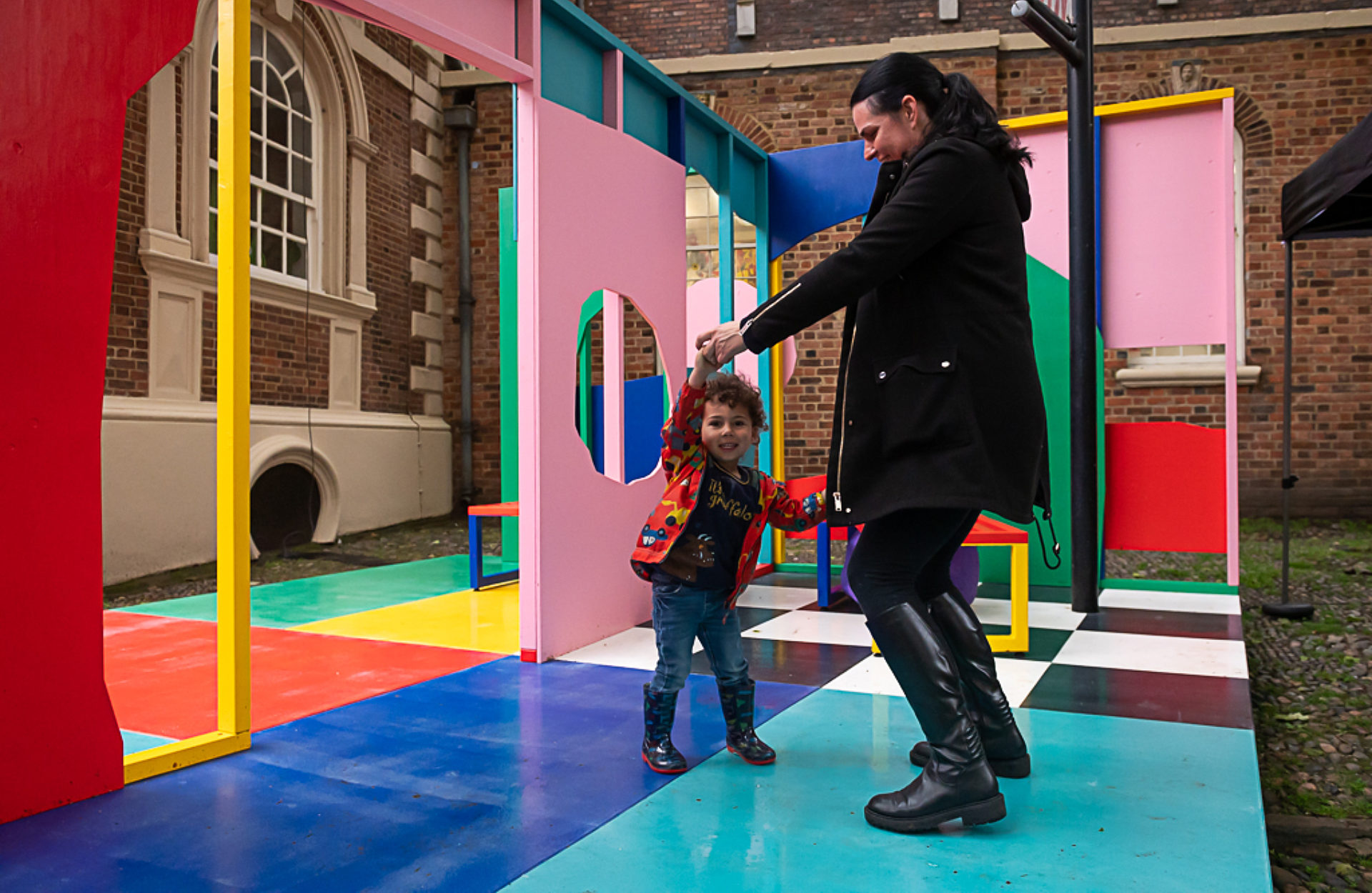 Behind the scenes, we host new residency artists, including the next New Contemporaries bursary studio holder and dance artist Seke Chimutengwende who will research ghost stories, histories of slavery and colonialism. We'll also be getting to know our PIVOT artists - mid-career North West artists selected by Bluecoat and Castlefield Gallery, Manchester for a period of development: Pat Flynn, Gareth Gratrix, Bridget O'Gorman, Salma Noor and Chester Tenneson. Look out for podcasts and sharing events as Summer progresses and an outdoor Autumn screening date for Amber Akaunu and Elliss Josef's film, Elements.
In the Autumn, we host exhibitions by two prominent women artists (16 October - 23 January 2022). Rosa-Johan Uddoh (b. Croydon, 1993) is an interdisciplinary artist inspired by black feminist practice and writing. Through performance, ceramics and sound, she explores places, objects and celebrities in British popular culture, and the effects of these on self-formation. She previously showed in Liverpool in New Contemporaries (2018) and was resident artist at Liverpool School of Art & Design, Liverpool John Moores University. She returns to the city with a major new installation, commissioned by Focal Point Gallery in partnership with Bluecoat.

This is shown alongside the first large-scale solo show in a UK public gallery by Deborah Roberts (b. Austin, Texas, 1962). She uses collage to reflect the challenges encountered by young black children as they strive to build their identity, addressing preconceived social constructs perpetuated by the black community, the white gaze and visual culture at large. Combining a range of different facial features, skin tones, hairstyles and clothes, Roberts explains that, 'with collage, I can create a more expansive and inclusive view of the black cultural experience'.
Following Josie Jenkins and Kiara Mohamed in 2020, we resume our strand of first solo shows at Bluecoat by artists in the Liverpool City Region in the Autumn. In March 2022, we present new work by London-based artist Suki Chan. CONSCIOUS is a multi-platform project bringing together the diverse, subjective perspectives of scientists and ordinary people whose stories unwrap layers of thinking and preconceptions about individual and collective consciousness. Comprising films, moving image installations and a VR experience, the exhibition explores the nuances of consciousness in a technological age. The work includes documentary testimonies from people living with dementia, neuroscientists, computer scientists, pilots, historians and beekeepers, along with soundtracks composed by award winning TV and film composer Dominik Scherrer.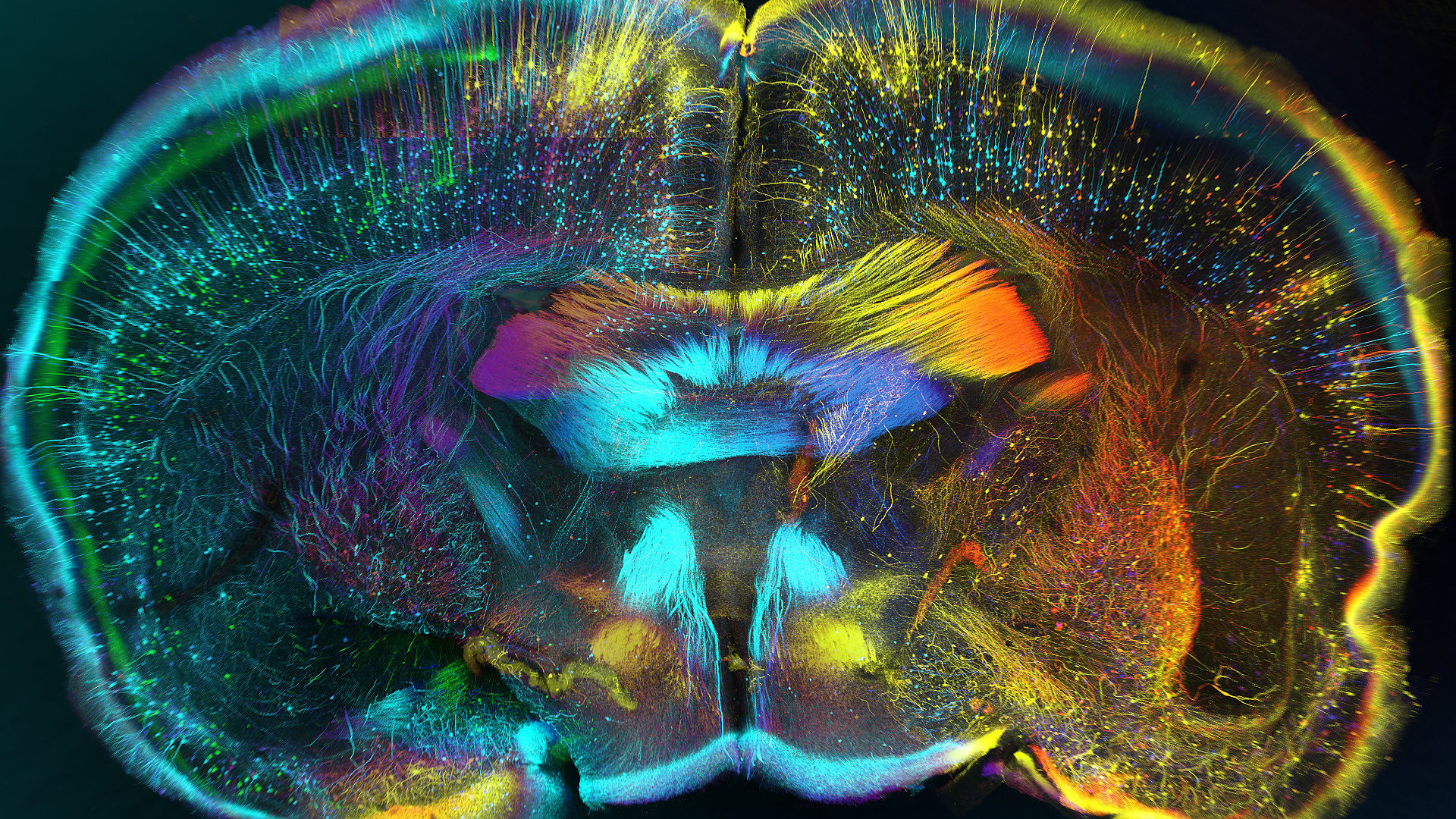 Chan's research also includes collaborations with individuals experiencing early stage dementia: Pegeen O'Sullivan, the daughter of Irish novelist, Liam O'Flaherty, who currently lives in a care village in North West England, and Wendy Mitchell, who wrote her first book after being diagnosed with young-onset dementia at the age of 58. Part of Chan's research took place in a Belong Village in Crewe, part-funded by Arts Council England and the Baring Foundation through Celebrating Age, alongside commissions with Liverpool City Region artists Alan Dunn, Roger Hill, Philip Jeck, Brigitte Jurack and Mary Prestidge.
In addition to our exhibition programme, we'll be announcing dates for 2022 presentations by dance artists Janine Harrington, Zinzi Minott and Freestylers as part of the Siobhan Davies Dance and Baltic Continuous Network.
A new Cultural Legacies programme focuses on three themed exhibitions in the Vide space starting in September, each accompanied by a digital commission, a discursive event and a new archive collection. The first, A Creative Community, will reveal Bluecoat's rich heritage of artists' studios and the 'extended family' of artists we work with, reflecting the building as a place that unlocks creativity. The second looks at Bluecoat's civic role in the city, including how it has extended its artistic work out into the public realm, engaged with communities, and been a place for discourse, linking this to new thinking around the function of arts centres, post-pandemic. The third, in early 2022, focuses on our building's colonial legacies and their contemporary resonances.
A new participation project, Echoes and Origins, funded by National Lottery Heritage Fund, will engage children, young people and adults whose lived experiences intersect with Bluecoat's eighteenth-century narrative as a charity school for orphans, funded from maritime trade. This will explore themes of slavery, migration, diaspora, cultural identity, childhood and independence through a historical lens, using creative activities and research into the Bluecoat building's origins.
Two complementary strands will explore contradictions between philanthropy and exploitation. Working with young volunteers from diverse backgrounds at Greenhouse Project in Toxteth, Colonial Legacies will look at our archive and how diverse artists over 35 years have responded to Bluecoat's historical connections to Liverpool as 'gateway of Empire'. Looked After Children will involve artists, including dance artist Paula Hampson who will lead activities with looked after children - current and past - drawing on material relating to the school to explore their experiences. Both strands will culminate in a public programme in 2022.