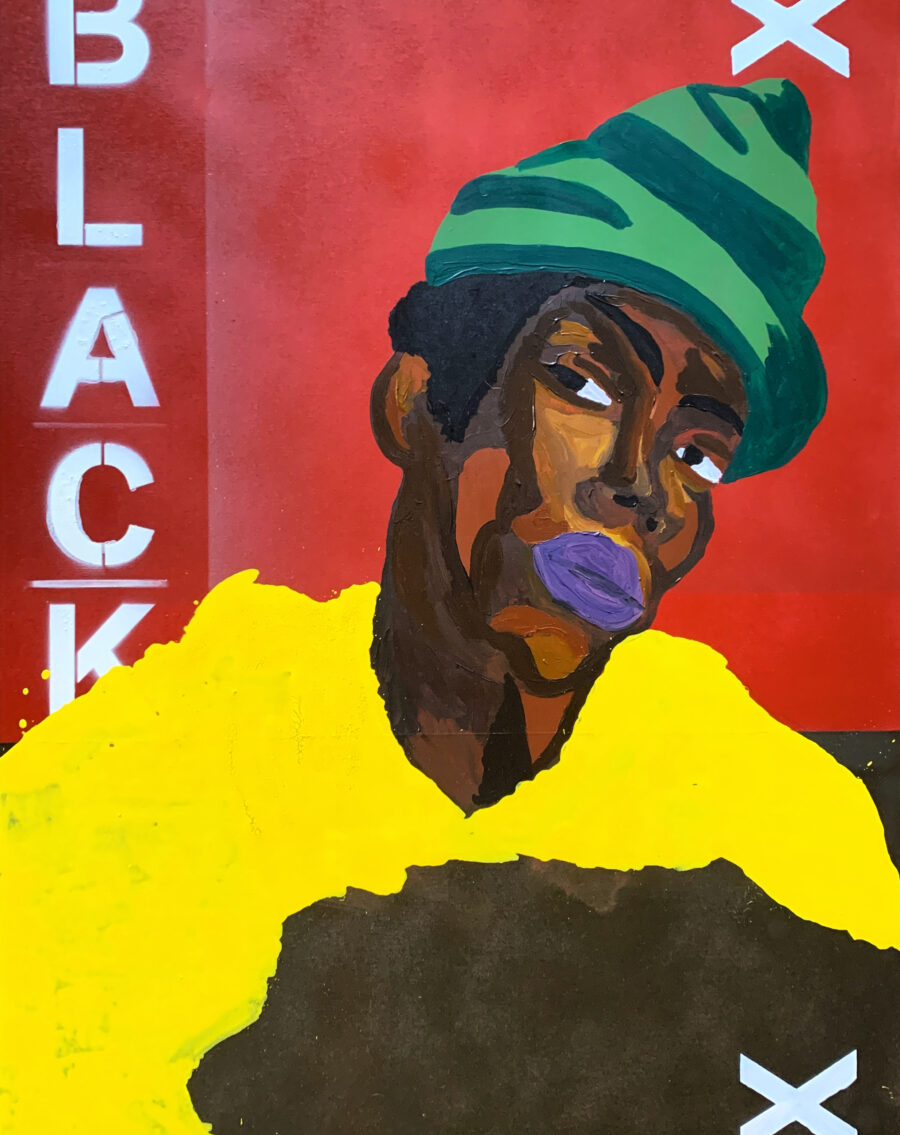 Identity by Sumuyya Khader, 2021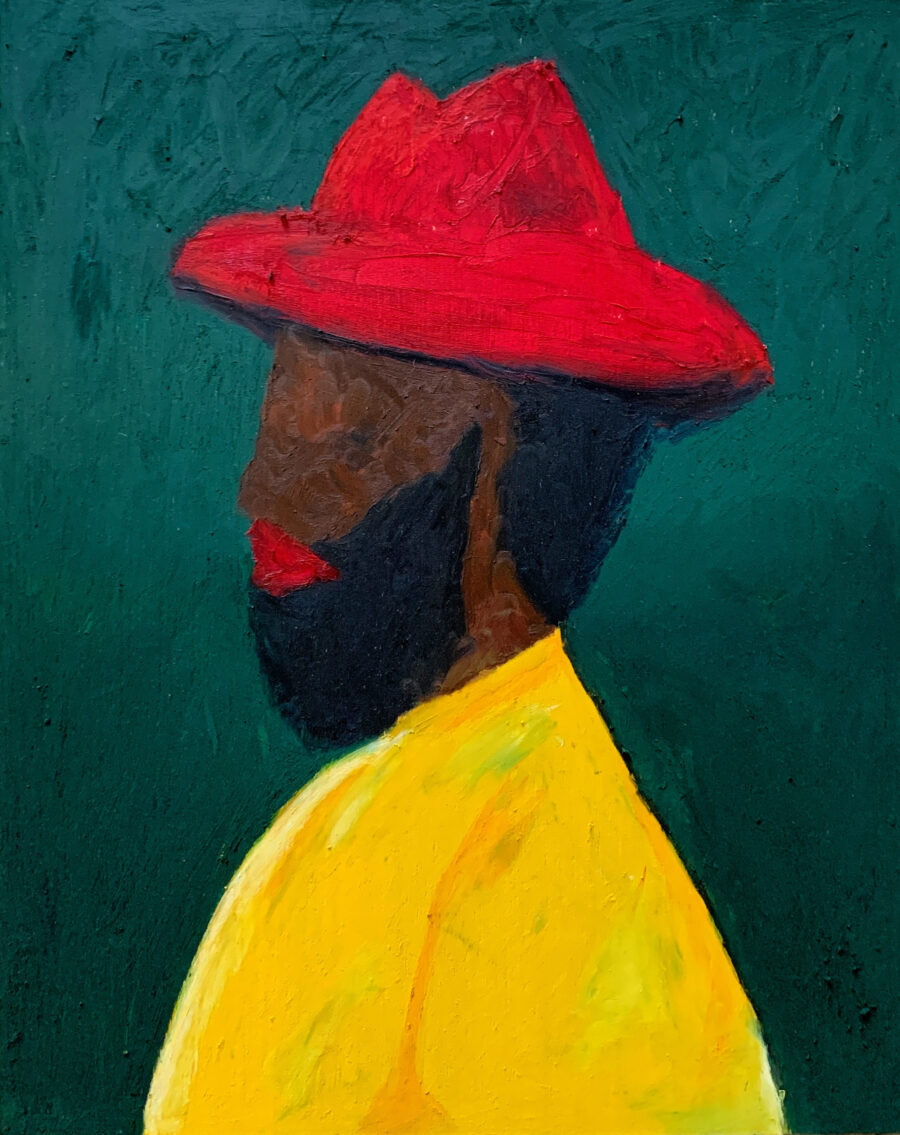 Distinguished Stranger by Sumuyya Khader, 2021
Khader's paintings and illustrations capture fleeting moments and snapshots of daily life, originally captured by the artist photographing the world around her. Khader transforms these snapshots into her compositions, often by flattening images and mixing in abstract shapes, colours and rhythms.
Her work often features restorative green spaces, relaxed interiors and still life, including details such as house plants layered with patterns and markings. The spaces she depicts celebrate the life-giving properties of plants and greenery, and through their precisely detailed compositions, also advocate for a great sense of care for our surroundings and our neighbours.
Khader's portraits focus on Black subjects and talk to Black lived experience and identity. Her celebration of people and places is often combined with powerful text, such as 'STAND UP, SPEAK OUT THIS IS A FIGHT FOR US ALL', 'WE FIGHT', and 'SAY IT LOUD, I'M BLACK AND I'M PROUD' reflecting the urgency of the fight against racism and the erasure of Black voices, particularly in Liverpool.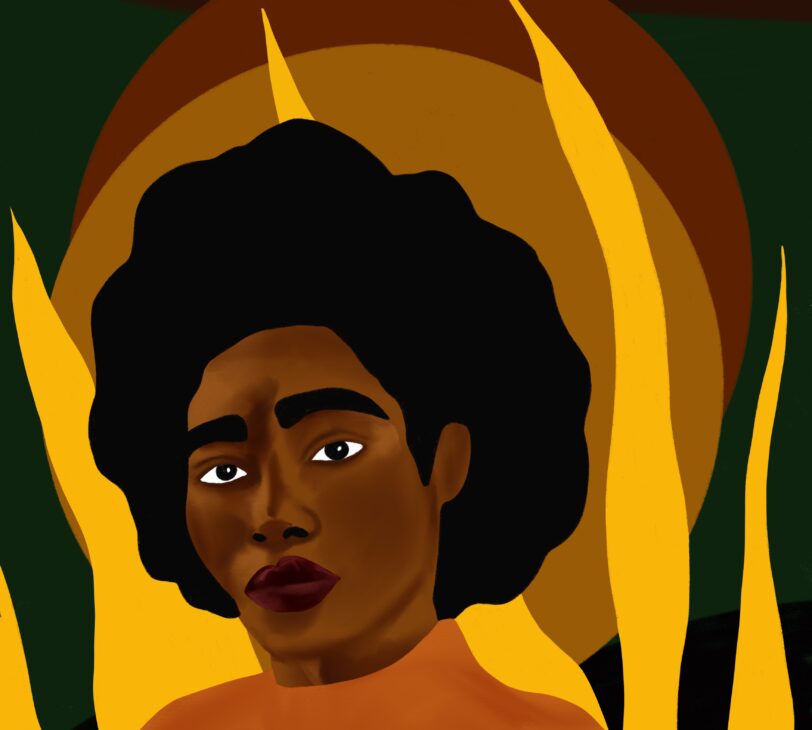 "I'm thrilled to be offered the opportunity to exhibit my work in my hometown. After a highly politically charged year I'm excited to present a body of work that looks at celebrating Black joy and explores how we can protect the bodies within our community."
Sumuyya Khader
Khader is an artist of empowerment, both through the combinations of text and images in her work and also through the action she takes beyond her studio. Recent projects have included establishing Aspen Yard, an artist studio based in Toxteth, Liverpool; and Granby Press, a community print shop built as a resource for the local community to print zines, newsletters, flyers and artworks. In October 2020, Khader curated Celebrating Black Liverpool Artists, an outdoor exhibition on the facade of the Bluecoat as part of Liverpool City Council's Without Walls programme, which celebrated the work of 5 Liverpool artists and highlighted the lack of visibility for the work of Black women in the city.
Khader's exhibition will show alongside solo presentations A Look Inside, by American Artist Deborah Roberts, and Practice Makes Perfect by UK artist Rosa Johan Uddoh. The three exhibitions will be open to the public from 15 Oct 2021 - 23 Jan 2022 and explore the formation of identity.