In our galleries we're delighted to present the largest overview to date of Suki Chan's multi-platform project CONSCIOUS. Many years in the planning, this exhibition explores how memory loss and dementia can change our understanding of the present. It brings together different perspectives, from scientists to people living with dementia, which shakes up our understanding of individual and collective consciousness.
Artist Suki Chan together with a series of collaborators have created a series of moving artworks that allow the viewer to see the world through another lens. The exhibition includes photography, sculpture, virtual reality and three thought-provoking films Memory (2019), Hallucinations (2020) and Fog In My Head (2021), a major commission by Film London.
Exhibition runs from Saturday 12 March to Sunday 12 June.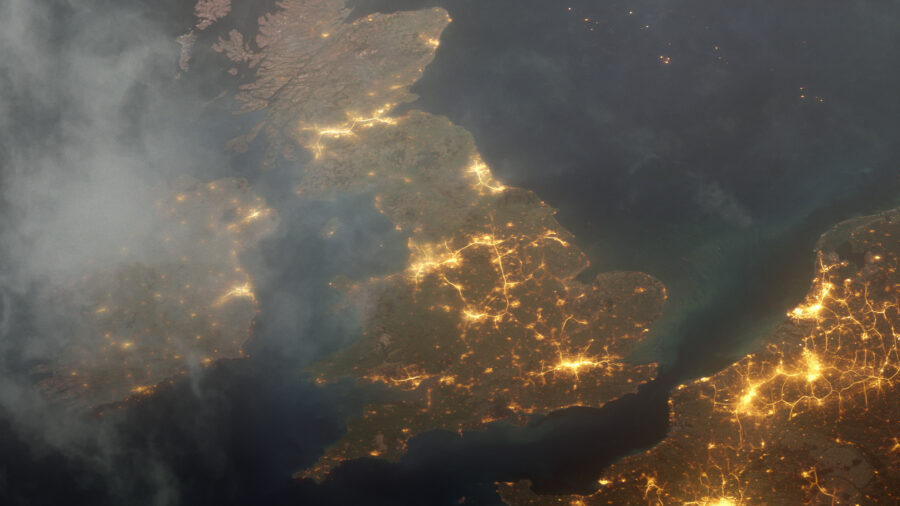 Memory 2019, (film still) Nasa Satellite. Image courtesy Suki Chan, Film London and the Bluecoat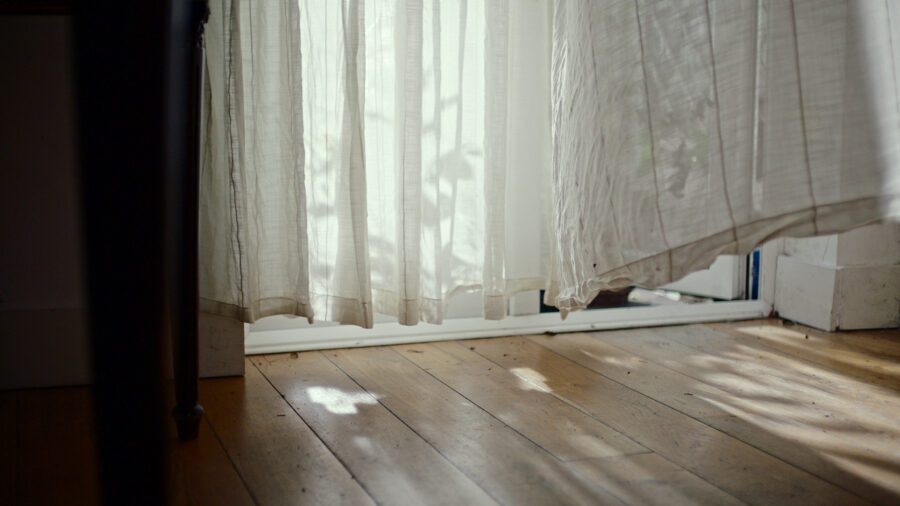 Fog In My Head, 2022 (film still). Image courtesy Suki Chan, Film London and the Bluecoat
To accompany CONSCIOUS we are hosting an event with Suki Chan and award winning author and neuroscientist Anil Seth, to explore who we are and how the brain makes us, us. Seth will introduce his new book Being You – A New Science of Consciousness, which investigates what science, philosophy, psychology and physics can teach us about ourselves, dementia and each other. Thu 5 May, 6-7.30pm.
Suki Chan will be back later in May for a coffee morning with bestselling author Wendy Mitchell, whose life story features in CONSCIOUS. Wendy and Suki, who have become friends during the process of developing the exhibition, will discuss Wendy's new book What I Wish People Knew About Dementia (2022), as well as her memoir Somebody That I Used to Know (2018). Accompanied by tea and cake. Thu 19 May, 12-1.30pm
Alongside CONSCIOUS we present Where the Arts Belong: Making Sense (Of It All) following the story of a Bluecoat art programme bringing meaningful arts engagement to the residents, staff and families of North West Belong Villages, established as specialist dementia care settings. Featuring Francisco Carrasco, Gav Cross, Alan Dunn, Roger Hill, Philip Jeck, Brigitte Jurack, Mary Prestidge, Jonathan Raisin and Suki Chan, the exhibition runs from Sat 12 Mar to Sun 12 Jun.
Later this month, we're really proud to present an exhibition, The Bluecoat's Colonial Legacies, created by young people as part of an ongoing project examining how the building's origins connect to their lives today. Exploring the Bluecoat's origins as a charity school, the exhibition focuses on the founder Bryan Blundell who, like many other Liverpool merchants who supported the school, was heavily invested in the transatlantic slave trade. Exhibition runs from Tue 22 Mar to Sun 29 May.

To accompany the exhibition the same group of young people have organised a series of events. A Courtyard Poetry session (Sunday 24 April, 12-1pm) will feature live poetry, spoken word and music in the Bluecoat's garden with Liverpool-based artists including Blue Saint, and performances from our Colonial Legacies young events coordinators and forms part of the Liverpool Against Racism festival.
An online event with writers Naomi and Natalie Evans who run @everydayracism on Instagram will explore The Mixed Race Experience (Tuesday 10 May, 12-1pm). Introducing their new book of the same title, they will open up the conversation to people of multiple heritage. The event is in collaboration with WoWFEST22 and is specifically for people with Black or mixed race lived experience. If you're interested in joining this event, click here to leave your details and we'll be in touch with more information.
Finally, we are hosting a keynote lecture by Liverpool-based historian, poet and author of Letters to Gil (2021) Malik Al Nasir (Wednesday 25 May 6-8pm), who will tell his own extraordinary story. The event is in collaboration with WoWFEST22.
We're delighted to be able to bring dance back to the Bluecoat with a wonderful performance by Deptford Freestylers - a team made up of disabled and non-disabled artists. Everybody with me, Always is a relaxed show which uses film, dance and activities, alongside local performers. (Sat 30 Apr & Sun 1 May, 2-4.30pm)
Join Lynsey Hanley as she discusses John Grindrod's 'Iconicon' and Owen Hatherley's 'Modern Building in Britain' with the authors for Concrete Thoughts. The writers will explore and compare Modernism with some of the more recent architectural movements of the last 20 years and what effect these ideas have on how we use and feel the built environments around us. (Wed 6 Apr 6-7:30pm)

If you're keen to get creative yourself we have a range of day-long print courses coming soon to our studio, and we're hosting dot-art classes including portrait drawing, abstract painting and an introduction to Kintsugi.
And if you still haven't seen and taken a selfie with our new courtyard residents then put it on your bucket list for spring. OK! Cherub! is a group of giant inflatable artworks by artist Bruce Asbestos. Each sculpture represents a different aspect of positive mental health: rest (a giant yellow worm), community (a group of green frogspawn), and connection (a huge cartoon arm). The artworks will be on display until 5 June.
Don't forget we have a lovely outside space complete with emerging spring bulbs, if you just want to get away from the bustle of town and top up your vitamin D.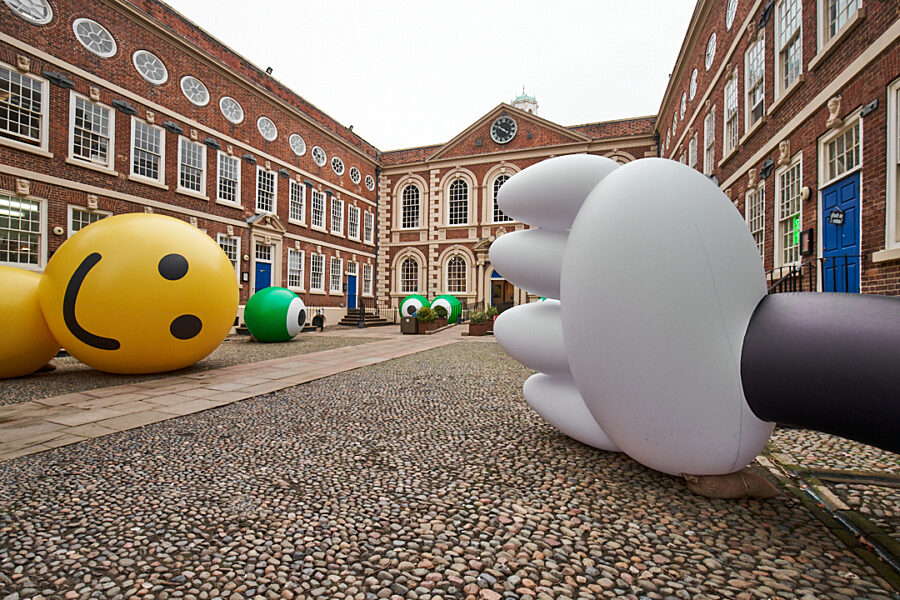 Bruce Asbestos 'Ok! Cherub!', Bluecoat installation view, 2022. Photo by Rob Battersby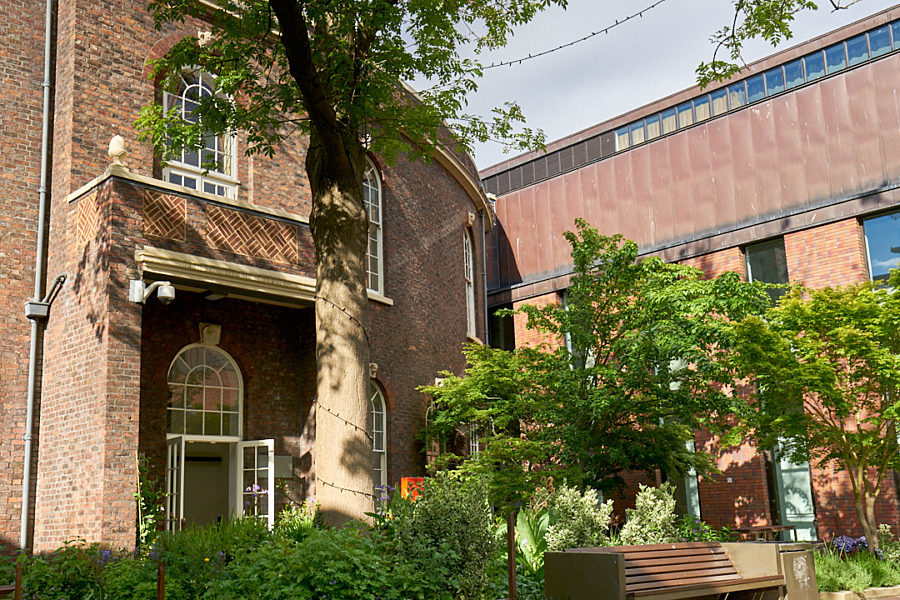 Bluecoat garden. Photo credit Rob Battersby.