She is one of a number of public-facing specialists hosted by Bluecoat in recent years which aim to share knowledge in the most accessible way possible to the widest public possible. This has included Philosopher in Residence Dr Panayiota Vassilopoulou (2013-2015) and Sociologist in Residence Dr Paul Jones (2017). These residencies have run alongside our longstanding Artist in Residence programme, with artists sharing work in our galleries and for family weekends.
Ku first trained in Fine Art at Manchester Metropolitan University, and then in Landscape Architecture at Leeds Metropolitan University. She was encouraged while working as a gardener to take up beekeeping which proved to be a life changing experience. Now overseeing 35 hives in the Merseyside region, she nurtures thousands of bees in city centre settings, churchyards and botanical gardens.
Watch our short film to hear more about Ku's work so far, and to see our garden as never before - from a bee's eye view, in spectacular drone footage captured by the artist.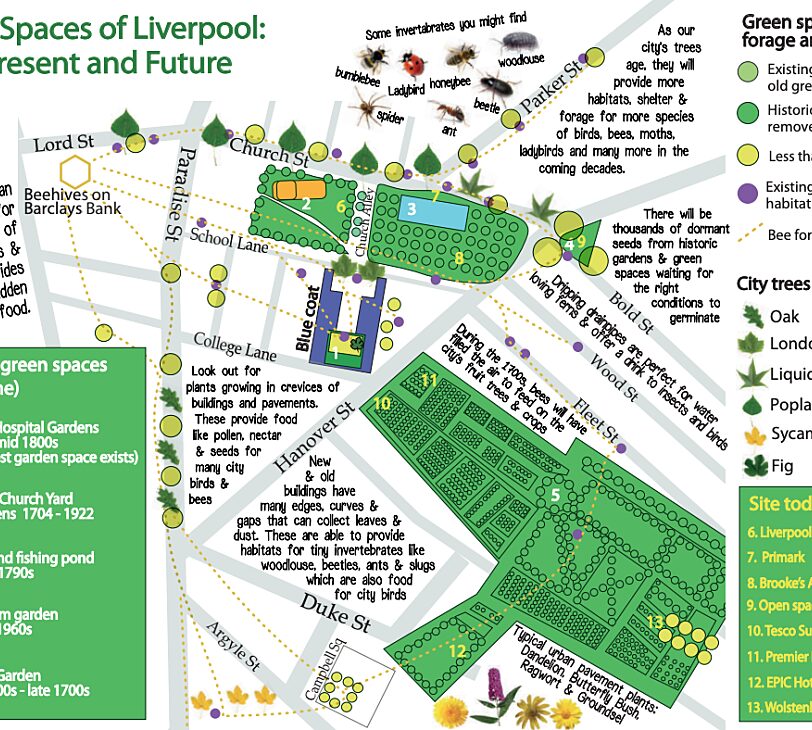 The first of these activities was a map of accessible green spaces in the city centre, which includes our iconic and much loved garden, where Ku is based. The map highlights long lost civic gardens and contemporary green areas in less visited areas that are safe for families to explore.
Download the map on the link below.
During her time with us she has been sharing her insights with the public in specialisms such as permaculture - following sympathetic planting systems observed in nature - and biodiversity - preserving and nurturing the incredible diversity of species in the world at micro and macro level. She has also created a series of nature-based activities for Bluecoat, aimed at those who have been missing out on restorative contact with nature during lockdown.
Ku has also created bee-themed educational activity packs for families, which have been especially popular. Over 50 bags were collected from Bluecoat by the public in October, with 30 going to Toxteth based community and arts centre, The Florrie, and a number reserved for city centre primary schools. The packs contain art materials, printed activities, pots, seeds and child-safe compost to allow families to grow their own window sill plants, along with a zine teaching children about the importance of bees.
Ku's work has inspired activities for our inclusive arts programme Blue Room. The group have designed their own wildlife friendly garden spaces and imagined what it's like to see Bluecoat's garden from a bird's eye perspective.

Our courtyard garden has also benefited over the years from many keen volunteer gardeners, including Brenda Evans who tended to the garden for over thirty years. Other key volunteer gardeners in recent times include Cy and Jeannie Powell who feature in this video on our My Bluecoat archive site and current volunteer gardeners Rebecca Lomas, Sandra Adelt, Isabel Sterlington and Dan Stinson. Their ongoing efforts maintain the garden as a welcoming and vibrant space sustaining many different habitats.
In May 2021 Ku hosted an online Q&A, which you can rewatch below. She'll also be hosting social-distanced tutorials with the public. More info to come soon.

We'd like to thank Liverpool City Council, Culture Liverpool and Arts Council England for supporting Andrea Ku's residency and enabling us to share her insights into nature with our public and, as ever, all of our volunteer gardeners, past and present.
Find out more about Andrea's work here www.b4biodiversity.co.uk
Follow her on Instagram, Twitter and Facebook - @b4biodiversity