Seke Chimutengwende is a choreographer, performer, movement director and teacher. He joined us 12th-16th July as part of his research into a new group choreography. The research explores ghosts and haunted houses as a metaphor for how histories of slavery and colonialism continuously haunt the present.
In conversation
Hear from the artist himself in a recording of an in conversation event with Bluecoat's Head of Programme Marie-Anne McQuay, from Wednesday 14 July 2021. They discussed his research into haunting & colonial histories as well as earlier projects including the rise & fall of a mythical performer (Plastic Soul) and imagined landscapes & Afrofuturism (Black Holes).
Some of Seke's references include the following books and films if you'd like to read or watch along with him:

Beloved by Toni Morrison, Zone One by Colson Whitehead, The Keep by Jennifer Egan, The Rats in the Walls by HP Lovecraft, A Penguin Book of Ghost Stories, The Weird and Eerie by Mark Fisher, Ghostly Matters by Avery Gordon, How Europe Underdeveloped Africa by Walter Rodney, Capitalism and Slavery by Eric Williams, The Famished Road by Ben Okri, Lincoln in the Bardo by George Saunders
And films such as The Haunting (1963), The Innocents (1961) and The Exorcist BBC Dead of Night series from 1972.
Artist Residency
We're delighted to have hosted Chimutengwende in July 2021 as part of his research into a new group choreography. The research explores ghosts and haunted houses as a metaphor for how histories of slavery and colonialism continuosuly haunt the present.
As part of the wider project across June - August 2021 Seke undertook residencies at Bluecoat, Dance4, Newstead Abbey and The Place, funded by ACE Project Grants. He was by a group of 5 dancers - Natifah White, Rose Sall Sao, Rhys Dennis, Alethia Antonia, and Adrienne Ming - as well as dramaturg Charlie Ashwell for collaborative research time. Previous research residencies have taken place at The Place (Choreodrome), Battersea Arts Centre, Wainsgate Dances and Chats Palace during 2019 & 2020.
Click here to find out more about his residency at Bluecoat.
The dancers
Natifah White is a dance artist from Nottingham who went on to study Contemporary Dance at London Contemporary Dance School. In her work, White has previously explored ideas surrounding archiving and histories and where they are stored in the body. She is interested in understanding where the body stores memory and where it stores practice. White values previous life experiences and their importance upon both her current practice and her status as an artist.
Rose Sall Sao is a contemporary dancer from the Netherlands, partially raised in Africa but now based in London. Sall Sao began her training at the age of 18 at the 5 o'clock class, a foundation course at Amsterdam University of the Arts. She graduated from Fontys Dance Academy and Northern School of Contemporary Dance in 2017. Sal Sao has worked with a large number of dance companies and has also featured in a number of music videos and films.
Rhys Dennis was born in London and trained at Northern School of Contemporary Dance and later graduated from London Contemporary. Dennis co-founded the company FUBUNATION, which has a vision to create more visibility and representation for dancers of colour and to encourage diversity in the arts as a whole. Dennis believes in movement as a form of therapy and feels that art should exist within communities.
Alethia Antonia was raised in Derbyshire and trained at London Contemporary Dance School, Salzburg Experimental Academy of Dance and Northern School of Contemporary Dance. Antonia is particularly interested in delving into race and gender, specifically relating to feminine blackness. She also explores such themes in relation to their place in academia and dance education. Trauma is another key theme in Antonia's work.
Adrienne Ming is a dancer, artist and technician from New York, who studied at University of Roehampton in London. Ming maintains a variety of roles within the arts, including: Performer, Stage Management, Photographer and Lighting Technician. Ming's presence as a dancer and artist are less documented online, but her involvement with artists Sam Pardes for Emerge Festival and Georgia Tegou and Michalis Theophanous for a project as part of Dance Umbrella are available to view.
Producer and Dramaturg:
Charlie Ashwell is a dance artist, as well as a choreographer, writer, producer and dramaturg. Ashwell trained at London Contemporary Dance School from 2006 to 2009 and completed a Masters of Research in Choreography and Performance in 2014. Ashwell is a self-titled Dance Witch. She is interested in utilising witchcraft, divination and magic and bringing it into contact with experimental dance and radical politics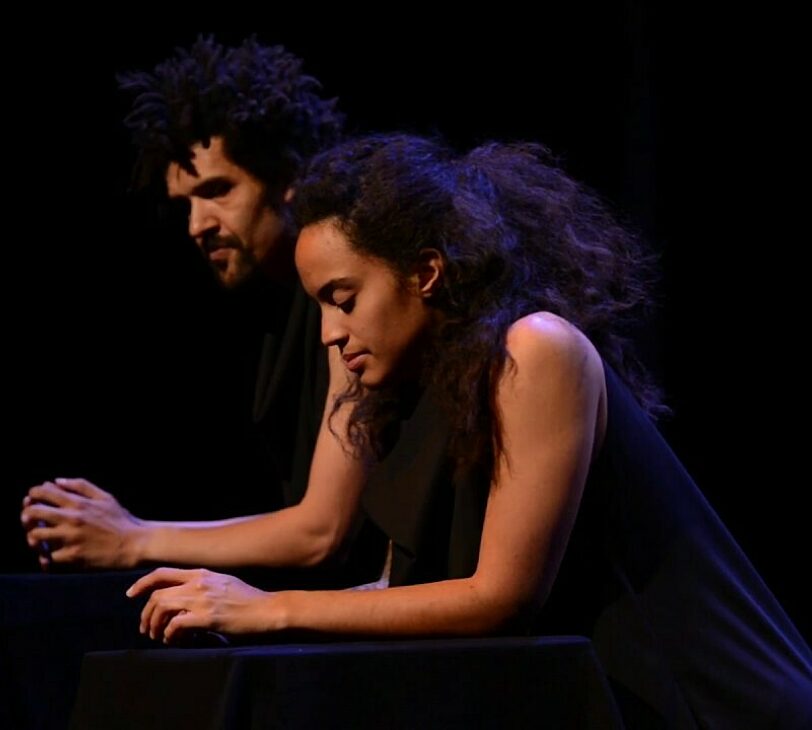 Weaving together poetic text and movement, Alexandrina Hemsley and Seke Chimutengwende came together to retell the history of the universe from the big bang through to the universe's death. Black Holes was part of MDI's LEAP festival at The Unity in 2018.