LIC STUDIO is an artist-led and designated dance space providing a vital context and resource for artists to research and share their work. Liverpool Improvisation Collective (LIC) are Andrea Buckley, Jo Blowers, Mary Prestidge and Paula Hampson.
Their joint presence in the city over the past 20 years has created many opportunities to evolve their work both individually and collectively. For ten years they ran Liverpool International Festival of Dance and Improvisation (LIFDI) in conjunction with Space to Move, a research and training intensive for dancers. This project attracted artists working regionally, nationally and internationally.
They have had a shared Studio in Bluecoat since 2008 that has been used for research, rehearsal, workshop and performance purposes.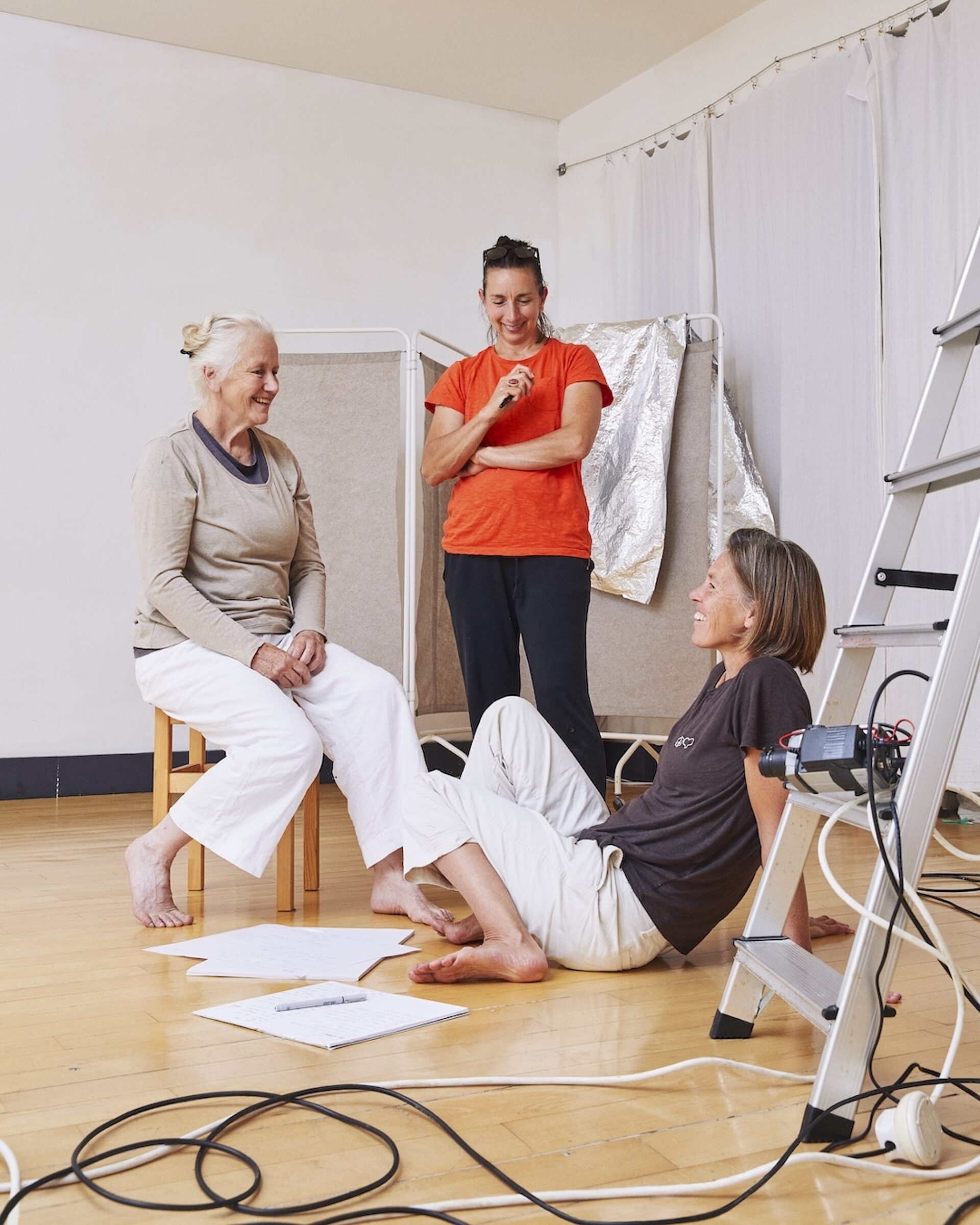 Mary Prestidge
Originally an Olympic gymnast in the 1960's, Mary's first professional work was with the English dance company, Ballet Rambert as a contemporary dancer. In the mid 70's she co-founded the radical X6 Dance Space in Butler's Wharf, London and was a member of its artist collective, and its successor Chisenhale Dance Space, until 1989. Both organisations provided an important context for the research and development of new dance forms and practices in Britain during the 70's and 80's.
Mary has been an influential practitioner and teacher of new and experimental dance in both the independent dance scene as well as the specialist academy. Mary moved to Liverpool in 1995 to take up a teaching position and to develop a dance programme at Liverpool Institute for Performing Arts. She retired from LIPA in 2008. Her independent work during that period and beyond was mostly in collaboration with Liverpool artists Paula Hampson, Andrea Buckley and Jo Blowers. Together organising the annual Liverpool International Festival of Dance Improvisation (LIFDI: 1999-2006) and other training and performing contexts. As the Liverpool Improvisation Collective (LIC) they also toured as a performance ensemble. Mary with LIC took the opportunity in 2009 to be a part of the creative community in the newly reopened Bluecoat and founded the LIC Studio there.
Mary continues to evolve new work through dance and interdisciplinary art form in collaboration with LIC artists and others in a variety of performing contexts. As part of LIC's 3 year partnership with Bluecoat (Inhabit) Mary worked closely with members of Blue Room, (Bluecoat's Inclusive Arts Programme) developing new dance and performing opportunities. She is looking forward to rekindling this relationship, as well as with others, in this precarious time.

Andrea Buckley
As an independent dance performer, maker, teacher and Certified Rolfer my work is informed by 30 years of practice. Through various initiatives and performing nationally and internationally, I have worked with Sue MacLennan, Rosie Lee, Kirstie Simson, Nancy Stark Smith, Lisa Nelson, Gill Clarke, Deborah Hay and Siobhan Davies Dance.
As a solo artist I was commissioned by Siobhan Davies Dance, Les Laboratoires d'Auberville and Merseyside Dance Initiative. More recent work has been a commission by Hampshire County Council; choreographing for Wessex Dance Academy and collaborating on a research project with Annie Cattrell (fine artist) and Marius Kwint (Curator) with the University of Portsmouth School of Arts and Design. I curated a programme of workshops as part of the Independent Dance programme in London and as a founder member of Ch4pter and Liverpool Improvisation Collective I have co-initiated performances and festivals in Liverpool.
I have also worked extensively as an independent teacher in various creative and community settings as well as currently being a guest lecturer at Chester University.
My choreographic work has drawn on an extensive range of investigative movement practices where process and reflections are grounded in observation, perception, culture and imagination, with an emphasis on the sensing, thinking and moving body as a form of expression and body of material.
A recent short film collaboration with Daniel Williams - Pause and Reflect, draws me closer to explore movement, imagery and creating environments making it relevant for public interaction.