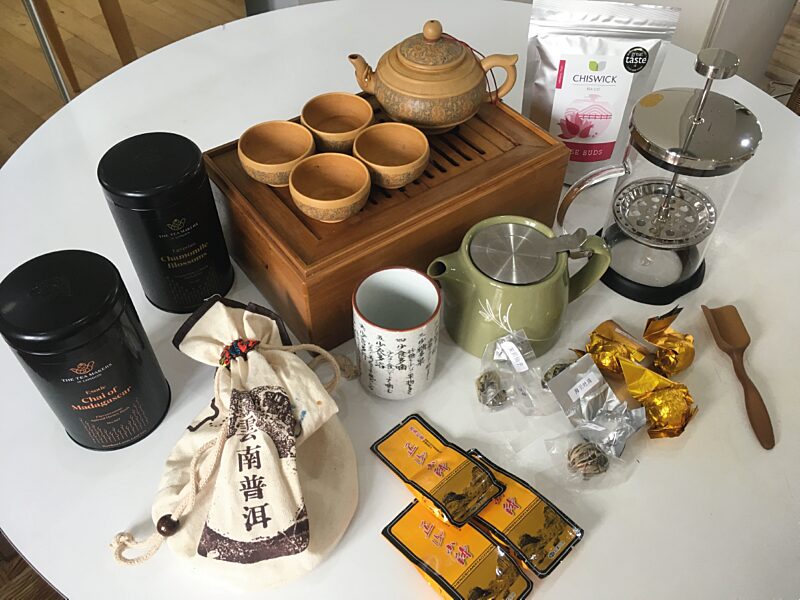 Every Teacup Tells a Story
Hear artist Suki Chan explains how the arts activities she will introduce to Belong residents have been inspired by her collection of tea cups and teapots.
I am packing for my artist residency at Belong and as I look at my tea cups and tea pots, I am reminded of the chats I have had over cups of teas with friends and family over the years. I realise that each tea set and tea cup remind me of different occasions and conversations with someone.
One Chinese teacup reminds me of the chats with a close friend whose stepmother went into a dementia care home recently. This cup was his stepmother's. The first time I met her was over a cup of tea in Chinatown, London. My friend gave it to me when he packed up her belongings prior to her move into her new home. The Chinese tea set with the wooden tea tray was my father's. I remember drinking green tea from it in Hong Kong whenever I visited him and my mother. This was given to me when he died from cancer in 2006. I often think about him and wonder what my father would look like now had he not died early. I never got to know him as an elderly man. I once came across a Chinese old man and I wondered about whether there might be some resemblance. Still, at least I knew what my father looked like. His father - my grandfather -died when he was only one year old. With no black and white photos, my father grew up not knowing what his father looked like.
The green Suki teapot was given to me by two close friends, who thought of me when they were served tea in a Suki teapot at a tea shop in Camden. They tried to buy the teapot for me but the barista said it was not for sale. They continued to chat with the barista and explained that they were going on to a party and as the barista seemed so nice, the invitation was extended to him too. Later, at the party, the barista arrived with a big smile and a new, boxed, Suki teapot.
As I pack these carefully together into the box, it is very special to think that I am bringing these vessels for another chapter of the sharing of more stories at Belong. For many cultures around the world, tea provides the basis for social dialogue. It is a conduit for having a meaningful conversation. I am looking forward to introducing different types of teas to the residents.
The act of making tea is a topic of conversation and the tasting of different teas engages our senses in the present moment.

---
Where the Arts Belong is a Bluecoat offsite project in partnership with care providers Belong. The three year project aims to bring arts experiences to people living with dementia. Six artists, each selected by Bluecoat for their practice and its relationship to ageing, will undertake residencies in Belong villages.
Suki's blogs:
Suki Chan meets residents at Belong Villages for her first artist talk.
During her residency with Belong Villages, Suki Chan meets a father and son with an interesting story.

Suki Chan shares her first cups of tea with residents at Belong.