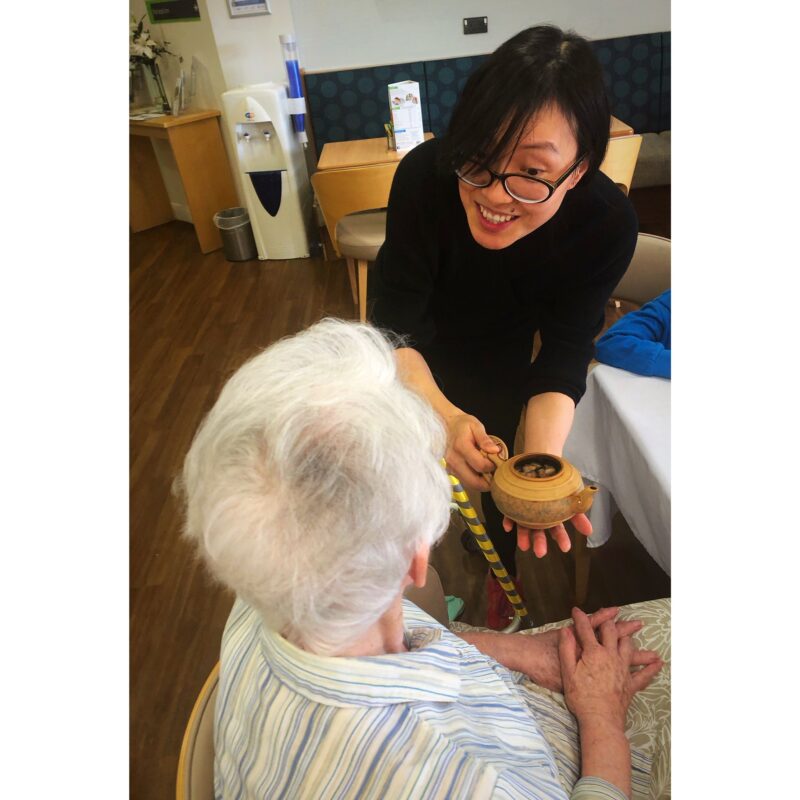 As part of Where the Arts Belong, a programme of projects exploring the impact of arts and culture on people living with dementia, artist Suki Chan is in residence with Belong Villages, our project partner.
As part of her residency, Chan has planned to introduce members of the community at Belong Villages in Crewe to different types of Chinese tea's and teapots. In this blog, Chan shares the reactions of the residents as they try her red tea for the first time and her feelings on the experience.
The first household I visited this morning was Coronation. It was very peaceful there. Four residents were sitting on armchairs in the lounge. As I entered the lounge and moved into one lady's field of vision, she immediately brightened up and greeted me from her armchair. She was very friendly and seemed really happy to see me. I moved closer towards her as I could hear that she had a little difficulty in speaking but I could nonetheless make out her words, "Hello" and "Very nice to meet you."
I asked if she wanted a cup of tea and she said enthusiastically, "Oh, yes." As I made her some red tea I noticed that next to her on the table was a cup with a lid and a spout. It reminded me of the cup I used to use when I was younger. As I grew older, we either lost the lid with the spout or I no longer needed it and drank straight from the cup. My cup was green with a cartoon character and a traffic light. This lady's cup was clear and you can see the liquid inside. I checked with the staff if I should pour the tea into her cup with the lid and they said yes. She drank her tea. I asked her if she liked it and she replied "Oh, yes!" She seemed so friendly that I decided to sit down next to her to chat with her. From what I could understand, her daughter is a scientist and she goes around the world for her work. I told her she must be very proud of her daughter and she nodded happily. I also showed her some of the tea posters and she really enjoyed the tea quotes.
One gentleman was sitting quietly in a chair watching TV. His head was slightly down and at first I thought perhaps he had dozed off. I asked if he wanted a cup of tea, he looked up at me and appeared slightly confused, perhaps he did not hear me so I repeated the question a little louder each time until he heard. He answered, "Yes" and so I poured him a cup of red tea and served it on the wooden tray for him. I leaned over, holding the wooden tray with the cup of tea and waited for him to take the cup. He did not. He looked at the cup without moving. I gestured for him to take the cup, he nodded, but then did not move. I gestured again and this time I said softly, "Here's your tea, please take it". He nodded again but continued to stare at it without moving either of his hands or body. I could tell that he had heard me and had acknowledged my request for him to take the tea but it is as if the neural pathway between wanting to do something and actually doing it has been lost. I tried again and waited respectfully as he was my elder. Eventually he took the cup and drank it in one gulp. I asked him if he liked it as he had finished it so quickly and he said, "Yes". For me this was a little success of the day.
The morning reminded me of the ritual of a Chinese tea ceremony. The ritual is performed at weddings by the bride and groom. The newly-weds serve tea to their elders and this is both a sign of gratitude and a recognition of their seniority. I couldn't help but feel a sense of respect as I served tea to the residents today.

---
Where the Arts Belong is part-funded by Arts Council England and the Baring Foundation through Celebrating Age, a programme of varied projects exploring the impact of engaging with arts and culture on older people.

Learn more about Where the Arts Belong here.
Suki's blogs:
Artist Suki Chan on her residency for Where the Arts Belong.
During her residency with Belong Villages, Suki Chan meets a father and son with an interesting story.

Suki Chan meets residents at Belong Villages for her first artist talk.