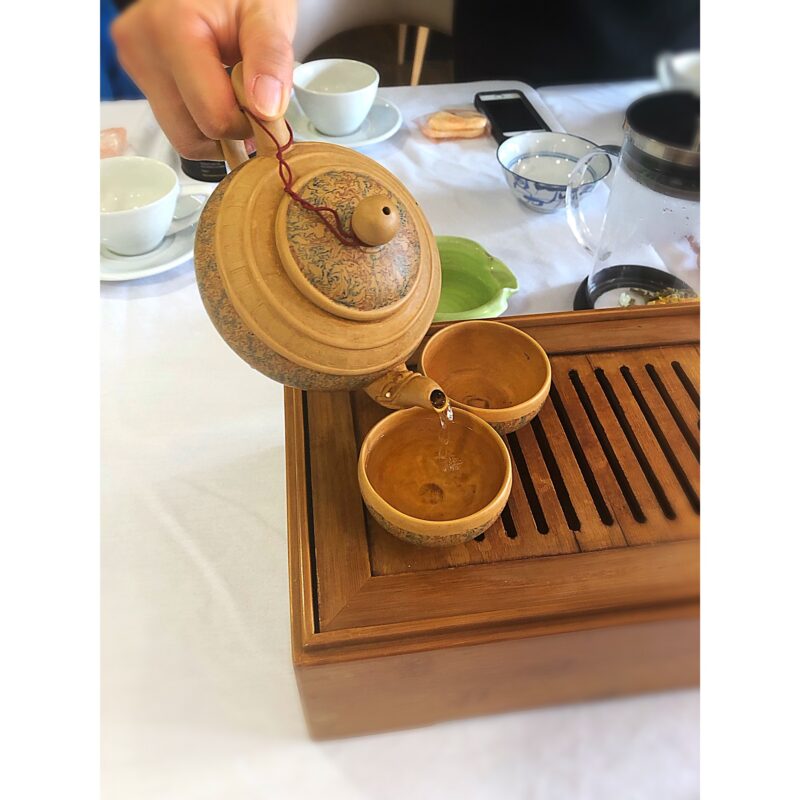 As part of Where the Arts Belong, a programme of projects exploring the impact of arts and culture on people living with dementia, artist Suki Chan is in residence with Belong Villages, our project partner.
In this blog, Chan talks about sharing tea with a father and son whose story has inspired her to think differently about what it means to live with dementia and how important our relationships are with our loved ones.
With my artworks, I try to create an experience, take my audience on a journey and perhaps even change their perception of the familiar or the overlooked. This weekend I think it was me who was taken on a journey and I came out of it seeing the world differently.
Everyone will have their own preconceptions about visiting a care home for the elderly. I had my own preconceptions but I don't think I have laughed as much as I have done recently with the residents and staff at Belong. It has been a privilege and a pleasure to get to know them. People might appear ordinary at first but when you take time to chat with them, you find out that they have lived through some extraordinary experiences.
When Mr J and his father came to join us for a cup of tea in the Royal Scot household I thought the two men were friends because they were laughing together so much. Mr J's father in particular was cheerful and full of life. I thought he was joking when he said that he was Mr J's father. Over a cup of chamomile tea, Mr J's father told me he used to send meteorological information to planes using Morse code. He remarked how some things stay with you as he could still remember the code today.
Mr J told me he worked for the Royal Navy and then the accident happened. I had noticed he was in a wheelchair but as I had been busy making tea, I had not noticed his left eye was closed. Mr J was driving in Somerset and there was a dip in the road, so the lorry driver did not see Mr J and pulled out into his vehicle. After the accident, Mr J's father took early retirement to look after him.
I could not put my finger on what moved me so much about these two men. Was it their honesty and openness to share the story of their lives on our first meeting? And that despite this tragedy, they are such happy, positive people? Or the love and sacrifices of a father for his son, even when some might say, the father is of the age where he himself should be the one who is being looked-after?
As I see many families and friends visit the residents over the weekend, I realise how precious and fragile our relationships with each other are. This invisible web that ties us to each other is so important, not only in how we look after one another but the companionship that we can offer to each other.
As dementia changes the person, this also impacts on their relationship with others. This might be difficult for some to accept. It's a double edge sword; whilst this might bring new challenges in their lives, it also has the potential to bring the individuals closer together. Although Mr J doesn't have dementia, I wondered if the accident in the end has possibly had the effect of bringing the two men closer together.
This weekend at Belong made me realise that in our busy lives, we perhaps do not think of or prepare for our twilight years as much as we could. People with dementia have been known to live with it for as long as 26 years after they first start showing the symptoms.[1] That is potentially a third of someone's life - or a quarter - if you are lucky enough to be a centenarian.
I wondered if we could all devote a third of our everyday life to prepare mentally and materially for these twilight years, what changes might be possible on a societal level?