Beginning in 2019, Bluecoat has been providing residents from Belong Villages in Crewe, Birkdale and Chester with a series of workshops, interventions, events and experiences created by 6 artists during a series of residency programmes. Each artist has been selected by Bluecoat for their practice and its relationship with ageing, storytelling, movement and sensory experience.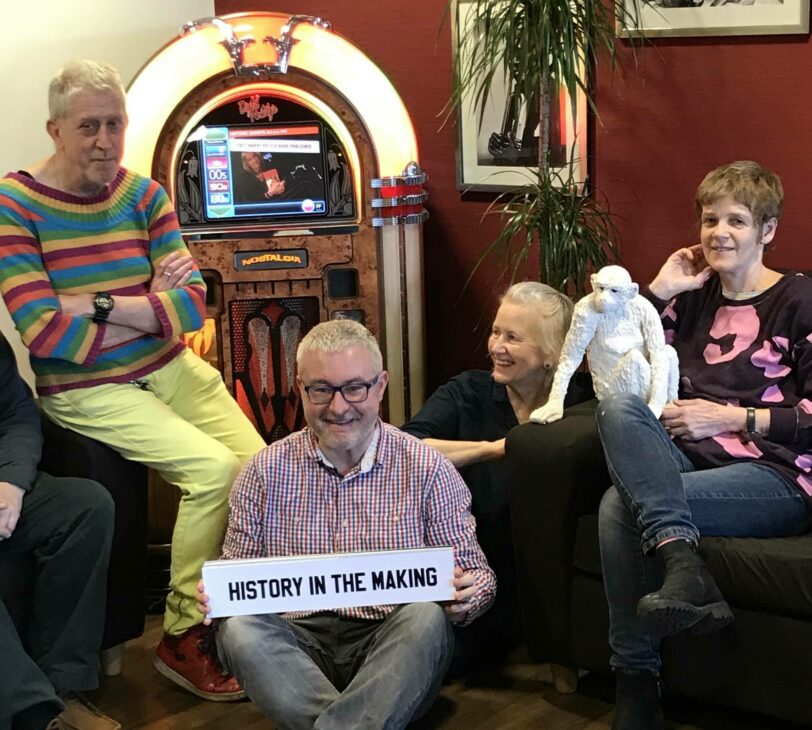 Artists leading the activities, from left to right - Roger Hill, Alan Dunn, Mary Prestige, Brigitte Jurack
The artists involved
Suki Chan
London-based artist and filmmaker, Suki Chan, is famous worldwide for her explorations of the perception of time and place, using a range of media. Suki has filmed in a number of diverse locations and sites, including the Middle East, Istanbul and China.
Alan Dunn
Glaswegian Alan Dunn creates artworks using sound and digital images: collaborating with thousands of citizens to unlock the hidden narrative in communities. Alan also lectures in Art and Design at Leeds Beckett University and has been involved in a number of projects. Most recently, he worked with Age UK to map the experiences of retired seafarers.
Roger Hill
Roger Hill is a writer, storyteller and performer, and has worked with groups of all ages and backgrounds for over 40 years. Roger also presents the nation's longest running alternative music show on BBC Radio Merseyside.
Brigitte Jurack
Brigitte Jurack is a German sculptor, whose work has been exhibited all over the world. Brigitte is Head of Sculpture/ time based arts at Manchester School of Art (MMU) and runs many sculpture workshops, encouraging participants to discover the joy of making things

Mary Prestidge
Mary Prestidge is an experienced dancer, teacher and improviser, working with the senses to ignite the imagination and create new ways of communication. Originally an Olympic gymnast, Mary's professional dance career began at Ballet Rambert in 1969.
Research suggests engagement with the arts is beneficial for people in later life and for those living with dementia.
Benefits include: Improved quality of life, Increased confidence and self-esteem, Enhanced cognitive capacity, Sense of community and social inclusion, Physical health improvements, such as increased joint mobility.

We Belong Together and Belong @ Home
During the pandemic, Where the Arts Belong continued online via We Belong Together and Belong @ Home.
We Belong Together saw the artists providing art workshops online, for Belong @ Home, the artists hosted online training to home carers so they could continue providing these creative experiences to residents in their own homes.
Bluecoat was awarded funding from Arts Council England's new Celebrating Age fund and the Baring Foundation.
To find out more about the project, please contact Tabitha Moses (project facilitator) at tabitha.m@thebluecoat.org.uk