Sonia Boyce OBE is a British Afro-Caribbean artist, working in a variety of media including drawing, photography and video. Often exploring art as social practice, Boyce regularly focuses on collaboration with other artists including Elaine Mitchener (Exquisite Cacophony, 2015). Boyce is Chair in Black Art & Design at University of the Arts London. She represented Britain at the 2022 Venice Biennale, winning the prestigious Golden Lion.
Boyce is a key figure associated with the British Black Arts Movement. A political art movement founded in the early 1980s, it sought to highlight issues of race and gender. Artists and curators associated with it included Eddie Chambers, Keith Piper and Rasheed Araeen, curator of The Other Story: Afro-Asian Artists in Post-War Britain at the Hayward Gallery (1989 – 1990), a key moment in the British Black Arts Movement.
Sonia Boyce has an extensive history working with Bluecoat, as both an artist and collaborator:
The title for this exhibition, Black Skin/Bluecoat was suggested by Eddie Chambers, a reference to Frantz Fanon's 1952 text Black Skin, White Masks. Fanon's urgent critique of the effects of racism and the black experience is reflected and interrogated within the exhibition, in which four young British artists attempt to expose and oppose the injustice faced by Black people throughout history and the present day. The exhibition included work by Boyce, Chambers, Piper and Tom (later Tam) Joseph.
Describing her work within the context of Black Skin/Bluecoat, Boyce said that the artists were 'defining ourselves for ourselves, in a society that marginalises our positive contributions or criminalises/demoralises our existence within its system'. While some of the pieces in the exhibition were aggressive and demanding, Boyce's were contemplative and reflective – 'in whatever way we choose we are making ourselves, our creativity and aspirations, visible'.
The exhibition featured five of Boyce's works: Missionary Position I – Lay Back, Missionary Position II – Position Changing, Big Women's Talk, Slow Hand – A Woman's Story and Auntie Enid. Often sensitive meditations on pattern and colour captured in pastel, the works addressed issues surrounding gender and race in everyday life.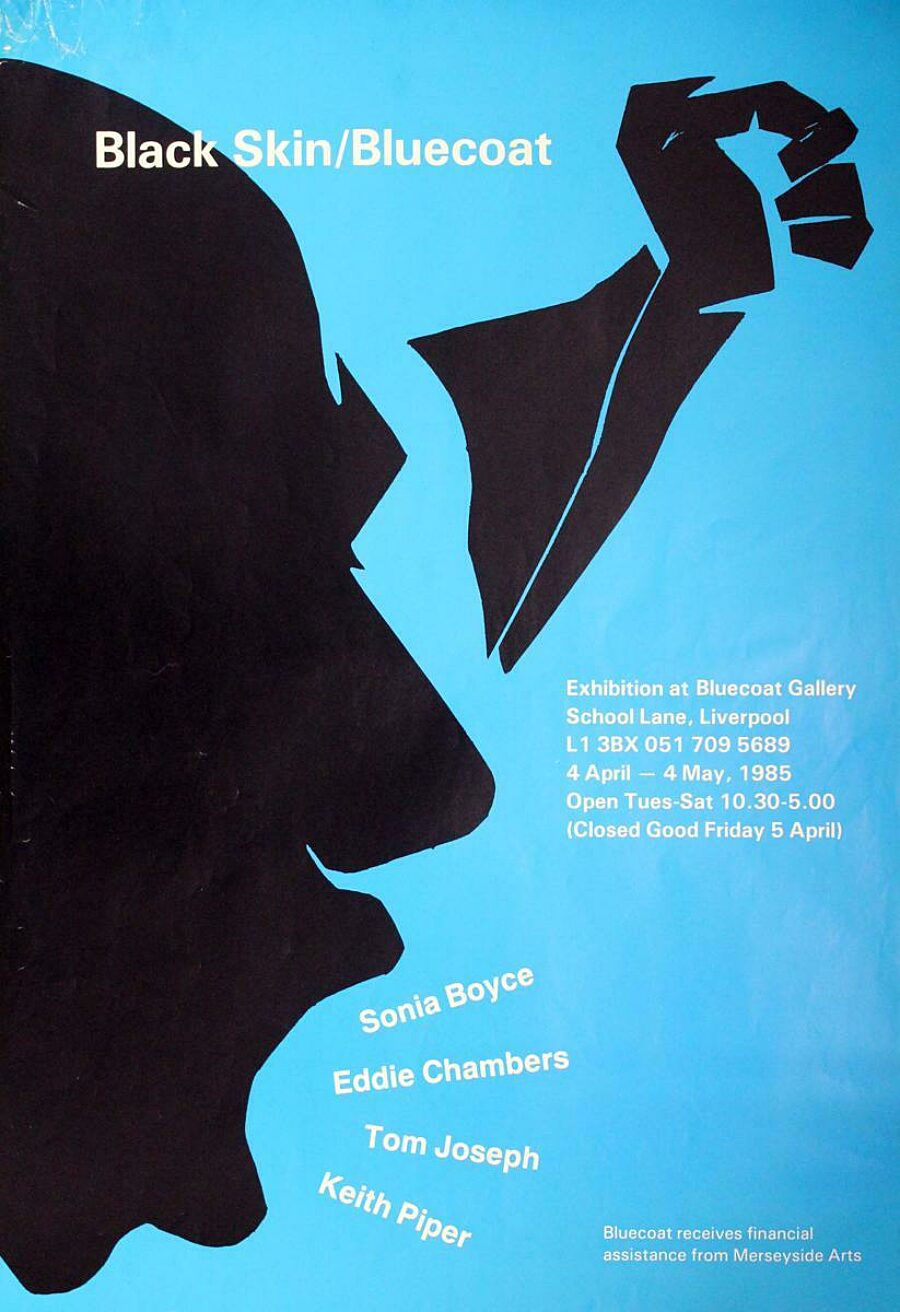 Black Skin/Bluecoat (1985) Poster.
Like Love – Part Two was part of a trilogy of exhibitions by Sonia Boyce – Part One at Spike Island, Bristol and Part Three at The Potteries Museum and Art Gallery, Stoke on Trent. Like Love examined the concept of care and community cohesion, with a specific focus on the emotion we invest in others and in the making of art works. Regarding the title, Boyce wrote:
She quietly said
"It makes me feel like cry."
Like cry. The juxtaposition
Of these two words stuck
With me and prompted
The title of these works,
Like Love.
Like Love – Part Two was a multi-media installation exploring the concept of care through a collaboration with Blue Room, Bluecoat's inclusive arts programme for adults with learning disabilities. The participants discussed to camera their experiences of love and care, becoming involved with weekly activities set by Boyce and also set activities for Boyce to take part in. One of the films presented in the exhibition featured members of Blue Room dancing on a local beach.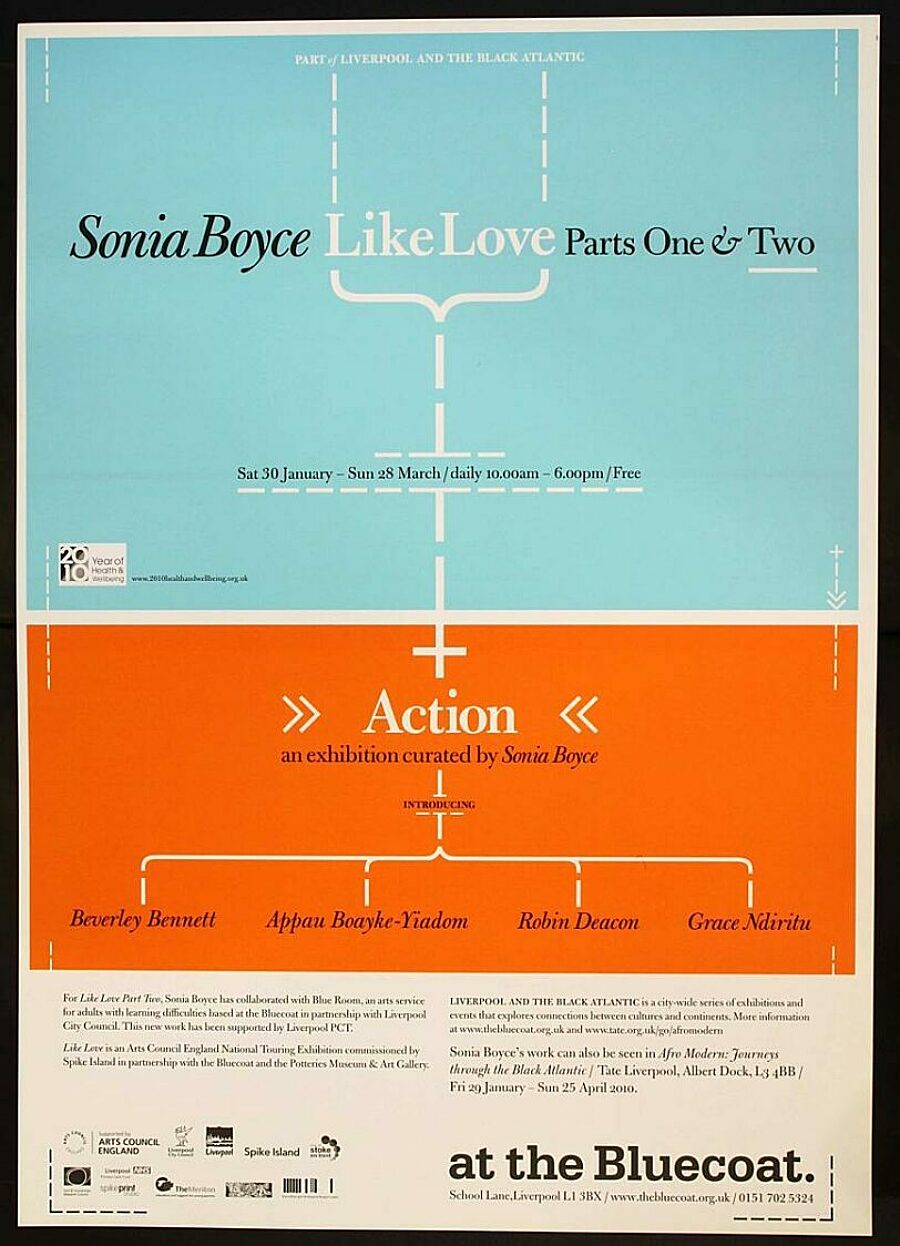 Action was curated by Sonia Boyce to accompany her Bluecoat exhibition Like Love – Part Two, a multi-media installation exploring the concept of care through a collaboration with Blue Room, Bluecoat's inclusive arts programme for adults with learning disabilities.
Boyce was invited to curate Bluecoat's other gallery spaces, in recognition and celebration of Black Skin/Bluecoat, her first exhibition at the venue in 1985. Her selection, entitled Action, presented the work of four emerging artists - Grace Ndiritu, Robin Deacon, Beverley Bennett and Appau Junior Boayke- Yiadom – reflecting a new generation of artists from diverse backgrounds whose practices could be compared and contrasted with those of Boyce and the other artists in Black Skin/Bluecoat some 25 years before. This exhibition was part of a season of exhibitions and events staged at several venues, entitled Liverpool & the Black Atlantic.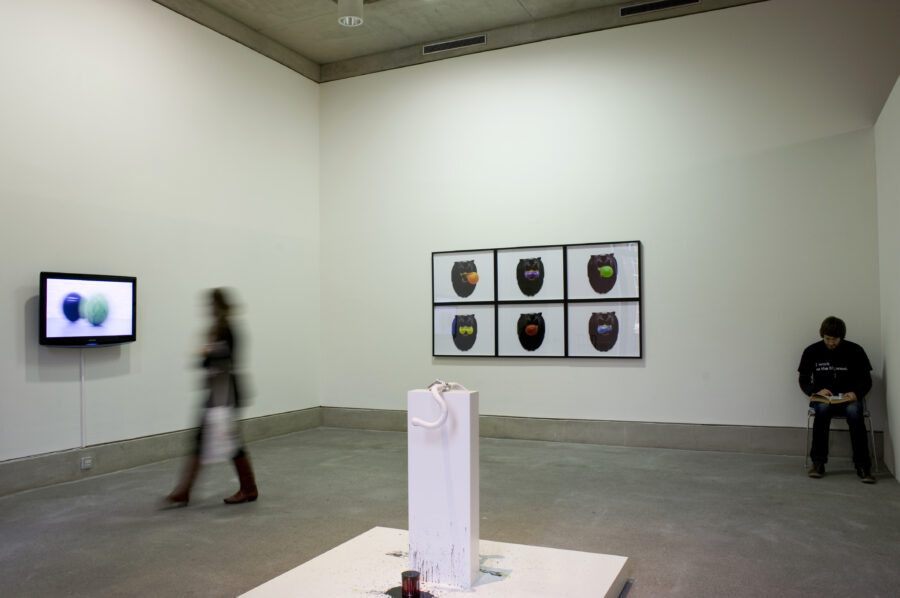 Like Love (2010): installation by Appau Junior Boayke- Yiadom.