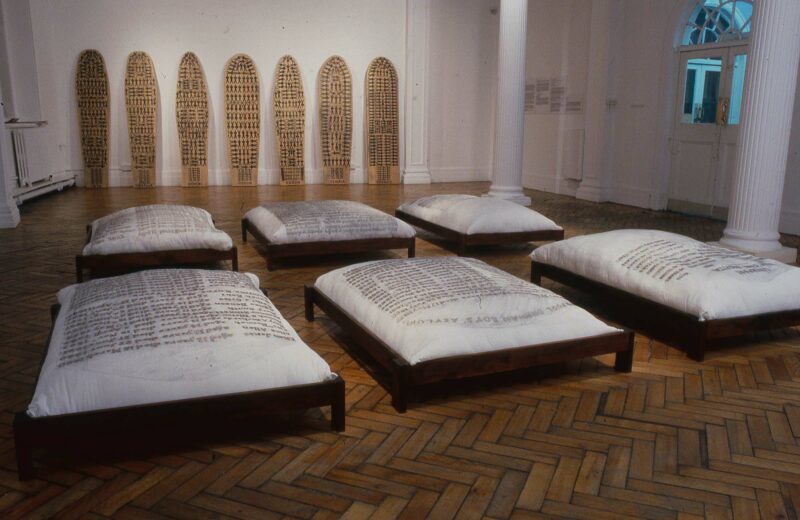 Image above: The first Liverpool Biennial at the Bluecoat, 1999. Installations by Australian artist Julie Gough (foreground) and Cuban artist María Magdalena Campos-Pons.

Like many 18th century Liverpool institutions, Bluecoat - founded as a charity school for the town's orphans - was built to a large extent with funds generated from the expanding port. Recent research suggests that at least 65% of regular subscriptions were derived directly from the trade in enslaved Africans or slavery-related commodities like sugar, tobacco and cotton.
While slavery is often presumed to be counter to, or distant from, the 'virtuous realm' of philanthropy, Bluecoat represents a more contradictory history. Transatlantic slavery filtered through and shaped charity, education and culture. Merchants sailing from Old Dock, the revolutionary commercial wet dock nearby that opened in 1715, gave generously to the charity school, but saw no contradiction between this and their work enslaving and selling Africans.
This collection reflects some of the research into the Bluecoat building's relationship to Transatlantic slavery. It also features artists who have interrogated this history. Since the 1980s the arts centre has worked with contemporary artists, both visual and performing. These include Keith Piper and other artists in the exhibition Trophies of Empire (1992) and, more recently, Elaine Mitchener's SWEET TOOTH performance (2017).
Image above: Cuban artist María Magdalena Campos-Pons' Bluecoat installation for the first Liverpool Biennial,1999.