Keith Piper is a contemporary British artist and academic. Responding to social and political issues through research-driven practice, his work ranges from painting and photography to digital media. Most recently, Piper has also focused on revisiting and re-interrogating previous works and exhibitions, working with the Ikon Gallery in Birmingham to create a single screen video work for A Ship Called Jesus (Redux) 2021, revisiting particular themes from the original exhibition in 1991.
Piper was a founding member of the BLK Art Group. Formed in Wolverhampton in 1979, the group sought to empower Black artists and explore the concept and meaning of Black British identity. The group exhibited several times under the name 'The Pan African Connection' in Birmingham, London and Bristol. Founders included Eddie Chambers, Piper, Marlene Smith and Donald Rodney, who were children of Afro-Caribbean migrants and raised in and around the West Midlands. Chambers and Piper had recently graduated with degrees in Fine Art when the BLK Art Group was formed, while Smith and Rodney were still students.
In 2011, Piper, along with former BLK Art Group members Claudette Johnson and Marlene Smith, established the BLK Art Group research project. Examining the historical legacies of the group, the project aims to create a body of work which documents, critiques and contextualises the movement, promoting scholarship and debate. In 2012, the research group staged a symposium coinciding with The Blk Art Group retrospective exhibition at the Graves Gallery Sheffield, and the international 'Reframing the Moment' conference held at the University of Wolverhampton.
Keith Piper's work has been featured at the Bluecoat in numerous exhibitions.
The title for this exhibition, Black Skin/Bluecoat was suggested by Eddie Chambers, a reference to Frantz Fanon's 1952 text Black Skin, White Masks. Fanon's urgent critique of the effects of racism and the black experience is reflected and interrogated within the exhibition, in which four young British artists attempt to expose and oppose the injustice faced by Black people throughout history and the present day. The exhibition included work by Piper, Sonia Boyce, Eddie Chambers and Tom (later Tam) Joseph.
The four artists in the exhibition sought to reflect the commonality between issues faced by Black people across the UK. They expressed their commitment to challenging the oppression and racism faced by themselves and others through their art.
Describing his work in the exhibition, Piper said 'My work is primarily concerned with politics – a fact for which I can make no apologies, as the very existence of Black people in this, the founding fatherland of imperialism – is political. Dominated as it is by forces cultural, historical, economic and social which have shaped us, but have not been shaped by us'.
The exhibition featured two works by Piper – The Seven Rages of Man and The Trophies of Empire. The first of these featured seven hollow masks cast from the artist's face and torso, constructed from bandages and plaster and painted with car spray paint. The work was recently reconstructed in 2018 for display in the Graves Gallery in Sheffield.
The Trophies of Empire was an installation featuring a constantly looping slide/tape sequence of over a hundred transparancies. These slides had been directly applied with Letraset transfer lettering, a technique directly influenced by Expeditions One: Signs of Empire by Black Audio Film Collective. First exhibited at Bluecoat in Black Skin/Bluecoat, Piper's mixed media installation incorporated sound, unstretched canvas banners and sculptural elements.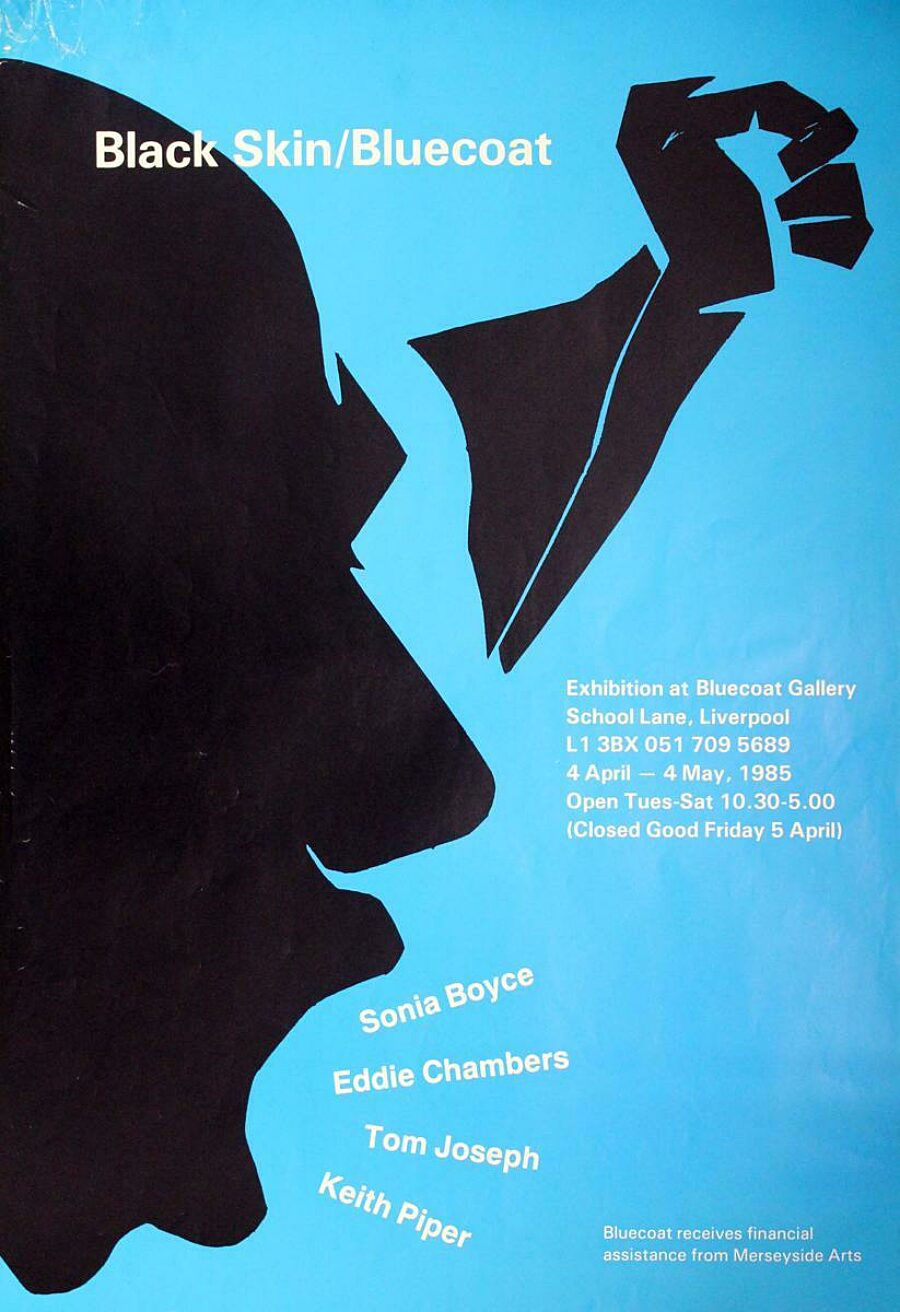 Black Skin/Bluecoat (1985) Poster.
Trophies of Empire was an artists' commission series initiated by Keith Piper and Bluecoat, working with Arnolfini (Bristol) and Hull Time Based Arts.
2016 - 2017: Unearthing the Banker's Bones
Unearthing the Banker's Bones was an exhibition created in collaboration with Iniva (London), featuring a new film commission by Keith Piper for Arts Council Collection's 70th anniversary.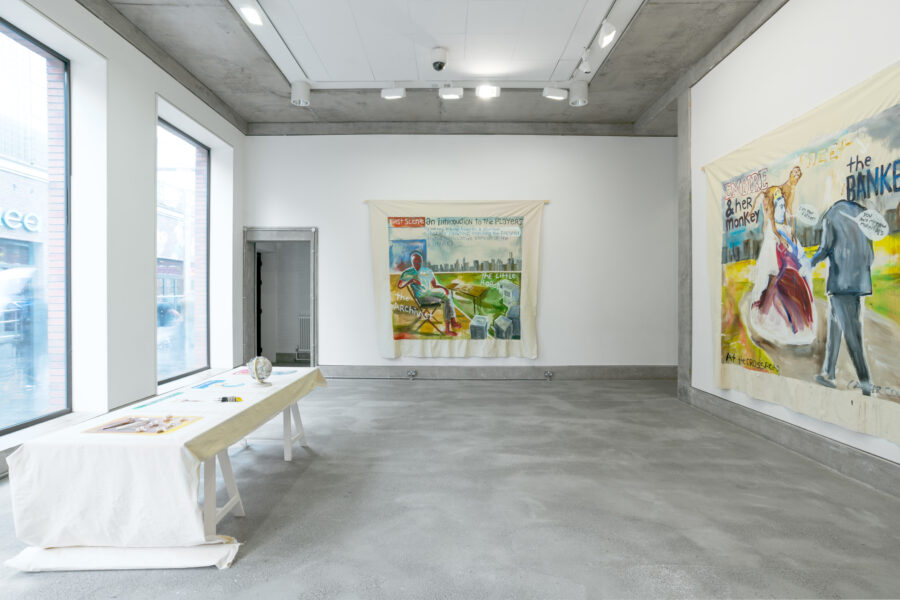 Unearthing the Banker's Bones (2016). 'The Future History Painter's Studio' installation by Keith Piper.