Public View was an exhibition by 106 Bluecoat alumni artists. Celebrating the Bluecoat's 300th Anniversary, it was curated by the arts centre's Artistic Director Bryan Biggs and brought together artists who had exhibited at the venue, mostly from the 1970s to the recent past. The exhibition included paintings, drawings, prints, sculptures, video and mixed media. Many of the artworks had been previously exhibited in Bluecoat, while some artists re-made or showed new works. Some donated their work to a fundraising auction later in the year.
The exhibition highlighted Bluecoat's curatorial developments, bringing together work from a variety of sources, mediums and styles, across the post-war period, into the 21st century.
Artists exhibiting in Public View:
Note: Biographical information is included on certain artists.
John Akomfrah
Graham Ashton
Conrad Atkinson
Glen Baxter
David Blandy
Derek Boshier
Sonia Boyce
Sonia Boyce OBE is a British Afro-Caribbean artist, working in a variety of media including drawing, photography and video. Often exploring art as social practice, Boyce regularly focuses on collaboration with other artists including Elaine Mitchener (Exquisite Cacophony, 2015). Boyce is Chair in Black Art & Design at University of the Arts London.
Sonia Boyce has an extensive history working with Bluecoat, as both an artist and collaborator on the following exhibitions: Black Skin/Bluecoat (1985), Approaches to Realism (1990), Video Positive 2000 – The Other Side of Zero (2000), Like Love - Part Two (2010) and Action (2010).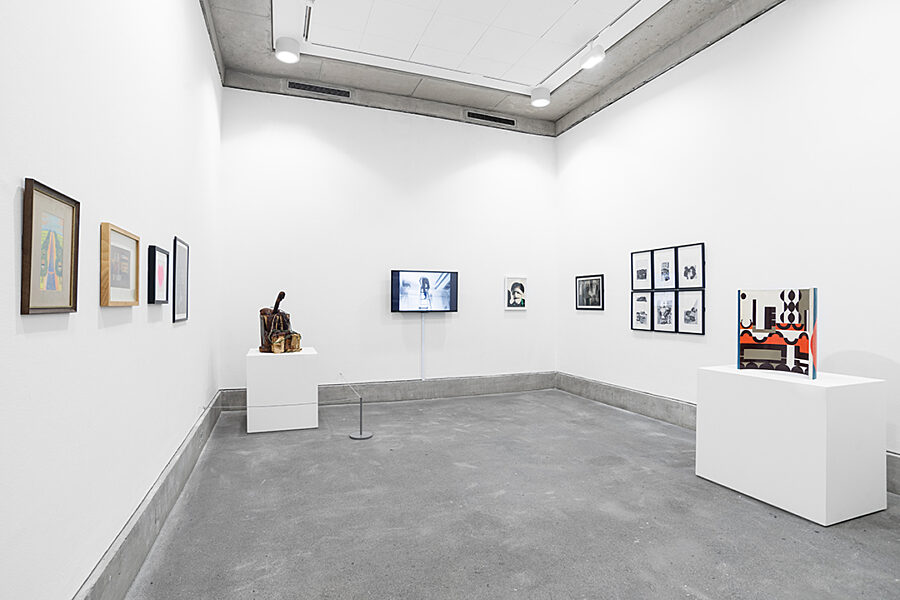 Public View (2017).
Mark Boyle
Jyll Bradley
Pavel Buchler
Chila Kumari Burman
Marc Camille Chaimowicz
Stephen Chambers
Edward Chell
Jagjit Chuhan
Pete Clarke
Maurice Cockrill
Sue Coe
Common Culture
Cornford & Cross
Graham Crowley
Adam Dant
Mal Dean
Jeremy Deller
Maurice Doherty
Sokari Douglas Camp
Bill Drummond
Alan Dunn
Stephen Dwoskin
Nina Edge
Edge trained in Cardiff as a ceramicist, and emerged partly through exhibitions featuring Black British artists in the 1980s. Making subversive use of craft processes like batik, shisha embroidery and slip trailing, she challenged ideas surrounding identity and gender. Edge exhibited at Bluecoat several times in group shows including Black Art: Plotting the Course (1989), A Table for Four (1991) and a solo exhibition, Virtual Duality (1994), and was commissioned to do two large-scale participatory performances, Sold Down the River (1995) and The Observer's Book of Independence (1997). She was selected for Trophies of Empire (1992), presenting work at the Ferens Art Gallery in Hull.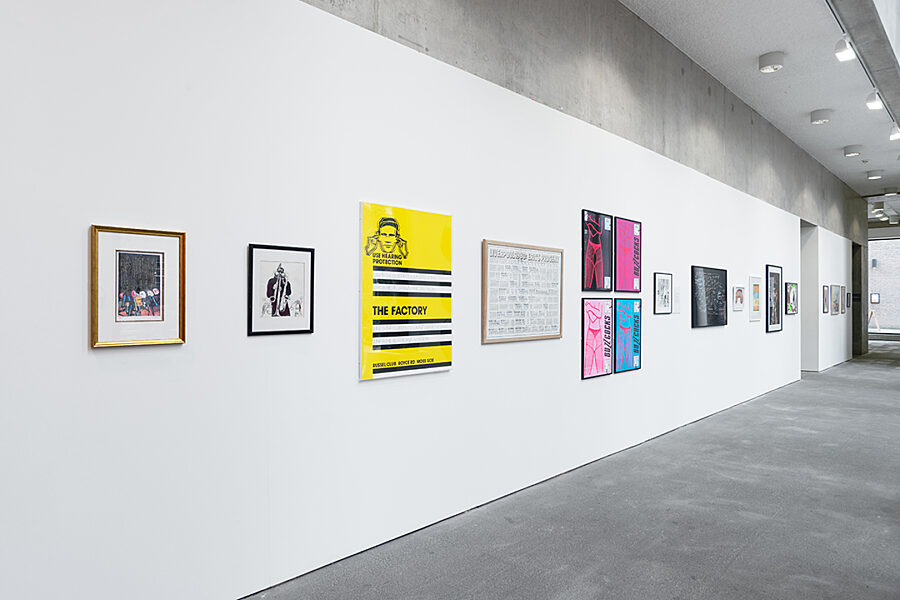 Public View (2017).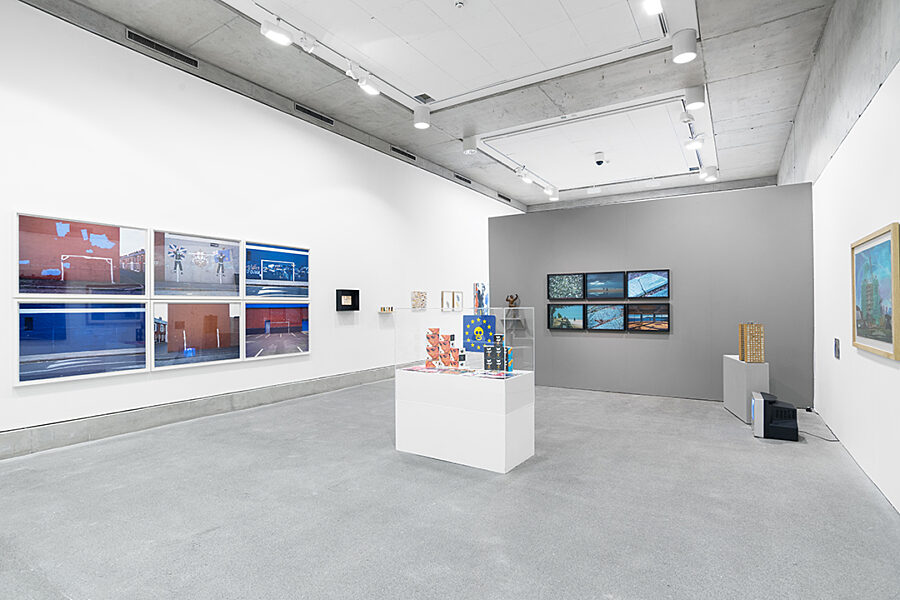 Public View (2017). Visible in the centre is The Trophy Cabinet by South Atlantic Souvenirs & Trouble.
John Edkins
Stephen Farthing
Alec Finlay
Leo Fitzmaurice
Pete Frame
Neville Gabie
Malcolm Garrett
Georg Gartz
Melissa Gordon
Jean Grant
Tony Hayward
Peter Hagerty
Sean Halligan
Ian Hamilton Finlay
Rowena Harris
Susan Hefuna
Adrian Henri
Lubaina Himid
Himid studied Theatre Design at Wimbledon College of Art and received her MA in Cultural History from the Royal College of Art. She was a central figure in the British Black Art movement that emerged in the 1980s, influential in her art, writing and curatorial practice. She won the Turner Prize in 2017. Himid has exhibited twice at Bluecoat in seen/unseen (1994) and Public View (2017).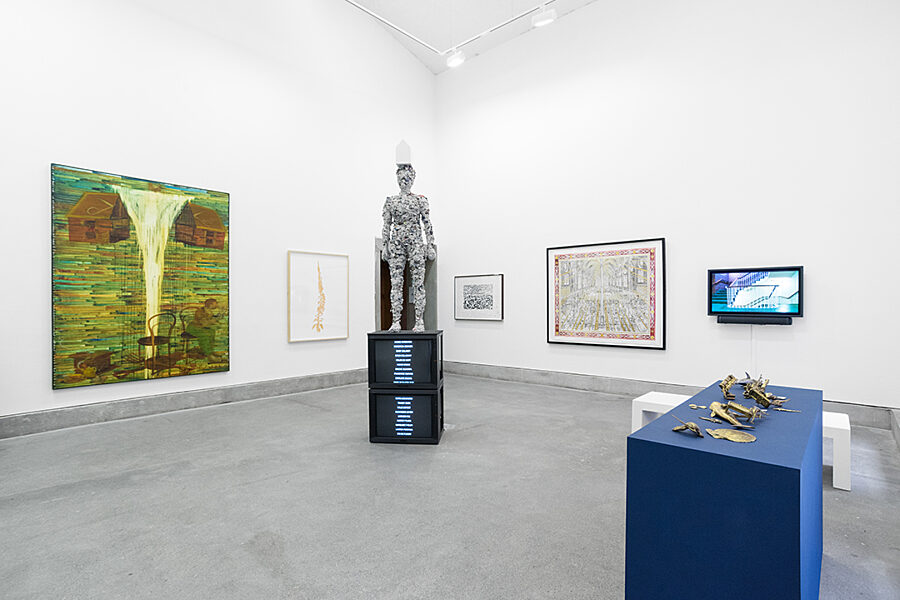 Public View (2017).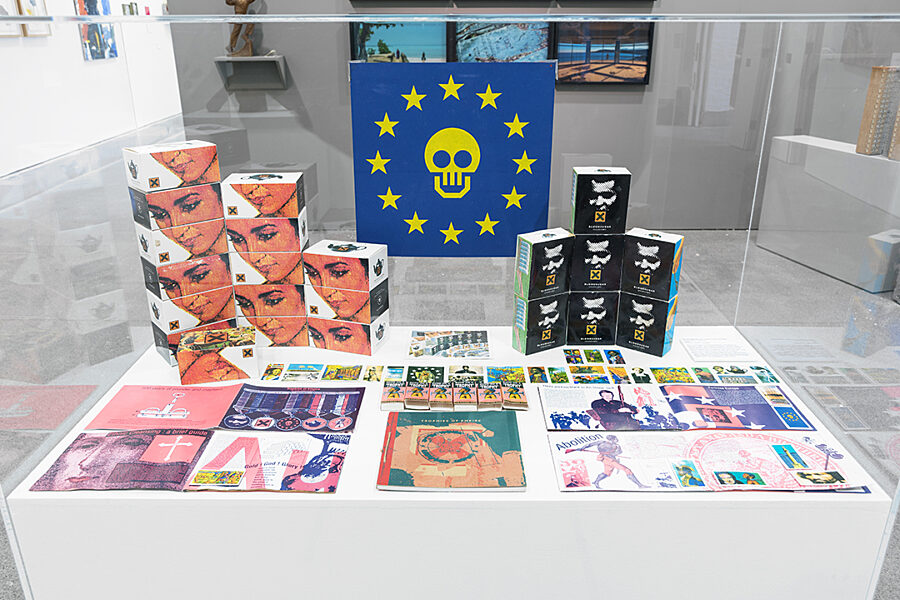 Public View (2017). The Trophy Cabinet by South Atlantic Souvenirs & Trouble and the Trophies of Empire publication in the centre.
Lin Holland
Pam Holt
Nicholas Horsfield
John Hyatt
Andrzej Jackowski
David Jacques
George Jardine
Brigitte Jurack
Jurack was born in Germany and lives on Merseyside. She is Head of Sculpture and Time-Based Arts at Manchester School of Art. She was the Henry Moore Sculpture Fellow in 1993 and nominated for the 2014 Liverpool Art Prize. Her work is motivated by the desire to depict elusive visual sensations. She has exhibited with Bluecoat on multiple occasions: Away From Home (1999), Next Up (2008), Democratic Promenade (2011), and most recently Where the Arts Belong: Making Sense of It All (2022).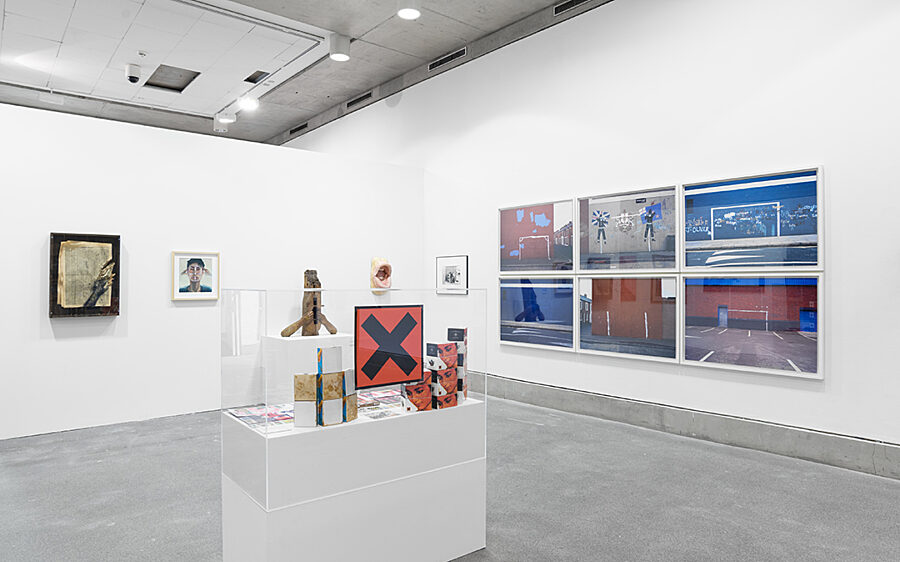 Public View (2017). Visible behind The Trophy Cabinet is part of Juginder Lamba's wooden sculpture The Cry.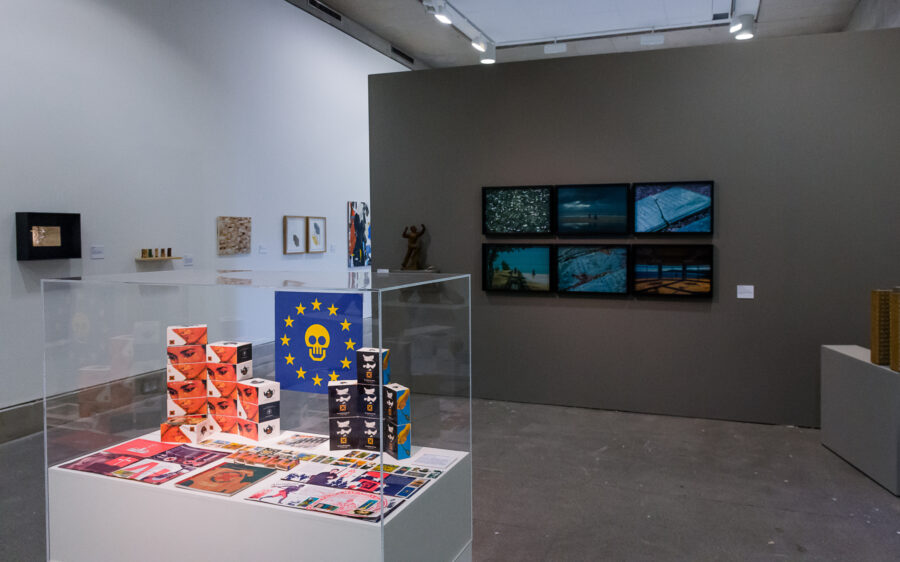 Public View (2017): South Atlantic Souvenirs & Trouble, 'The Trophy Cabinet', reworked from Trophies of Empire (1992), with photographic work by John Akomfrah behind.
Peter Kennard
Michael Kenny
Naiza Khan
Juginder Lamba
John Latham
Mark Leckey
Hew Locke
David Mabb
Elizabeth Magill
Bashir Makhoul
Clement McAleer
Don McKinlay
John Monks
Jacqueline Morreau
Paul Morrison
Val Murray
Niamh O'Malley
Yoko Ono
Ono became a highly influential figure in conceptual and performance art in the 1960s, including through her involvement in the Fluxus movement. She staged an event at Bluecoat in 1967, Music of the Mind which included a premiere of The Fog Machine. In the 2017 exhibition Public View, Music of the Mind (which included her Peek Piece) was featured again. She also returned to Bluecoat in 2008 to participate in Now Then, the inaugural exhibition in the new arts wing, when she also did a live performance in the new auditorium.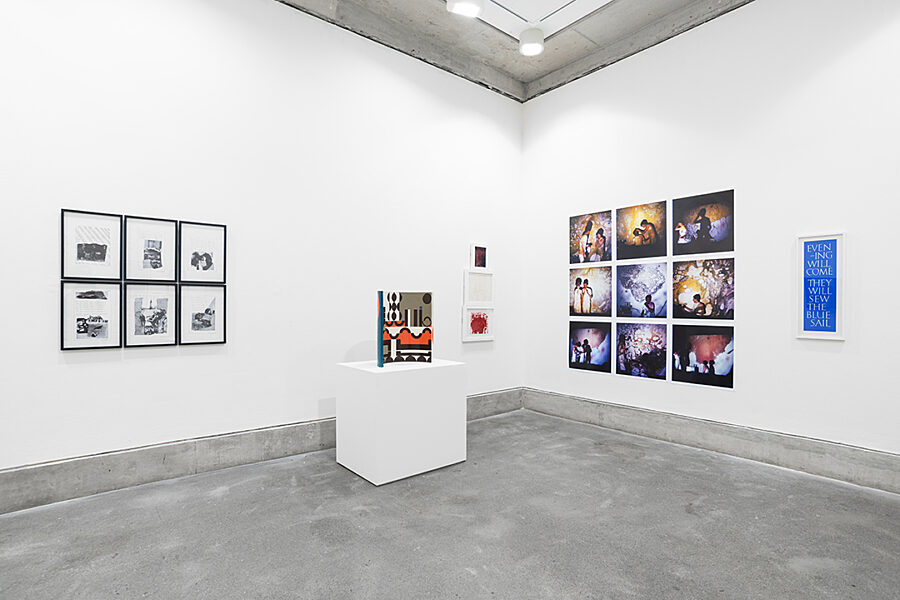 Public View (2017).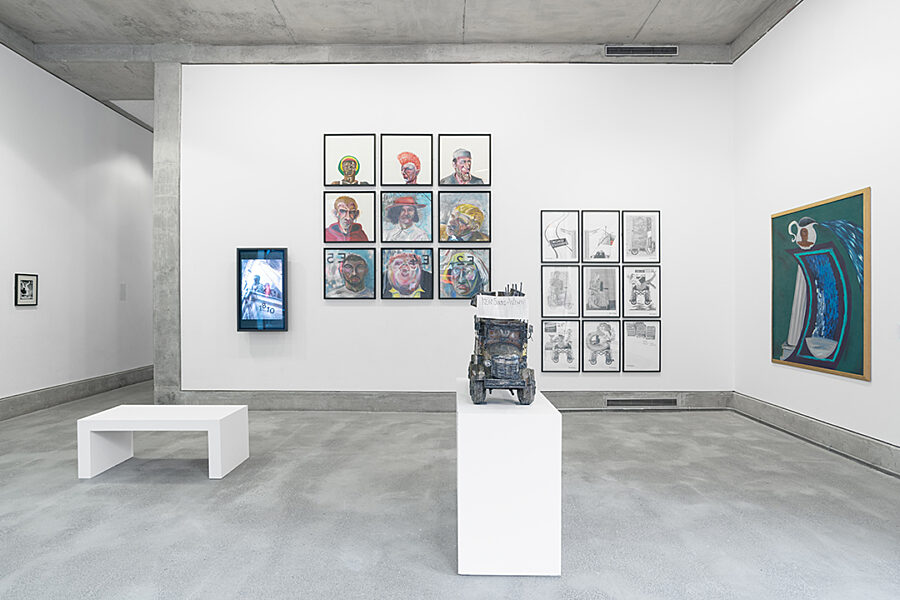 Public View (2017): Installation shot showing (back wall, left to right) works by Keith Piper, John Hyatt, Ann Whitehurst; (foreground) Sokari Douglas Camp; (right wall) Lubaina Himid, 'Memory to Zong'.
David Osbaldeston
Brian O'Toole
Tony Oursler
Keith Piper
Nicole Polonsky
Tricia Porter
Imran Qureshi
Peter Randall-Page
Paul Rooney
Marisa Rueda
Emma Rushton
Walid Sadek
Lesley Sanderson
Peter Saville
Yinka Shonibare
Jamie Shovlin
The Singh Twins
Mark Skinner
Robert Soden
South Atlantic Souvenirs and Trouble
South Atlantic Souvenirs (Steve Hardstaff and Rick Walker) and Trouble (David Crow) included Trophy Cabinet in Public View, a work first exhibited in Trophies of Empire (1992). Taking three products of colonialism, the artists repackaged sugar, tea and tobacco to examine the '500 years of mayhem and plunder' and colonial exploitation since Columbus' supposed 'discovery' of the Americas.
Emily Speed
Imogen Stidworthy
Elizabeth Stuart Smith
Mike Stubbs
Pádraig Timoney
Ray Walker
Sam Walsh
Claire Weetman
Ann Whitehurst
Pat Whiteread
Tom Wood
George Wyllie