Eddie Chambers is a British contemporary artist, art historian, curator and writer. Gaining a Ph.D in Art History from Goldsmiths College, University of London for his study 'Black Visual Arts Activity in England Between 1981 – 1986: Press and Public Responses', Chambers currently holds the David Bruton, Jr. Centennial Professorship in Art History at the University of Texas.
Chambers was a founding member of the BLK Art Group, formed in Wolverhampton in 1979 to empower Black artists and explore the concept and meaning of Black British identity. The group exhibited several times under the name 'The Pan African Connection' in Birmingham, London and Bristol. Founders included Chambers, Keith Piper, Marlene Smith and Donald Rodney, who were children of Afro-Caribbean migrants and raised in and around the West Midlands. Chambers and Piper had recently graduated with degrees in Fine Art when the BLK Art Group was formed, while Smith and Rodney were still students.
Eddie Chambers has worked with Bluecoat as both an artist and curator:
The title for this exhibition, Black Skin/Bluecoat was suggested by Chambers, a reference to Frantz Fanon's 1952 text Black Skin, White Masks. Fanon's urgent critique of the effects of racism and the black experience is reflected and interrogated within the exhibition, in which four young British artists - Chambers, Keith Piper, Sonia Boyce and Tom (later Tam) Joseph - attempt to expose and oppose the injustice faced by Black people throughout history and in the present.
The exhibition addressed issues arising from racial injustices, from slavery to contemporary institutional racism in education and the media. Describing his work in the exhibition, Chambers wrote that his 'first role has always been analytical, examining contemporary conditions, and the historical events in which they are rooted: examining the imperfect past – and its bearing on the present'.
The exhibition featured Chambers' work Alabama Night Moves – The Marlboro Connection.
Black Skin/Bluecoat (1985). Installation shot of Eddie Chambers, 'Alabama Night Moves – The Marlboro Connection'.
1989: Black Art: Plotting the Course
Black Art: Plotting the Course was an exhibition curated by Eddie Chambers in collaboration with Bluecoat, Oldham Art Gallery and Wolverhampton Art Gallery.
1990: Let the Canvas Come to Life with Dark Faces
Curated by Eddie Chambers, Let the Canvas Come to Life with Dark Faces was a touring exhibition of self-portraits, held at Bluecoat, the Herbert Art Gallery & Museum (Coventry), South London Art Gallery, Cartwright Hall (Bradford), Ipswich Museum and Castle Museum (Nottingham).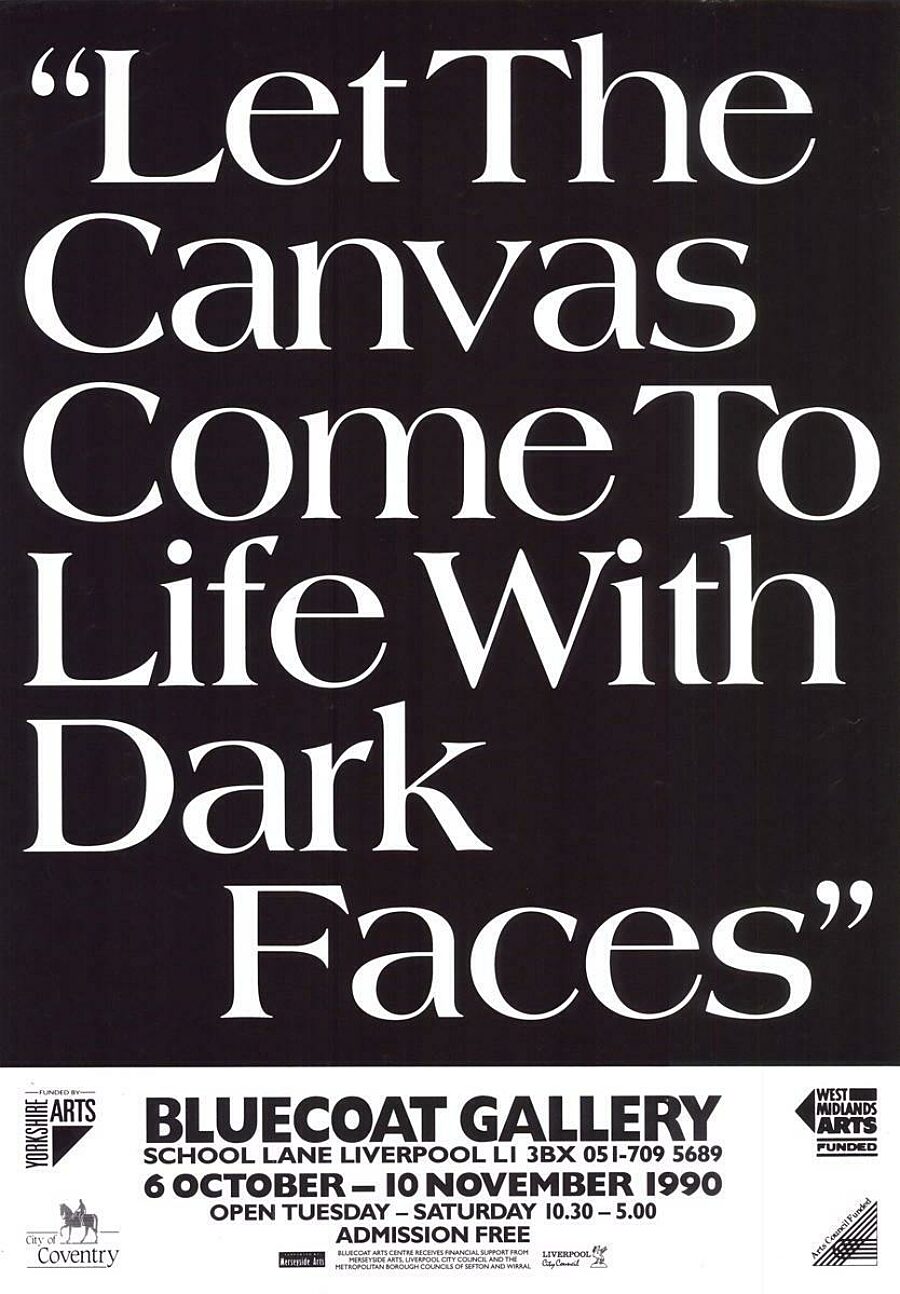 'Let the Canvas Come to Life with Dark Faces' exhibition poster (1990).