Life-sized portraits of Sandy and Danny from Grease, a parrot made of matchsticks and an apple tree wrapped in yarn are just a few of the remarkable works of art being created behind the scenes at the Bluecoat by an emerging community of artists.
Studio Me is a new expansion of the Bluecoat's long-running inclusive arts project Blue Room. The aim of the project is to support learning disabled and neurodivergent artists to develop their own creative practice and navigate existing barriers to progressing professionally as artists.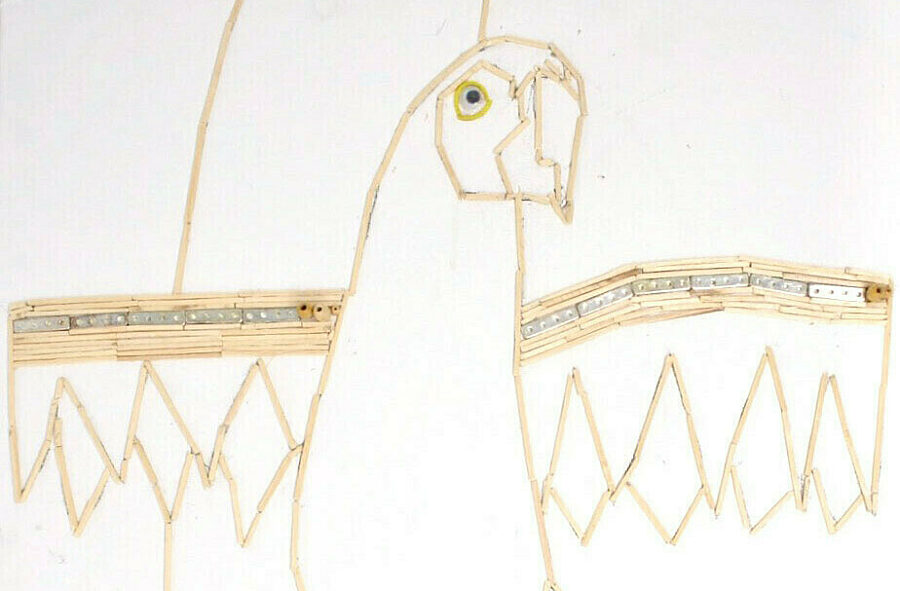 William Richardson, 'Macaw' (2022)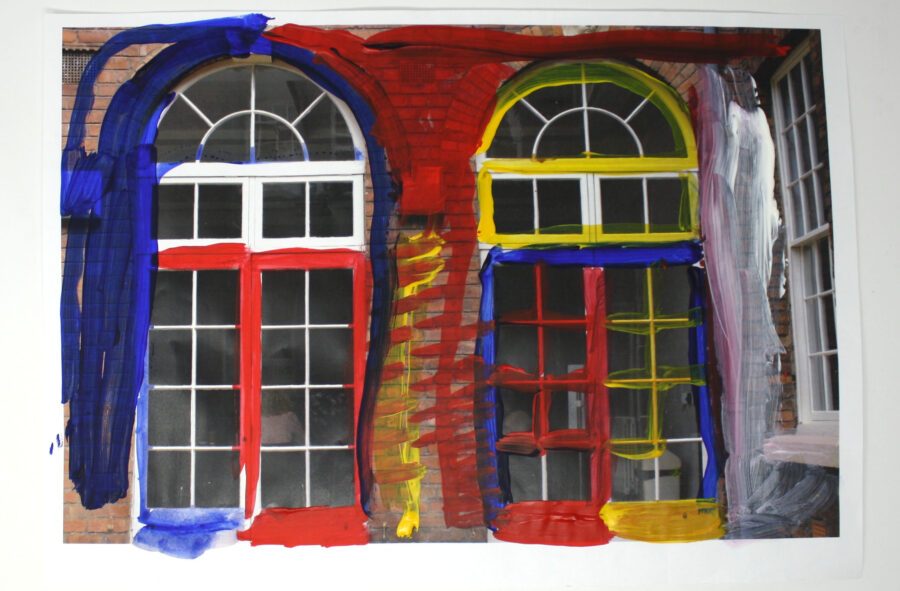 Tom Rooney, 'Bluecoat Windows' (2022)
The need for Studio Me was identified by the Bluecoat's experienced team who have creatively supported members of the Blue Room project for many years. Since the Blue Room project began in 2008, initially as a partnership between the Bluecoat and Liverpool City Council social care services, groups of Blue Room members have been supported to access transformative creative experiences. Blue Room members explore the Bluecoat's exhibitions, collaborate with local and international artists and share their work with the public. Over time, the scope and ambition of the programme has grown from providing high quality creative activities that improve wellbeing and self esteem to nurturing the artistic identities of its members.

In 2021, the Bluecoat began a growth project for Blue Room called Beyond the Blue with funding from the Esmee Fairbairn Foundation. In addition to establishing a new programme of inclusive dance and supporting members to develop leadership skills, a key focus is artist development beyond group activities. The new approach of Studio Me offers learning disabled artists time, space and bespoke support in order to build their portfolio of work and pursue professional opportunities.
The project launched in September 2021 following a challenging period through the pandemic, in which Blue Room artists stayed connected and creative with the online and postal Blue Room at Home programme. Once the artists returned to in-person sessions there was a great appetite for creative growth and for many Blue Room members a renewed sense of their identity as artists.
Initially all Blue Room members at the Bluecoat had an introductory experience in the new studio with short 'do what you like' projects. Studio Me Facilitator Becky Peach supported small cohorts of artists to explore their own interests and experiment with a variety of media and processes. At the end of each project there was the chance to share works in progress with the wider peer group of Blue Room members to give and receive feedback. This phase of the project was an exciting time with the studio buzzing with new ideas and creativity energy. The staff team were often taken aback by the ambition, imagination and creative confidence shown by Blue Room artists.

The next phase of the project began in early 2022 in which nine artists were invited to continue their studio journey with a five month project; Tom Rooney, Tessa Gilmartin, Laura Aquilina, Norman Tomlinson, Joshua Henderson, Jane Walsh, Alfred Beesley, William Richardson and Edward Rauer. Building upon their initial creative exploration, the artists were supported to create an artist development plan to further define their particular goals and areas of focus.
Here, Becky Waite explains a little more about how this approach works in practice, with a look at Blue Room member Laura Aquilina's experience.
Laura Aquilina and Georgemma Hunt's mentoring story
Blue Room artist Laura Aquilina has been creating art at the Bluecoat since 2008, exploring a wide range of different techniques and subject matter inspired by the gallery's programme over the years. For her Studio Me project Aquilina chose to focus on developing a series of bold landscape paintings on canvas, often inspired by her favourite films and music. After noticing a potential kinship between Aquilina's practice and that of emerging artist and trainee architect Georgemma Hunt, Studio Me Facilitator Becky Peach invited the artists to connect, initially over video call.
Taking a break from creating a large-scale mural in Liverpool's Baltic Triangle, Hunt shared her work on screen in a 'show and tell' exploring her processes, inspiration and finished pieces. Aquilina also showed examples of her work and they discussed shared areas of focus; landscapes, the use of bold confident lines and the unusual approach of painting onto unstretched canvas. It was clear that both artists were excited by each other's work and there was a lot of potential for creative exchange.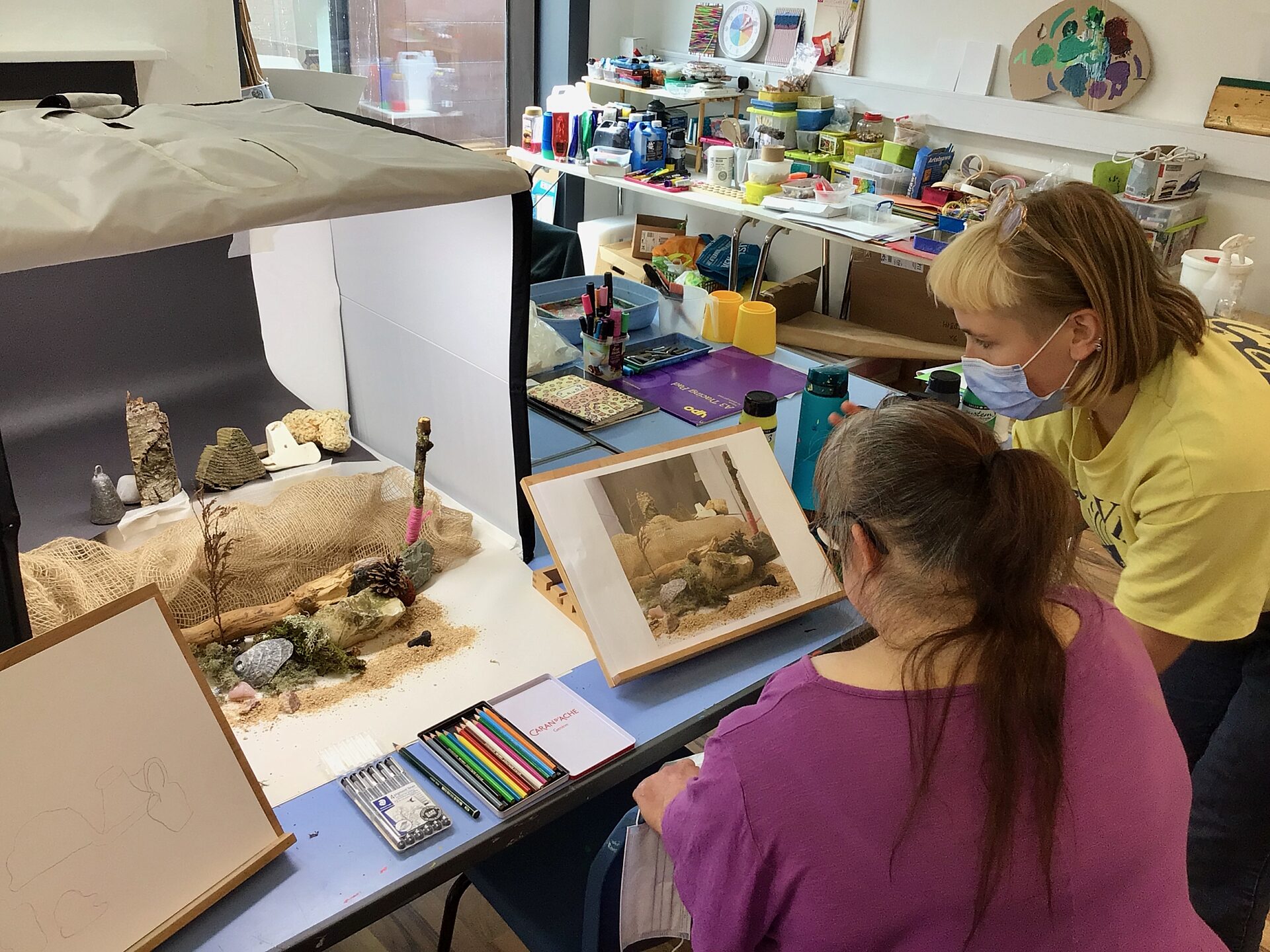 The second time they met was at the Bluecoat for a full day in the studio together. After hearing about Aquilina's love of nature, Hunt brought with her a bag of fascinating natural objects collected on her travels including driftwood, sea worn pebbles and shells. Together they assembled a miniature landscape using the found objects to play with colour, shape, texture and scale.
Creating landscapes with objects was a new approach for both artists. After configuring the tableau within a light box they photographed the scene to use as a reference for new drawings and paintings (pictured above).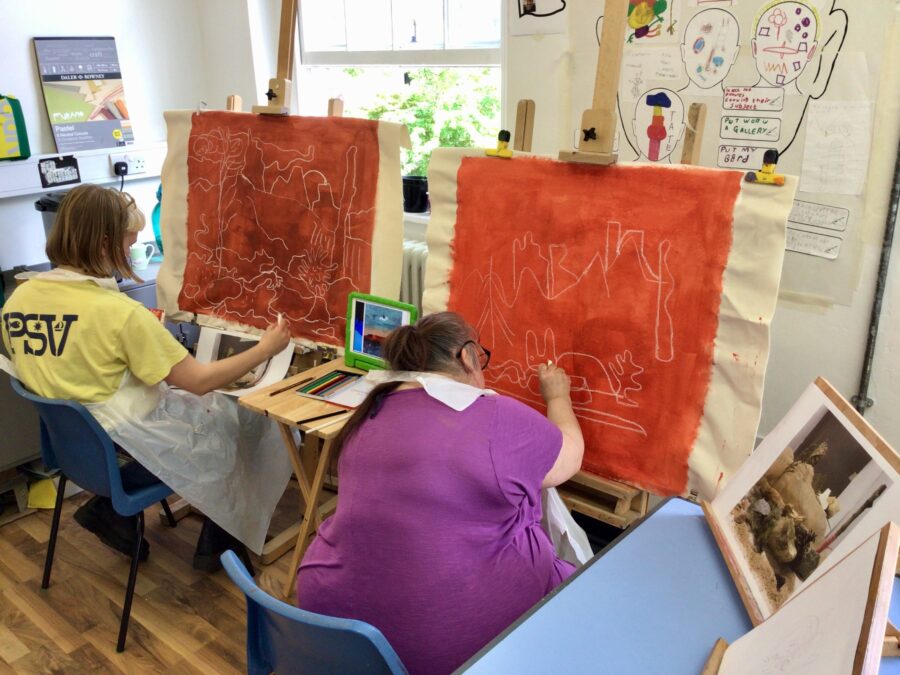 Laura Aquilina and Georgemma Hunt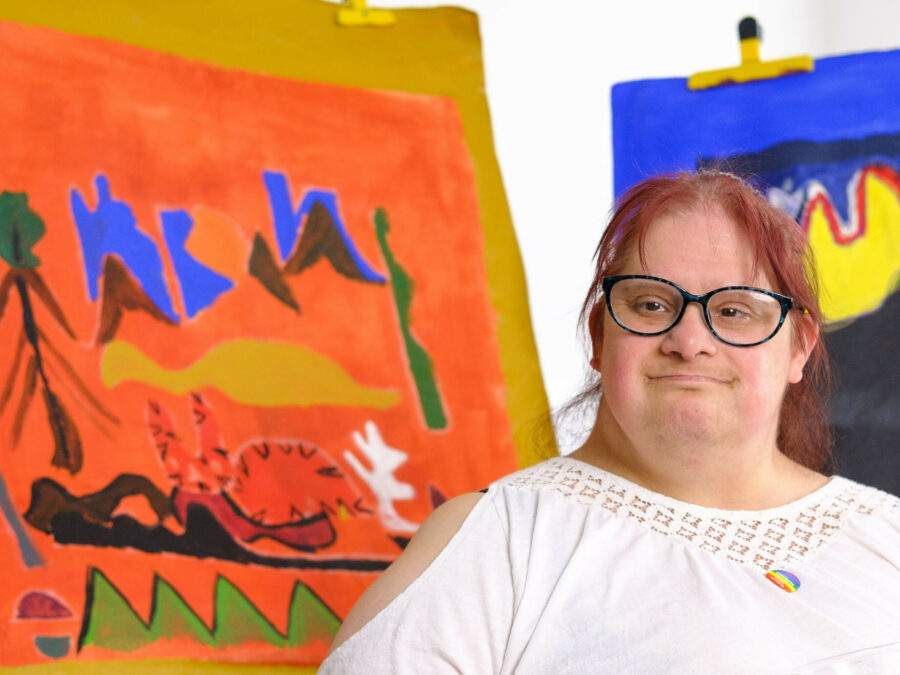 From this rich starting point the artists then sat down to paint side by side on separate canvases. They explored using an alternative background colour, earthy orange rather than neutral white to see the effect this had on the other colours used in their paintings (pictured above).
Describing the process Aquilina said; "For the background, I painted it orange. Got a picture, looked at it and then drew it with white chalk."
For their concluding session both artists met again over video call. Both artists shared how each of their paintings had progressed since their day together in the studio. Exploring possible finishing touches, Hunt advised different ways to complete paintings so that they are 'exhibition ready'. They also discussed possible titles that referenced or elaborated upon the story behind their paintings.
Through assisting with the planning and delivery of the mentoring sessions, Studio Facilitator Becky Peach was able to observe how Hunt's confidence as a mentor grew as she actively listened and responded to Aquilina, giving tailored advice throughout the sessions.

Evergrowing confidence and ambition was also apparent for Aquilina, as she spoke about the possibility of working at larger scales inspired by Hunt's practice as a mural artist. There was a sense that both artists had learnt from each other and were keen to collaborate in the future.

Studio Me's future
As we approach the milestone of the first year of the Studio Me project, there is already much to be proud of. Within a short period of time, Blue Room artists have developed exciting bodies of work showing great creative confidence and clarity of vision. The profiles of the artists are being raised as they are featured by online platforms such as Art et al. Some artists are making sales of their work, receiving commissions and winning prizes. Artists Tom Rooney, Tessa Gilmartin, Norman Tomlinson and Joshua Henderson have already had success in being selected for exhibitions at the Williamson Art Gallery and the Level Arts Centre. Artists Alfred Beesley, Edward Rauer and William Richardson were commissioned by the Bluecoat to create an activity trail for visitors.
In Autumn 2022, look out for a postal exhibition of Blue Room artists' work with Output Gallery, who champion emerging artists from Merseyside.
There are more possibilities on the horizon as an additional six Blue Room artists begin their own artist development journeys this summer. As the programme develops we are seeking expressions of interest from more creative practitioners who would like to become mentors. The team will continue to seek opportunities to share the incredible work of Blue Room artists with new audiences through opportunities to exhibit and partner with local and national venues. We are also looking for more learning disabled and neurodivergent people who are interested in exploring and creating art to join our Blue Room creative community.
The work of Blue Room artists and the team at the Bluecoat is part of a wider groundswell of action by our peers in the inclusive arts sector to negotiate some of the systemic barriers in place for disabled artists. Lack of access to paid work and its effects on precarious benefit support, inaccessible funding applications and closed networks are just some of the issues faced. The momentum for change is growing as artists from supported studios begin to receive greater equality of platform as artists who have taken more established career paths. A significant milestone in this aim was last year's Turner Prize nomination for supported studio collective Project Artworks. Action research projects such as Irregular Art Schools by the University of Leeds' Dr Jade French aim to innovate inclusive arts education whilst supported studios such as Ventures Arts go from strength to strength through high profile programming partnerships with arts venues.
A key future focus for the Bluecoat with Beyond the Blue will be supporting partner venues and organisations who may be interested in exhibiting and commissioning the work of learning disabled artists but are unsure how best to sensitively approach and support artists with access needs. While there is still much work to do to address inequality of access and to elevate the status of learning disabled and neurodivergent artists within the wider arts landscape, the time is right for Studio Me.

We want to hear from you!
Are you an arts professional who is interested in paid opportunities to become a creative mentor with Blue Room artists? Please click here to find out more and apply.
To find out more about joining Blue Room as a member or commissioning Blue Room artists please contact: blueroom@thebluecoat.org.uk.