About the project
Closely connected to Liverpool's eighteenth-century maritime history, the Blue Coat School was established by the Anglican Church and a merchant, Bryan Blundell. Like many others who supported the school through subscriptions and donations, Blundell profited from trade with Africa and the British colonies, central to which was the transatlantic slave trade, and the goods that it enabled, such as cotton, sugar and tobacco.
The young people from The Greenhouse Project, L8, and others from across the city, have been involved in a dynamic programme of research, workshops, discussions and creative activities with invited artists, historians and others. These future leaders have bravely explored the transatlantic slave trade and its continuing legacies through themes such as identity, Black Scouse experience, migration, community and equality. To share these experiences with the public, the Young Event Coordinators co-curated an exhibition and an events programme at the Bluecoat and online, designed a hyperfiction building tour, and produced a 'zine.
The project was funded by the National Lottery Heritage Fund and other funders, see acknowledgements below.

Young Event Coordinator Profiles
Take a look at this short film to find out more and to see what the group achieved throughout the project.
Hyper Fiction
Bluecoat's heritage is revealed through an online hyperfiction artwork, where you can choose your own non-linear adventure through the building's past and present, and discover its key colonial connections through the eyes of a young visitor.
One of the young participants from the project, Nia Mensah set the scene for this tour, working with digital artist collective Ash//Ella to develop this online tour.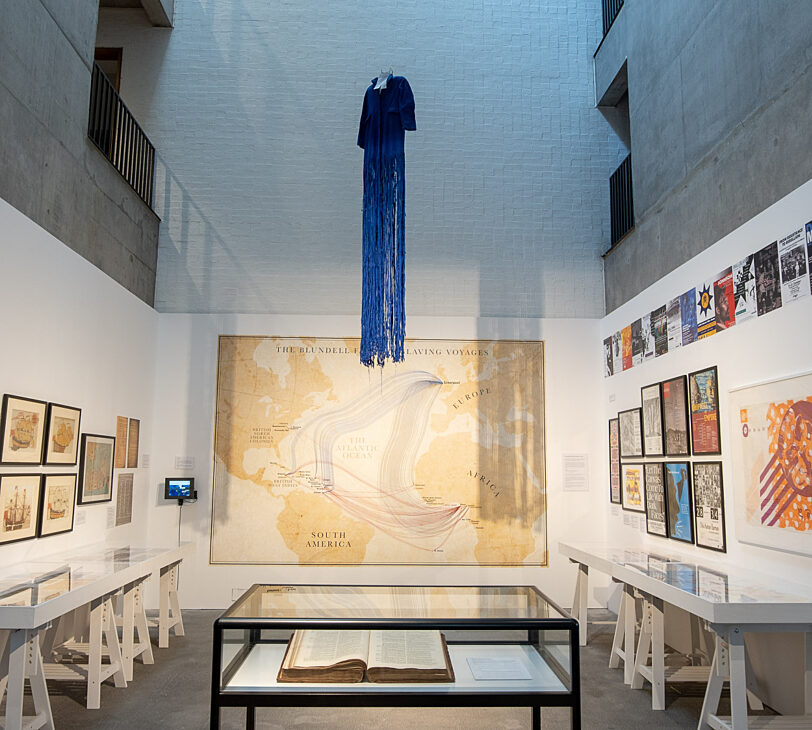 The Bluecoat's Colonial Legacies Exhibition
Wed 23 Mar - Sun 3 July, 2022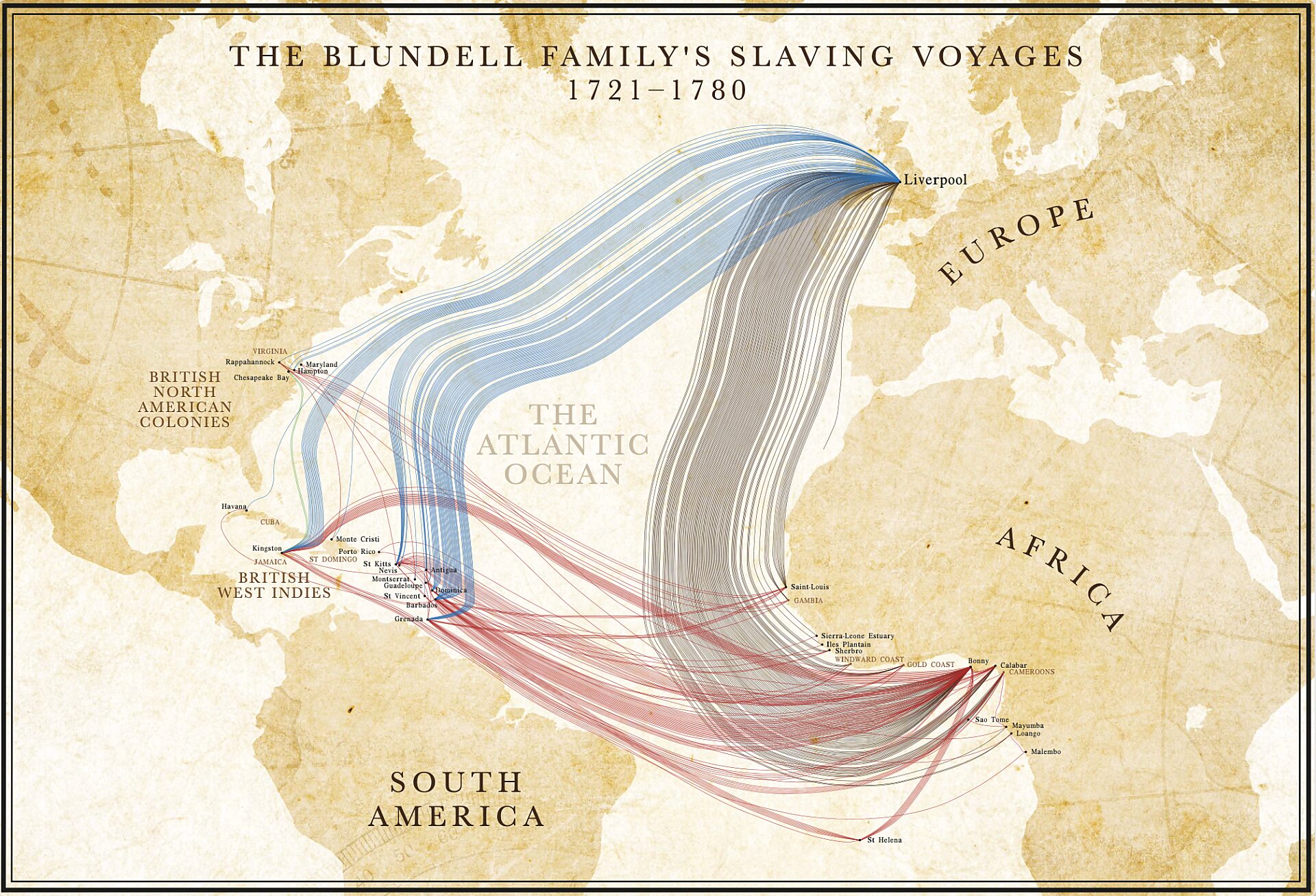 Map key
Black lines - the outward journeys, all but one from Liverpool
Red lines - the 'Middle Passage' across the Atlantic
Green lines - Intra-American journeys between Jamaica and Virginia
Blue lines - the return journey to Liverpool

The Blue Coat School was funded by many Liverpool merchants involved in the transatlantic slave trade, including the school's co-founder Bryan Blundell and his four sons, Jonathan, Bryan Jnr., William and Richard.
This map indicates the 111 known voyages that the Blundells invested in over six decades. This involved shipping goods to West Africa to trade in return for captured African people, who were then transported and sold in the British colonies in the West Indies and North America. The ships would then return to Liverpool laden with goods such as sugar, cotton and tobacco, produced on plantations by enslaved African people.
Of the 29,679 captured Africans recorded in inventories of the Blundells' voyages, 5,634 died during the tortuous journey.
The ports are those named in contemporary records and are located in present-day West Africa: Senegal, Ghana, Liberia, Ivory Coast, Gambia, Sierra Leone, Nigeria, Cameroon, Equatorial Guinea, Republic of Congo, Gabon and Angola; in the islands of the Caribbean; and in the US state of Virginia.
Thirteen ships did not return, being either shipwrecked, captured by the French or by enslaved Africans, sold, or there being no record of their return.

Thanks to Michelle Girvan for research and Naomi Waite for design. The primary research source for the map is the Slave Voyages database: www.slavevoyages.org
With thanks to...
Young People
Kaidyn-Lee Morris-Browne, Nia Mensah, Shanti Deva Dubicki-Wild, Selina Karaca, Tia Hume-Jennings, Tyrah Torrible, Amna Akram, Caitlyn O'Callaghan, Charlie Salt, Ellie-Mae Edge, Emilia Czarnecka, Fuad Abdirahen Nassir, Hannah Byrnes, Iman Hasan, Nathan Pritchard
Staff
Bryan Biggs Project Director, Laura Yates Project Manager, Stephen Nze Tiber Young People's Facilitator, Tavia Panton Project Facilitator, Donika Browne Project Assistant, Oleta Omar La Cruz Project Assistant, and special thanks to the wider Bluecoat teams for it takes the enthusiastic support of a whole organisation to facilitate a project with such challenging histories.
Contributors
Adam Duckworth, Ash//Ella, Blue Saint, Curtis Watt, Cy Powell, Dan Stinson, Fabiola Santana, Floriana Dezou, Fluttercup, Foluke Taylor, Greenhouse Project, Jack Lewis, Janaya Pickett, Katrina Paterson, Keisha Thompson, Liverpool Against Racism, Liverpool Blue Coat School, Madeline Heneghan, Malik Al Nasir, Michelle Girvan, Naomi and Natalie Evans, Naomi Waite, Ni Maxine, Paul Wainwright, Papu Raf, Philomena Harrison, Rayrayz Caribbean, University of Liverpool, Will Dickie, WoWFEST22, Yamm Tree, Yuen-May Chong.