Tell us about your MA and its research focus on Black British artists - and how did that interest start?
Studying an MA in Art Gallery and Museum Studies, I have focused primarily on decolonial museum practice while gaining practical experience through a work placement. I applied to the Bluecoat for my placement as I was interested in the arts centre's history of working with artists associated with the British Black Arts movement. This role has been integral in developing my experience alongside my MA and I have gained a greater understanding of how organisations such as the Bluecoat are interrogating their colonial legacies.
I have always been interested in the British Black Arts movement and work by Black British artists. Coming to the Bluecoat with an aspiration to focus on Afro-Caribbean artists, I worked with Bluecoat's Head of Programme and Director of Cultural Legacies to expand this focus further and discovered Bluecoat's fascinating history with the British Black Arts movement.

How have you responded to Bluecoat's particular story working with such artists? What has been your approach to our archive?
When I arrived at the Bluecoat, I had previous knowledge of how the arts centre had worked with major artists associated with the British Black Arts movement. However, due to much of the Bluecoat's archive being only accessible in its on-site library and a collection at Liverpool Record Office, I had not realised the extent of the Bluecoat's history working with such artists.
Researching the library, I discovered exhibitions including seen/unseen (1994) which featured work by recent Turner Prize winner Lubaina Himid and Let the Canvas Come to Life with Dark Faces (1990), curated by Eddie Chambers. I was determined that members of the public with a similar interest in the British Black Arts movement would be able to access material and information related to these exhibitions. For example, the Bluecoat organised their first exhibition with Sonia Boyce, Chambers and Keith Piper entitled Black Skin/Bluecoat in 1985, making it one of the first arts venues in the North-West to hold an exhibition featuring work by this emerging generation of Black British artists. Yet this information was not available in Bluecoat's online library. I wanted to ensure the significance of this exhibition and others were fully represented there.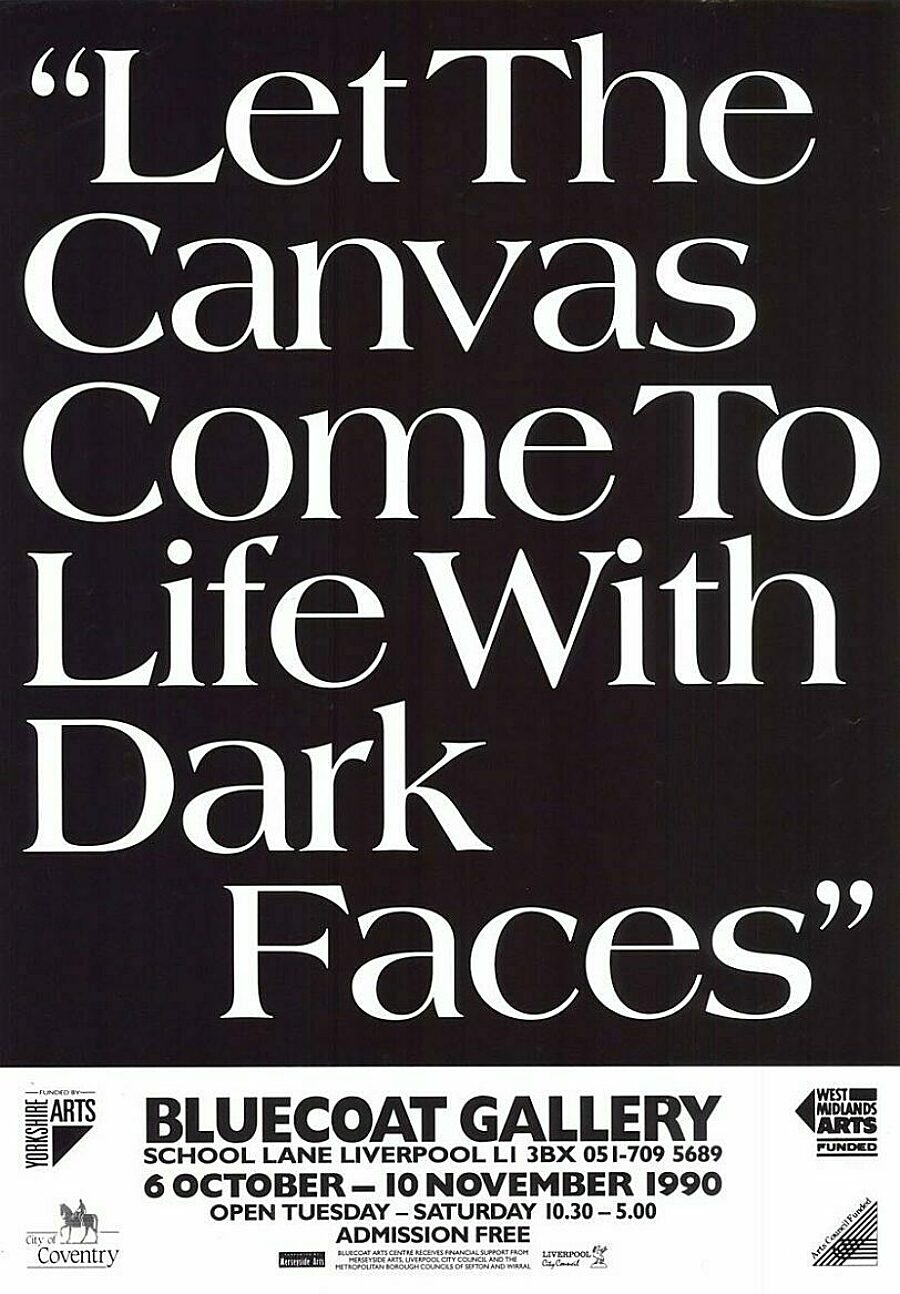 Let The Canvas Come to Life with Dark Faces (1990) exhibition poster.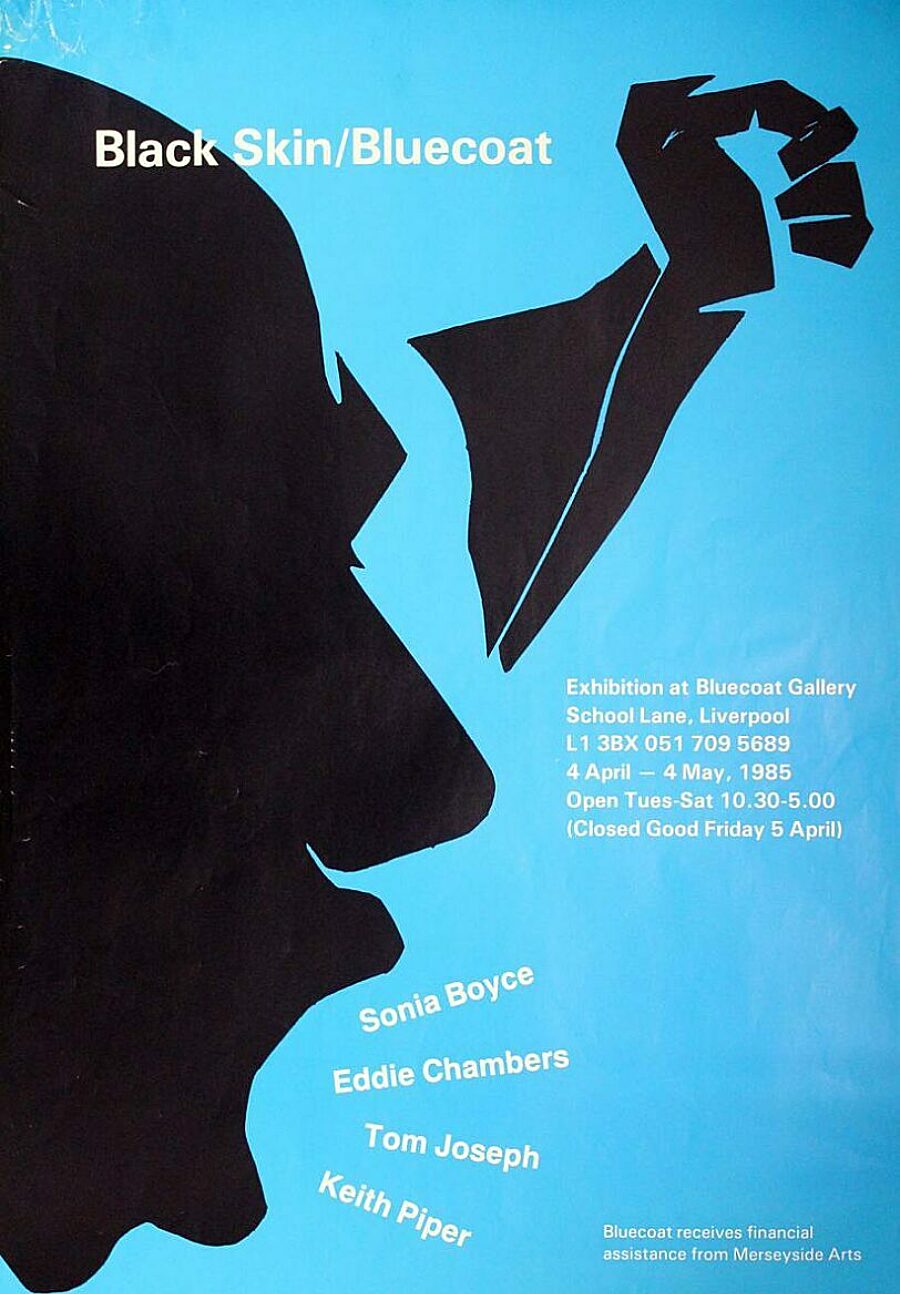 Black Skin/Bluecoat (1985) exhibition poster.
Can you describe the process you have gone through to interrogate this history - how did you identify and select specific exhibitions and artists to focus on?
I began with a focus on Black Skin/Bluecoat, working with original material from the archives including the exhibition brochure, lists of the featured artworks and correspondence between Bryan Biggs (then the Gallery Director) and the artists. After producing a summary of this show, I identified a need for the online library to include a collection dedicated solely to the Bluecoat's work with artists associated with the British Black Arts movement.
From here, I worked with Bryan to find archival material from relevant Bluecoat exhibitions. I discovered highly important shows including Black Art: Plotting the Course (1989) and Trophies of Empire (1992). After producing summaries for these, I decided to focus on related exhibitions outside of the historical movement – for instance, True Colours: Aboriginal and Torres Strait Islander Artists Raise the Flag (1994), an exhibition of contemporary art from Australia's indigenous artists curated by Chambers, and Unearthing the Banker's Bones (2016 –17) by Keith Piper.

What have you learned about this period in British Art – the 1980s to the early 2000s – by studying these exhibitions, and to what extent do you think it represents a 'hidden' or overlooked history?
This project allowed me to discover the connection between the North West and the British Black Arts movement. I was not previously aware that arts venues across this region had worked with artists associated with the movement, including Bluecoat in Liverpool and others in Oldham and Rochdale, as well as in Yorkshire and in the Midlands such as Wolverhampton Art Gallery. Discovering early exhibitions like Black Skin/Bluecoat, I developed a greater understanding of the importance of the legacy of these exhibitions. For instance, Boyce's involvement in Black Skin/Bluecoat led to her curating Action at Bluecoat in 2010, in recognition and celebration of her involvement in this exhibition. The artists selected for Action reflected a new generation of artists from diverse backgrounds whose practices could be compared to those of Boyce, Chambers, Piper and Tom (Tam) Joseph a quarter of a century earlier.
By creating this collection, I wanted to ensure that the public could discover these early exhibitions and the works exhibited. For instance, Boyce's Missionary Position II was exhibited at the Bluecoat in 1985 and again in Approaches to Realism (1990), and between these two shows was purchased by the Tate. Visitors to Bluecoat's online library can now view an installation shot of this work in Black Skin/Bluecoat. With much of this material now available online for the first time, members of the public can discover this connection between the North West and the emergence of this movement of Black British artists.
Do you think anything in these exhibitions, and the work of these artists, resonates today, and if so how?
In the brochure for Black Skin/Bluecoat, the artists wrote: "We want to be part of the very necessary movement to make us all (more) aware of our love and need for each other, aware of our collective potential to secure change, and aware that, as a struggling people, we are not alone." Across the works featured in this landmark exhibition, some were challenging and demanding, others were reflective and contemplative. This exhibition illustrates that art which seeks to inspire and create change can take a variety of media, forms, and tones, and I think that is a fascinating legacy to consider as we look at socially committed and engaged artistic practice today.

How would you like the collection that you have created to be used, and what more could the Bluecoat do to make its archival resources more visible and accessible?
I would love for other students, members of the public and anyone with an interest in the British Black Arts movement and associated artists to use this collection. Students with an interest in this movement can now discover a dedicated resource, while anyone interested in artists like Lubaina Himid can view her earlier works featured in seen/unseen (1994). By bringing together original photography, lists of exhibited artworks and artists' and curators' statements, this collection can inform research on works by these major artists, the exhibitions they were featured in and their legacies, which continue to resonate today.
The Bluecoat has an incredible archive spanning photographic documentation, catalogues, press material and personal correspondence. The next step for this collection is to digitise accompanying exhibition catalogues, making these resources available from the on-site library. Digitising more of the Bluecoat's archive would allow the arts centre's fascinating history to be available to research and view online, developing Bluecoat's digital presence as an important organisation associated with key figures of the British Black Arts movement.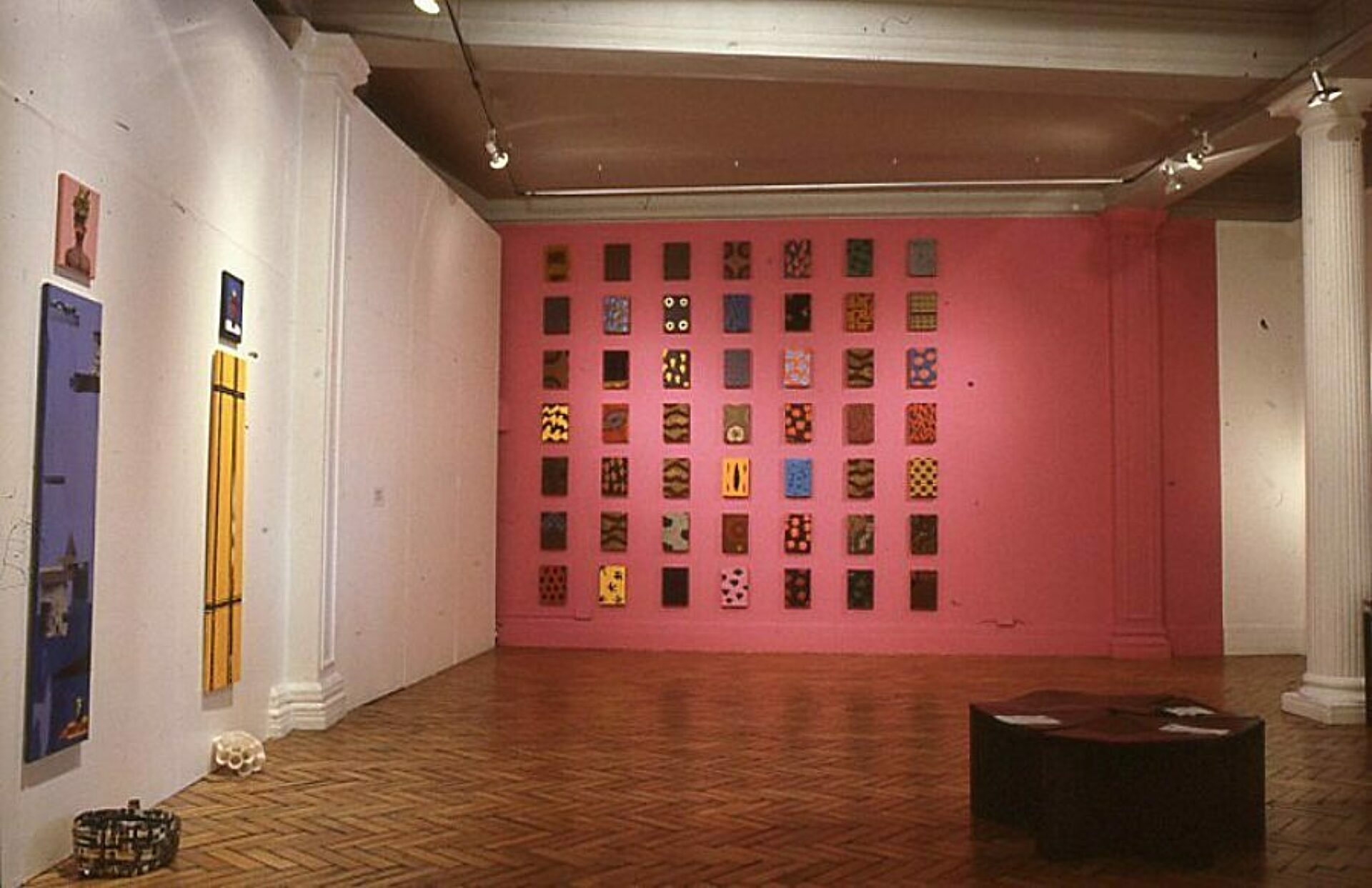 What was the most interesting thing you discovered doing this research – was there a favourite exhibition, piece of work, or artist?
My favourite was probably Let the Canvas Come to Life with Dark Faces (1990), a rare example during the period of an exhibition solely focused on self-portraiture. Bringing together work by 57 artists, the variety of self-portraiture displayed was astounding, ranging across sculpture, installation, photography, and painting. This exhibition renewed my interest in self-portraiture and artists including Donald Rodney and John Lyons. One of my favourite works from this exhibition is Permindar Kaur's large-scale 'Self-Portrait' (metal and wood sculpture), for its innovative use of materials and forms that conveys personal identity in an incredibly powerful and accessible way.
Another important discovery during this project came from my research into Trophies of Empire (1992), an exhibition project that explored the contemporary imprint of colonialism evident in three British port cities, Liverpool, Bristol and Hull. I discovered the mixed media installation Commemoration Day by Carole Drake, which confronted Bristol's attitudes towards Edward Colston, using a replica of his statue to cast a haunting shadow onto a projected image of students from Colston Girls' School. This installation is so important in appreciating how artists, and many others, had been challenging the statue prior to its removal from its plinth in June 2020.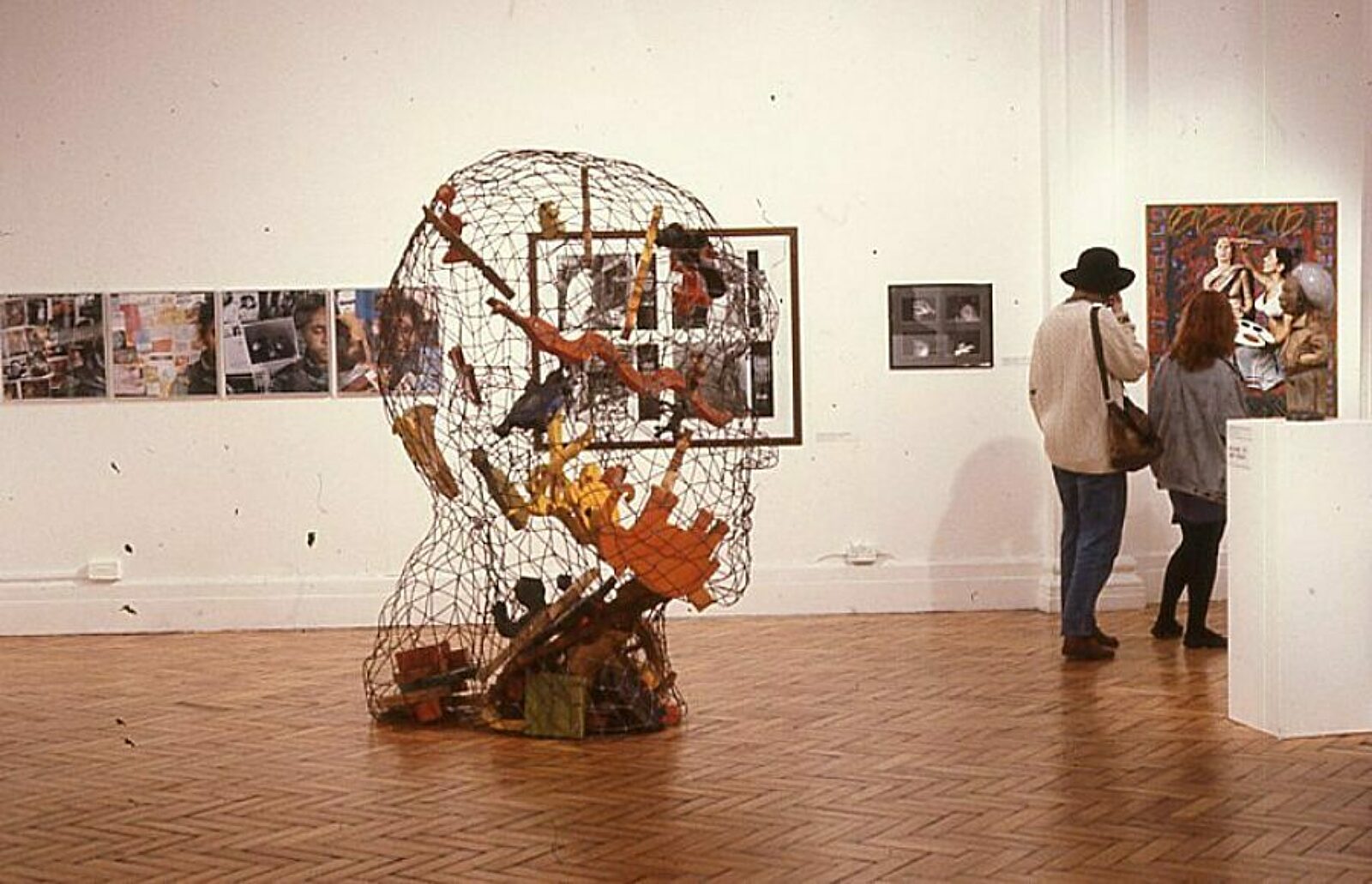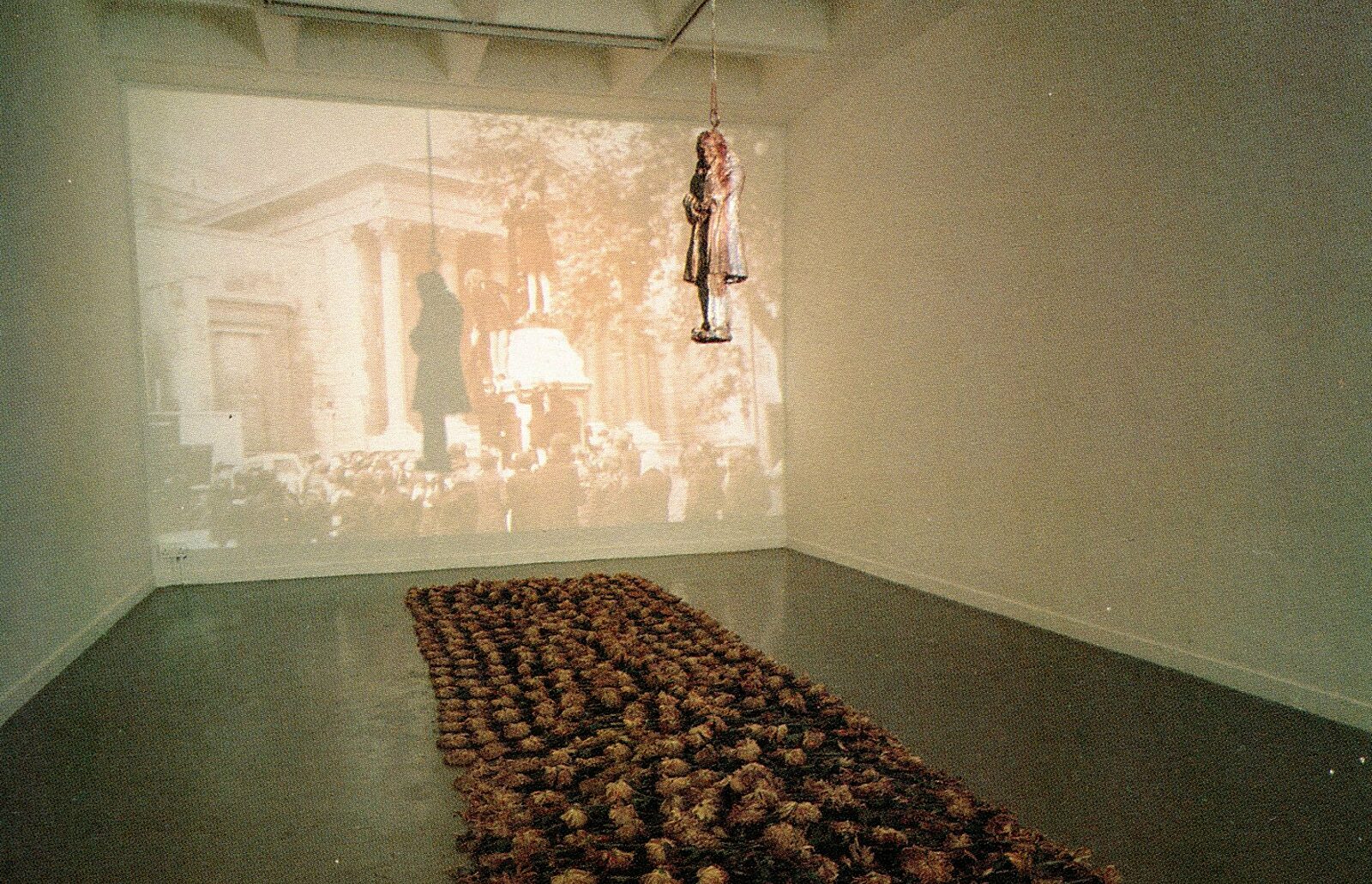 And how might you draw on this work for your future development as an art historian and curator?
As I advance my career in exhibition curatorship, I will continue to focus on artists associated with the British Black Arts movement and Black British artists. I will re-visit this collection to inform my research as I move forward. This project has allowed me to develop my research and content-writing skills, gaining experience in writing for digital museum archives. My time at the Bluecoat has inspired me to ensure that museum archives are accessible to a wider audience, and I will continue to focus on this as I further my career in art galleries and museums.